Introduction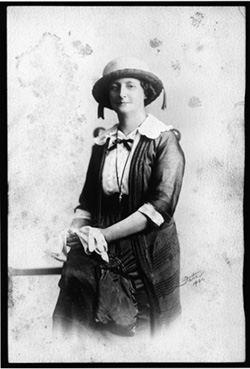 Pauline Forstall Colclough Adams
Library of Virginia

Return to Notable Virginia Women
Born in Dublin, Ireland, in 1874, suffragist and local activist Pauline Forstall Colclough Adams (1874–1957) was living in Brunswick County, North Carolina, by 1898, when she married Norfolk physician Walter J. Adams. The Adamses returned to Norfolk, where Walter established a medical practice and Pauline gave birth to their two sons. Adams joined the Woman's Jamestown Association, served as associate editor of its publication, The Jamestown Bulletin, and was elected treasurer in 1905, a position she held until the Jamestown Ter-Centennial Exposition ended. While many meetings undoubtedly took place at the Adamses' house in Ghent, the most influential occurred on 18 November 1910, when the Norfolk Equal Suffrage League was organized there.
Adams served as the first president of the Norfolk league (a National American Woman Suffrage Association affiliate) and was elected twice more before declining to run again. Unlike her fellow Virginia suffragists, Adams advocated a militant approach to winning the vote for women, shunning the primarily educational activities of the Norfolk league to speak in the city's streets and to march in Washington, D.C., during President Woodrow Wilson's inaugural parade. Her opinions and actions prompted a serious rift in the conservative Norfolk league and a reprimand from state league headquarters in Richmond.

Adams joined the Congressional Union for Woman Suffrage, a more militant group, and after it was renamed the National Woman's Party, she served as president of the Norfolk branch from 1917 to 1920. With the outbreak of World War I, Adams sprang into action, calling in April 1917 for the formation of a Woman's Home Guard in Norfolk. Unlike the Equal Suffrage League, which suspended political activities in favor of charitable work, the National Woman's Party continued the fight for suffrage during the war. As local NWP president, Adams led the women's section of Norfolk's Preparedness Parade and sold war bonds and stamps at local hotels. On 4 September 1917, Adams was one of thirteen picketers arrested for "flaunting their banners" in front of President Woodrow Wilson's reviewing stand before a selective service parade. When given a choice between sixty days in jail or a $25 fine, the suffragists as a whole chose prison and were sent to the workhouse at Occoquan, in Fairfax County.
After passage of the Nineteenth Amendment in August 1920, Adams looked for new challenges. She passed the bar examination in 1921 and became the second woman to practice law in Norfolk. She worked as an attorney and remained involved in politics, working for the campaign of Sarah Lee Fain (who was elected to the House of Delegates from Norfolk in November 1923) and running unsuccessfully for city council. Pauline Adams died on 10 September 1957 and was buried in Norfolk.