Introduction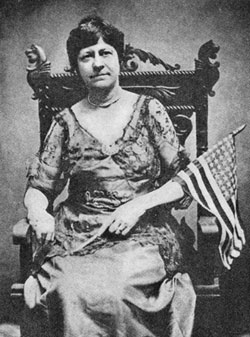 Emma Frances Plecker Cassell.
Library of Virginia

Return to Notable Virginia Women
Emma Frances Plecker Cassell (1863–1944) was born in Augusta County and attended Augusta Female Seminary in Staunton, where she took courses in the natural sciences, history, mathematics, and Latin. In 1878, she began a lifetime of volunteer work by helping to organize a sewing class for a Presbyterian Sunday school. On 23 December 1884, she married Julius Frederick Ferdinand Cassell, a German-born civil and mining engineer. She plunged into civic work and patriotic societies, joining the local circle of the International Order of the King's Daughters and Sons and the J. E. B. Stuart chapter of the United Daughters of the Confederacy. She also became involved in church work, serving as president of the Society for Women's Work at First Presbyterian Church in Staunton.
Cassell used her considerable ability to marshal people and resources to organize the Bath County chapter of the United Daughters of the Confederacy in 1912 and a local chapter of the Children of the Confederacy in Staunton in 1914. Under her direction, the Staunton Juniors had the largest enrollment in the state—650 by April 1919, including two children who were admitted on the day they were born. The Juniors delivered fruit baskets and pocketknives to veterans in the local almshouse and treated the residents of the Robert E. Lee Camp Confederate Soldiers' Home in Richmond to cigars.

In November 1919, Cassell was elected state director of the Children of the American Revolution and state president of the Daughters of 1812. At the same time, she directed the local branch of Fatherless Children of France, a group dedicated to soliciting funds to support war orphans. Cassell served as state director and state president of the Children of the American Revolution and considered the 1930 publication of a history of the organization to be her greatest accomplishment.
In addition to lending her formidable energy and organizational skills to patriotic organizations, Cassell served as the historian for the Woman's Auxiliary of Lexington Presbytery and for the Woman's Auxiliary of the Synod of Virginia. She doggedly collected church histories, meeting minutes, and photographs for the Presbyterian Historical Society at Montreat, North Carolina, and urged others to follow her example.
Emma Frances Plecker Cassell died on 8 April 1944 at King's Daughters Hospital in Staunton.