Introduction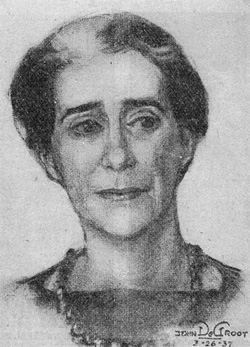 Return to Notable Virginia Women
A founding member of the Virginia suffrage movement, as well as an accomplished artist, Adèle Goodman Clark studied at the Art Club of Richmond and in 1906 received a scholarship to the New York School of Fine and Applied Arts, where she studied with William Merritt Chase and Robert Henri. Returning to Virginia, Clark taught at the Art Club of Richmond, and she and fellow artist Nora Houston established the Atelier, a training ground for a generation of Virginia artists, including Theresa Pollak.

In 1909, Clark and eighteen other civic-minded women founded the Equal Suffrage League, which became one of the most vital suffrage organizations in the South. Clark was elected secretary. She later helped direct legislative initiatives, designed and drew postcards, organized suffrage rallies, and went on speaking tours that helped establish chapters throughout the state. Clark would set up her easel and start painting to lure the curious to suffrage speeches. Defeat of woman suffrage resolutions in the Virginia legislature in 1914 and 1916 convinced Virginia suffragists to work primarily for the passage of a federal amendment. Despite their efforts, Virginia was one of the nine southern states that refused to grant the vote to women. Virginia did not ratify the Nineteenth Amendment until 1952. Clark was selected as the first chair of the newly organized League of Women Voters in 1920 and became president in 1921—a position she held for eighteen years. Her work involving social issues and governmental efficiency expanded in 1924 when she was elected to the board of the National League of Women Voters.
In 1922 Governor E. Lee Trinkle appointed Clark to the Commission on the Simplification of State and Local Government. Four years later, Governor Harry F. Byrd Jr. appointed her to the Liberal Arts College for Women Commission, a nine-member group studying the feasibility of establishing a new liberal arts college for women in Virginia. During the 1930s, Clark worked as a field supervisor for the National Reemployment Service. She later became the Virginia Arts Project Director of the Work Projects Administration, laboring to provide employment opportunities for artists in the state. In her later years, Clark remained active in the Richmond community as a member of the Richmond Diocesan Council of Catholic Women and the Virginia Art Commission. Adèle Clark died at the age of 100 in 1983.