Introduction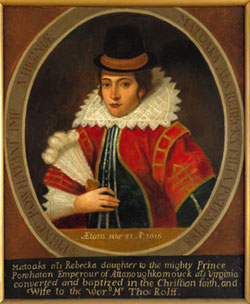 Pocahontas
by William Ludwell Sheppard

Return to Notable Virginia Women
Known also as Matoaka ("Little Snow Feather"), Amonute, and Rebecca, Pocahontas ("little wanton") remains an enigma to this day. The bare facts of her life are these. She was the daughter of Powhatan, chief of the Algonquian Indians in the tidewater region. In 1610 she married Kocoum. The English captured her in 1613 to force the return of several colonists and weapons. Powhatan eventually returned the colonists, but not the weapons, and bade the English to treat his daughter well. Baptized and christened Rebecca, Pocahontas married John Rolfe on 5 April 1614. With Rolfe and their son, Thomas, she sailed to England in 1616 where she was presented to King James I and feted by London society. Set to return to Virginia, Pocahontas, age 21 or 22, died on 21 March 1617 from an undetermined illness and was buried in Gravesend.
Didn't she save John Smith from death? Did Pocahontas provide corn to the Jamestown colonists when they were starving? Pocahontas left no written record of her life or her impressions about the English colonists. According to accounts written by white men, Pocahontas was the savior of the Jamestown colony, a perception that continues to this day. Pocahontas's fame reached mythic proportions with the 1624 publication of The Generall Historie of Virginia by John Smith. According to his account, Smith was taken to Powhatan's camp and threatened with death until Pocahontas intervened. Powhatan relented. Some historians now believe the event was an adoption ritual and that Smith misunderstood the point. It was Smith and William Strachey who cast Pocahontas in the role of a saving angel who made sure the colonists had food during the winter of 1608–1609.
Based on research in Virginia Indian history and culture, anthropologist Helen Rountree has suggested that the girl would have been "built like a piano mover," muscular and accustomed to hard work. Perhaps naked and with a shaved head, the true Pocahontas would bear little resemblance to the romanticized Indian maiden portrayed by artists and writers.