Previous Book Talk Recordings
Future Book Talks
---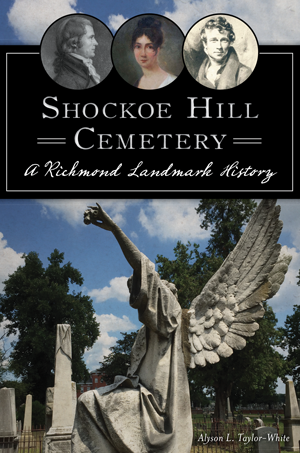 BOOK TALK WITH ALYSON L. TAYLOR-WHITE
Shockoe Hill Cemetery: A Richmond Landmark History
Tuesday, August 22, 2017
Time: 12:00 PM–1:00 PM
Place: Conference Rooms

Author Alyson L. Taylor-White charts the history of the celebrated Shockoe Hill Cemetery and brings to life the stories of those buried there. Established in 1822, the cemetery is the final resting place for many famous and infamous icons of Richmond, including Chief Justice John Marshall, the longest-serving chief justice of the United States, and Union spy Elizabeth Van Lew, who operated an extensive espionage ring during the Civil War. A book signing follows the program.



Add this event to your calendar
---
VIRGINIA FAMILY HISTORY DAY: BOOK TALK WITH PAULA OWENS PARKER
Roots Matter: Healing History, Honoring Heritage, Renewing Hope
Friday, September 15, 2017
Time: 2:00 PM–3:00 PM
Place: Lecture Hall

Join author Paula Owens Parker, an adjunct assistant professor of spiritual formation at Richmond's Union Presbyterian Seminary, as she discusses her book Roots Matter, which recognizes the impact of transgenerational trauma as a result of chattel slavery on the African American community. The book prunes the family tree of trauma–the silent, secret, and severed stories that stunt the growth of the family–and tends to family roots, fertilizing them with the recognition of the resilience, achievements, gifts, and talents of the ancestors, creating a healthier environment for future generations to flourish. A book signing follows the talk. For more information, contact catherine.wyatt@lva.virginia.gov or 804.692.3999.



Add this event to your calendar
---
For previous book talks please visit our calendar of events.