December 2013
---

The Gift of Pets: Stories Only a Vet Could Tell
Thursday, December 05, 2013
Time: Noon–1:00 PM
Place: Conference Rooms, Free

Veterinarian Bruce R. Coston will share stories from his new book, The Gift of Pets, about his animal patients and the clients who make his veterinary practice fulfilling. Coston is a gifted storyteller and a worthy follower of the James Herriot school of veterinary memoirs. Presented in conjunction with the Library's exhibition The Importance of Being Cute: Pet Photography in Virginia.
---
Cooking with My Sisters: A Culinary Adventure with Adriana Trigiani - SOLD OUT
Friday, December 06, 2013
Time: 11:30 AM–1:00 PM
Place: Library of Virginia Conference Rooms and Lobby

This elegant luncheon will feature a three-course meal prepared with the cookbook Cooking with My Sisters, a collaborative project of Adriana Trigiani and her three sisters. Trigiani and her family will host the event, which includes a presentation, book signing, and food by Cateraide, one of Richmond's most elegant caterers. Please note this event is sold out.
---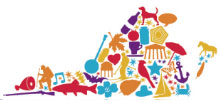 Friends and Family Open House
Friday, December 06, 2013
Time: 2:00 PM–7:00 PM
Place: The Virginia Shop

We're celebrating our friends and family this holiday season with some outrageous deals in the Virginia Shop at the Library of Virginia.  Tons of holiday and regular merchandise will be marked down up to 70% off the original price and any full-priced items will be 10% off.  We'll also provide samplings of our favorite Virginia Finest foods, tastings of Virginia wines and the chance to mingle with some special guests!

As a bonus to our Semper Virginia Society members, we're extending 20% off all full-priced merchandise in the Library store through the month of December.

Or, join as a new or renewing member and receive a whopping 30% off your entire purchase of full-priced merchandise! Visit us online at www.thevirginiashop.org/foundation-membership.aspx or call Dorian at 804-692-3561.
---
State Records Center late opening
Wednesday, December 18, 2013

The State Records Center Reading Room will open at 10:00 AM on Wednesday, December 18, 2013.
---
Closed
Monday, December 23, 2013—Wednesday, December 25, 2013

The Library of Virginia will be closed from Monday, December 23 through Wednesday, December 25.
---
State Record Center Reading Room Closed
Thursday, December 26, 2013

The State Record Center reading room will be closed on Thursday, December 26th.
---
Closed
Tuesday, December 31, 2013—Wednesday, January 01, 2014
Time: Noon

The Library will be close at noon on December 31, 2013 and remain closed through January 1, 2014 for the New Year's holiday.
---
No Vacancy: Remnants of Virginia's Roadside Culture
Tuesday, October 15, 2013—Saturday, February 22, 2014
Time: 9:00 AM–5:00 PM
Place: Exhibition Gallery, Free

Explore the evolution of Virginia's roadside lodging along U.S. Route 1, once the main highway for travel along the East Coast, through this exhibition of vintage and current photographs. Early and mid-20th century travelers along Route 1 stopped at camps, motor courts, roadside cottages, and motels to take a break from the hours of driving. Often locally owned, these businesses were full of the local flavor of the area. Today, in the shadows of the bright lights of the Holiday Inns, Best Westerns, and the Hiltons, the remnants of Virginia's roadside culture can still be seen through its rusted signs, overgrown lots, boarded windows, and re-purposed buildings.
---

The Importance of Being Cute: Pet Photography in Virginia
Monday, June 10, 2013—Saturday, March 01, 2014
Time: 9:00 AM–5:00 PM
Place: Lobby, Free

Photographs of animals dominate the web. From the cute to the ridiculous, millions of pet images are viewed and shared each day. The historical precedent for this online phenomenon can be found in The Importance of Being Cute. This entertaining exhibition focuses on the relationships that have existed between Virginians and their pets since the advent of photography. Vintage images from the Library of Virginia's collection allow visitors to explore more than a century and a half of pet photography, including photographs from Victorian cartes de visite, cabinet cards, and original glass plate negatives. Today's visitors will be able to participate by submitting a picture of their furry loved ones to become part of the exhibition.
---