May 2017
---
VFH FELLOWS TALK
Higher Aim: Guns, Safety, and Healing in the Era of Mass Shootings
Wednesday, May 03, 2017
Time: Noon–1:00 PM
Place: Conference Rooms, Free

As the search for answers continued in the decade after the Virginia Tech shootings, brave survivors and others deeply affected by the events of that day have taken steps that show a path to reforms to make schools, neighborhoods, and the nation safer. Virginia Foundation for the Humanities Fellow Tom Kapsidelis, a longtime journalist in Virginia, has examined this era against the backdrop of the nation's contentious struggle over gun, safety, and policy issues. He is completing his research at the Library of Virginia, where he has read Kaine administration e-mails and other documents archived after the tragedy in Blacksburg. Kapsidelis will talk about the personal and policy dimensions of this important chapter in the state's history, and share some of the stories of resilience and determination he's encountered along the way.
---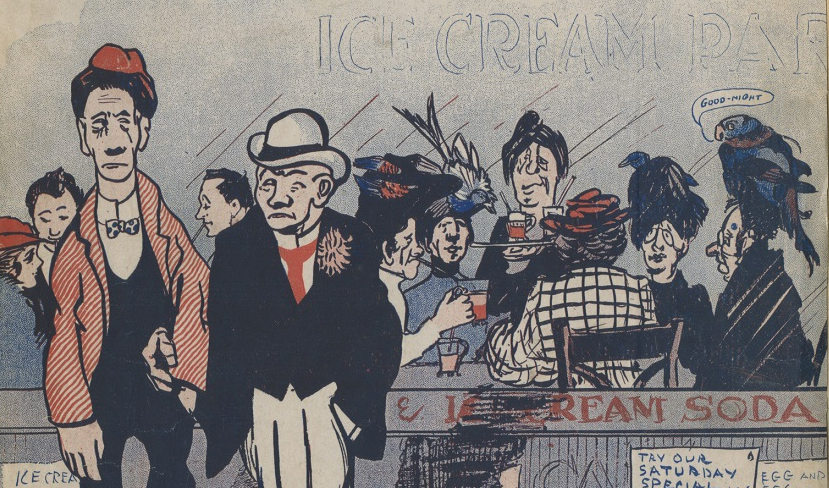 PERFORMANCE
"Goodbye, Booze": The Music of Prohibition (with a Beer Chaser)
Friday, May 05, 2017
Time: 5:30 PM–7:30 PM
Place: Lecture Hall & Lobby

See the exhibition Teetotalers & Moonshiners: Prohibition in Virginia, Distilled, enjoy some music, and try a beer crafted especially for the exhibition. Drawing on sheet music, period recordings, and anti-liquor songbooks, this event captures the debates over temperance and Prohibition through the music of the era. A reception featuring "Last Call" Imperial Brown Ale, created by the Library in collaboration with Three Notch'd Brewing Company, follows the music program. Enjoy live performances of songs that advocated temperance, documented the growth of a clandestine alcohol business (moonshine), and lampooned Prohibition and the efforts to enforce it, along with narration to place the music within its historical context. Performers include Kinney Rorrer, Mark Campbell, and sisters Samantha Willis and Jessi Johnson. Also featured are recordings of well-known Virginia artists such as Charlie Poole and the North Carolina Ramblers (which had deep ties to Franklin County), Bela Lam and His Greene County Singers, and Sister Rosetta Tharpe, a Richmond-area resident during her heyday. This event is supported in part by a grant from the Virginia Foundation for the Humanities and Public Policy. The reception is sponsored by Virginia Distillery Company.
---
BOOK TALK WITH MARC LEEPSON
Ballad of the Green Beret: The Life and Wars of Staff Sergeant Barry Sadler
Monday, May 08, 2017
Time: Noon–1:00 PM
Place: Conference Rooms, Free

Journalist and historian Marc Leepson will discuss his new book, Ballad of the Green Beret: The Life and Wars of Staff Sergeant Barry Sadler from the Vietnam War and Pop Stardom to Murder and an Unsolved, Violent Death. A top hit of 1966, "The Ballad of the Green Berets" was a patriotic tribute to the Special Forces by Staff Sergeant Barry Sadler. This life-and-times biography vividly recounts the sensational details of Sadler's life, setting his meteoric rise and tragic fall against the big picture of American society and culture during and after the Vietnam War. A book signing follows the program.
---
BEGINNER GENEALOGY WORKSHOP
Finding Your Family History: An Introduction to Genealogical Research
Friday, May 19, 2017
Time: 9:30 AM–12:30 PM
Place: Conference Rooms, $15 ($10 for Semper Virginia Society members)

Preregistration required: https://libraryofvaintroductiontogenealogy.eventbrite.com
Are you interested in researching your family tree but don't know where to begin? Join Library of Virginia archivists to learn helpful research tips and strategies, useful online websites, and resources to begin exploring your heritage. No experience necessary. Plan to arrive early to sign up for a Library of Virginia card at the circulation desk before the workshop begins. For more information, contact catherine.wyatt@lva.virginia.gov or 804.692.3999.
---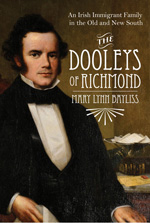 BOOK TALK WITH MARY LYNN BAYLISS
The Dooleys of Richmond: An Irish Immigrant Family in the Old and New South
Wednesday, May 24, 2017
Time: Noon–1:00 PM
Place: Conference Rooms, Free

Join writer and lecturer Mary Lynn Bayliss as she discusses her book The Dooleys of Richmond, a biography of two generations of a dynamic and philanthropic immigrant family in the urban South. The first generation established one of the largest hat manufacturing companies in the country and became leaders in business, education, culture, and politics in Virginia. After the Civil War, James Dooley developed railroad networks across the United States and, with his wife, built Maymont, the famed Gilded Age estate that remains a major attraction in Richmond. The story of the Dooleys is a fascinating window on southern society and the people who shaped its grand and turbulent history. A book signing follows the program.
---
Closed
Saturday, May 27, 2017—Monday, May 29, 2017

Closed for Memorial Day weekend
---
EXHIBITION
Teetotalers & Moonshiners: Prohibition in Virginia, Distilled
Monday, April 03, 2017—Saturday, December 02, 2017
Place: Exhibition Gallery & Lobby, Free

Which Virginia county is the Moonshine Capital of the World? The Library of Virginia's upcoming exhibition, Teetotalers & Moonshiners: Prohibition in Virginia, Distilled, will reveal that and more as it explores the impact of Prohibition on the Old Dominion. On November 1, 1916, Virginia's breweries and distilleries closed their doors as the state began a grand experiment in Prohibition. From that date until 1933, state inspectors and federal agents attempted to stem the flow of illicit alcohol to a thirsty populace. Newsreels of still-busting raids, music from the Jazz Age, and vintage stills will complement the archival record of the exploits of Virginia's Prohibition Commission. This exhibition is supported in part by the Virginia Department of Alcoholic Beverage Control and the National Alcohol Beverage Control Association.
---