August 2014
---
Rewarding Virginia's Warriors: Commemorating 70 Years of the GI Bill
Monday, June 16, 2014—Saturday, August 02, 2014
Time: 9:00 AM–5:00 PM
Place: Reading Rooms, Second Floor

The GI Bill turns 70 this year. Prior to this groundbreaking legislation being signed into law in June 1944 by President Franklin Roosevelt, postwar benefits for veterans were skimpy and spotty at best. This display of pre-World War II portions of the Library's military collection highlights Revolutionary War land bounties, petitions for pensions, and post-Civil War applications for prosthetics. Artifacts from Hanger, Inc, a prosthetic company founded by Virginian James Hanger after the Civil War will also be on display.
---

"BOOKS ON BROAD" FEATURING ZACHARY W. DRESSER | Apocalypse and the Millennium in the Civil War Era
Wednesday, August 06, 2014
Time: 5:30 PM–7:30 PM
Place: Lecture Hall

Apocalypse and the Millennium in the Civil War Era explores the diverse ways in which beliefs about the end times influenced nineteenth-century American lives, including reform culture, the search for meaning amid the trials of war, and the social transformation wrought by emancipation. Reception (wine and cheese) 5:30–6:00 PM, book talk 6:00–7:00 PM, and book signing 7:00–7:30 PM.
---
Find Your Family History at the Library of Virginia: Getting Started
Friday, August 08, 2014
Time: 9:30 AM–12:30 PM
Place: Conference Rooms, Fee, To register, https://www.eventbrite.com/e/find-your-family-history-at-the-library-of-virginia-getting-started-registration-11470046217?aff=es2&rank=1

Geared for beginners, this workshop will explore our collections and offer advice on how to organize your research. This is part of an ongoing series of workshops on researching your family history.
---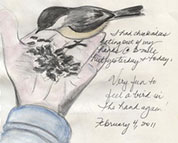 Nature Journaling with Betty Gatewood CANCELLED
Saturday, August 16, 2014
Time: 1:00 PM–4:00 PM
Place: Conference Rooms, $25 + registration fee (includes materials) Registration required, visit www.eventbrite.com/e/nature-journaling-with-betty-gatewood-tickets-12239260959?ref=estw

Join us for an afternoon of learning about nature journaling. While you're here, check out our latest exhibition, Flora of Virginia, for ideas to help with your journal. Betty Gatewood—National Park Service interpretative ranger, nature artist, and journal keeper—will lead this three-hour workshop. Her botanical illustrations have been published in the Appalachian Trail Conservancy's A. T. Journeys magazine, and have been the cover art for Virginia's Mountain Treasures and the Virginia Native Plant Society's Wildflower of the Year brochures. Registration deadline: August 1. For more information, call 804.692.3001.
---
Natural Virginia: Panoramic Photographs by Ben Greenberg
Wednesday, August 20, 2014
Time: Noon–1:00 PM
Place: Conference Rooms, FREE

Photographer Ben Greenberg and author Deane Dozier will discuss production of Natural Virginia, a collection of more than 100 images that range from the state's most well-known to its rarely explored landscapes. Some of the stunning panoramic shots in the book represent as many as 10 years of effort to get a worthy picture of a particular location. Presented in conjunction with the Library's exhibition Flora of Virginia.
---
Mapping RVA: Where You Live Makes All the Difference
Monday, June 02, 2014—Saturday, August 23, 2014
Time: 9:00 AM–5:00 PM
Place: Voorhees Map Reading Room, Second Floor

Housing Opportunities Made Equal (HOME) presents Mapping RVA: Where You Live Makes All the Difference, a multimedia exhibition of nine maps created using geographic information systems to display a unique history of the Richmond metro area. In this iteration of the traveling exhibit, maps from the Library of Virginia's holdings will be presented alongside the maps created by HOME's director of research, Brian Koziol. The current circumstances of Richmond's neighborhoods have roots in state and federal policies that have had lasting effects on concentrations of poverty and growth, lending patterns, homeownership, and educational outcomes for children.
---
Closed
Saturday, August 30, 2014—Monday, September 01, 2014

The Library of Virginia will be closed for Labor Day weekend.
---

Flora of Virginia
Monday, March 17, 2014—Saturday, September 13, 2014
Place: Exhibition Hall, Free

Discover the power of the flower. Delve into Virginia's natural environment through Flora of Virginia, an exhibition featuring hundreds of colorful illustrations from the Library of Virginia's collections. Learn fun facts about Virginia's native plants. Examine the history of botanical description and illustration. Explore the personalities behind the folks who collected and described these plants. Try your hand at sketching a specimen at the drawing station. Check our Web calendar for information about exhibition-related events.
---