Saturday, January 27, 2018
---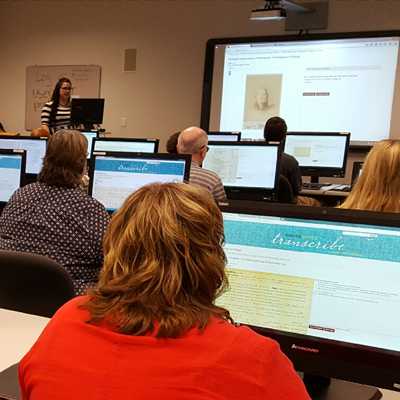 VOLUNTEER OPPORTUNITY
Transcribe-a-thon
Saturday, January 27, 2018
Time: Noon–2:00 PM
Place: Network Training Center
Registration required: http://bit.ly/LVAvolunteer.



Join other volunteers to transcribe handwritten pages by reading written text and typing it into digital form. Participate in enhancing access to collections of more than 400 years of Virginia history and culture. Twelve computer stations will be available. If you have your own laptop, please bring it! Transcribe-a-thons are facilitated by the volunteer organization HandsOn Greater Richmond. Minimum age is 16 (12 with an adult).

---
EXHIBITION
Virginia's Forgotten Canneries
Tuesday, August 01, 2017 — Saturday, February 03, 2018
Place: Second Floor Reading Rooms, Free
Created by the Blue Ridge Institute of Ferrum College, Virginia's Forgotten Canneries documents the home canning industry developed by local farmers that supplied vegetables and fruits to the commonwealth's increasingly urban population for more than 50 years. These rural canneries were small operations that also provided cash wages for rural residents. Counties along Virginia's central Blue Ridge Mountains were particularly rich in canneries, such as Botetourt County, which was home to 193 of them in 1915. The exhibition features colorful and eye-catching labels–on graphic panels as well as on a pyramid of actual cans–many of which were created by the Piedmont Label Company (now Smyth Companies), of Bedford, which donated approximately 10,000 of its pre-1960 labels to the Blue Ridge Institute in 2014.

---
EXHIBITION
True Sons of Freedom
Tuesday, January 16, 2018 — Friday, November 09, 2018
Place: Exhibition Gallery & Lobby, Free
True Sons of Freedom, a photographic exhibition at the Library of Virginia, explores the stories of Virginia's African American soldiers who served during World War I. More than just mementos for families and sweethearts, these portraits challenge the crude and demoralizing cultural products of an era that often reduced African Americans to stereotypes and denied them full participation as citizens of the United States. Reflecting the pride and determination of African American World War I servicemen, the images were submitted with the soldiers' responses to military service questionnaires created by the Virginia War History Commission as part of an effort to capture the scope of Virginians' participation in the Great War. The original photographs, reproduced in the gallery at nearly life-size dimensions, place visitors at eye level in front of the soldiers. The monumental scale allows viewers the opportunity to examine rich details not seen in the original photo postcards.


For more information, go to www.virginiamemory.com/truesons.

---