Wednesday, December 06, 2017
---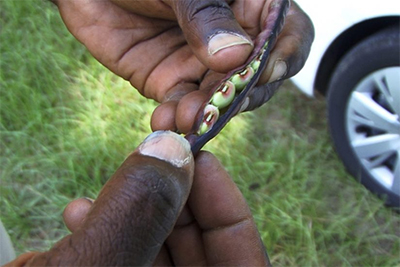 A TALK BY FILMMAKER JAMIE S. ROSS
At the Common Table: Food, People, and Place in the American South
Wednesday, December 06, 2017
Time: Noon–1:00 PM
Place: Lecture Hall, Free, with a suggested donation of one item for our Fall Food Drive benefitting FeedMore
Join filmmaker Jamie S. Ross, a Virginia Foundation for the Humanities Fellow and director of Red Dirt Productions, as she talks about her upcoming film, At the Common Table, which traces the path of southern foods across the miles and centuries. By delving deeply into the core cuisine of the South, the film explores the creativity and ingenuity of those at the bottom rung of southern society—enslaved Africans, dispossessed Native Americans, and landless European laborers. Ross is the producer of APPALACHIA: A History of Mountains and People—a PBS film series that chronicles the history of one the oldest mountain ranges on earth and the diverse peoples who have inhabited them. This talk complements the exhibition Virginia's Forgotten Canneries, which runs through December 30, 2017, in the Library's second-floor reading rooms and our Fall Food Drive benefitting FeedMore. Donate a food item and we'll waive any fines or fees you owe the Library (through December 15, 2017).

---
VOLUNTEER OPPORTUNITY
Transcribe-a-thon
Wednesday, December 06, 2017
Time: 5:30 PM–7:30 PM
Place: Network Training Center, Free
Join other volunteers to transcribe handwritten pages by reading written text and typing it into digital form. Participate in enhancing access to collections of more than 400 years of Virginia history and culture. Twelve computer stations will be available. If you have your own laptop, please bring it! Transcribe-a-thons are facilitated by the volunteer organization HandsOn Greater Richmond. Minimum age is 16 (12 with an adult). Registration required: http://bit.ly/LVAvolunteer.

---
FALL FOOD DRIVE
Donate Food Items Here for FeedMore
Wednesday, November 01, 2017 — Friday, December 15, 2017
Place: Circulation Desk & at Events
Coming to the Library this fall? Please donate to our Fall Food Drive! Help feed our community and visit our "Virginia's Forgotten Canneries" exhibition while you're here. Donate a food item and we'll waive any fines or fees you owe the Library! Donation boxes can be found near the Circulation Desk and at the entrance of events. According to Central Virginia's FeedMore organization, most-needed items include peanut butter, canned tuna and chicken, and low-sodium vegetables.

---
EXHIBITION
Virginia's Forgotten Canneries
Tuesday, August 01, 2017 — Saturday, February 03, 2018
Place: Second Floor Reading Rooms, Free
Created by the Blue Ridge Institute of Ferrum College, Virginia's Forgotten Canneries documents the home canning industry developed by local farmers that supplied vegetables and fruits to the commonwealth's increasingly urban population for more than 50 years. These rural canneries were small operations that also provided cash wages for rural residents. Counties along Virginia's central Blue Ridge Mountains were particularly rich in canneries, such as Botetourt County, which was home to 193 of them in 1915. The exhibition features colorful and eye-catching labels–on graphic panels as well as on a pyramid of actual cans–many of which were created by the Piedmont Label Company (now Smyth Companies), of Bedford, which donated approximately 10,000 of its pre-1960 labels to the Blue Ridge Institute in 2014.

---