Saturday, February 24, 2018
---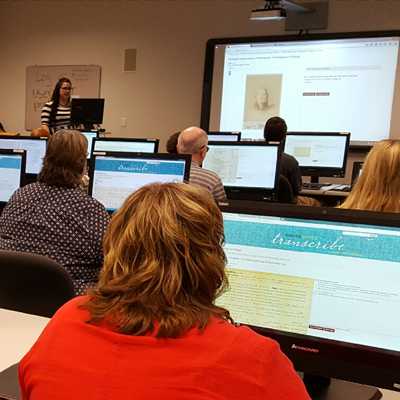 VOLUNTEER OPPORTUNITY
Transcribe-a-thon
Saturday, February 24, 2018
Time: Noon–2:00 PM
Place: Network Training Center
Registration required: http://bit.ly/LVAvolunteer.



Join other volunteers to transcribe handwritten pages by reading written text and typing it into digital form. Participate in enhancing access to collections of more than 400 years of Virginia history and culture. Twelve computer stations will be available. If you have your own laptop, please bring it! Transcribe-a-thons are facilitated by the volunteer organization HandsOn Greater Richmond. Minimum age is 16 (12 with an adult).

---
AMERICAN CIVIL WAR MUSEUM'S 2018 SYMPOSIUM
Ordinary People, Extraordinary Times
Saturday, February 24, 2018
Time: 9:30 AM–4:00 PM
Place: Lecture Hall, $65 ($40 for American Civil War Museum and Library of Virginia members/donors, $20 for students)
Cosponsored with the John L. Nau III Center for Civil War History at the University of Virginia and hosted by the Library of Virginia, the American Civil War Museum's 2018 symposium will explore the impact of the Civil War on diverse groups of people and narrate the stories of individuals who navigated the challenges and opportunities of war. Speakers are Dr. Peter S. Carmichael, Dr. Thavolia Glymph, Dr. James I. Robertson, Jr., Dr. Jane Schultz, and Dr. Amy Murrell Taylor. Questions? Contact John Coski at jcoski@acwm.org. Includes a boxed lunch if registration is submitted before February 21. Register on the website of the American Civil War Museum (https://acwm.org).

---
EXHIBITION
2018 Strong Men & Women in Virginia History
Thursday, February 01, 2018 — Wednesday, February 28, 2018
Place: Second Floor Lobby, Free
In observance of Black History Month, the Library of Virginia and Dominion Energy honor seven distinguished Virginians in this traveling exhibition as the 2018 Strong Men and Women in Virginia History for their contributions to the commonwealth and the nation. Through education and advocacy, they demonstrate how African Americans have actively campaigned for better lives for themselves and their people. See the links at left for a schedule of other locations for this exhibition.

---
EXHIBITION
True Sons of Freedom
Tuesday, January 16, 2018 — Friday, November 09, 2018
Place: Exhibition Gallery & Lobby, Free
True Sons of Freedom, a photographic exhibition at the Library of Virginia, explores the stories of Virginia's African American soldiers who served during World War I. More than just mementos for families and sweethearts, these portraits challenge the crude and demoralizing cultural products of an era that often reduced African Americans to stereotypes and denied them full participation as citizens of the United States. Reflecting the pride and determination of African American World War I servicemen, the images were submitted with the soldiers' responses to military service questionnaires created by the Virginia War History Commission as part of an effort to capture the scope of Virginians' participation in the Great War. The original photographs, reproduced in the gallery at nearly life-size dimensions, place visitors at eye level in front of the soldiers. The monumental scale allows viewers the opportunity to examine rich details not seen in the original photo postcards.


For more information, go to www.virginiamemory.com/truesons.

---