Thursday, February 08, 2018
---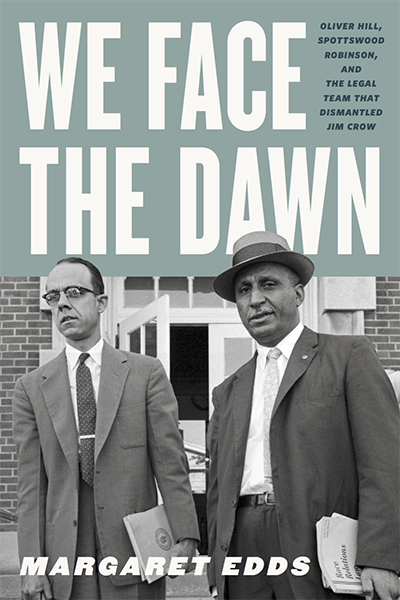 BOOK LAUNCH BY MARGARET EDDS
We Face the Dawn: Oliver Hill, Spottswood Robinson, and the Legal Team That Dismantled Jim Crow
Thursday, February 08, 2018
Time: 5:30 PM–7:00 PM
Place: Lecture Hall, Free
Join author and retired journalist Margaret Edds for the launch of her latest book, We Face the Dawn, which offers the first comprehensive account of the South's most significant grassroots legal team and how it successfully challenged racial separation in the 1940s and 1950s. Virginians Oliver Hill and Spottswood Robinson initiated and argued one of the five cases that combined into the landmark Brown v. Board of Education, but their influence extends far beyond that single case. They were part of a small brotherhood that conceived and executed the NAACP's assault on racial separation in education, transportation, housing, and voting. We Face the Dawn broadens our awareness of lesser-known figures who played pivotal roles in the civil rights movement. At a time when numerous schools have resegregated and the prospects of many minority children appear bleak, Hill and Robinson's remarkably effective campaign against various forms of racial segregation can inspire a new generation to embrace educational opportunity as the birthright of every American child.

Reception: 5:30–6:00 PM. Author talk: 6:00–7:00 PM. Book signing 7:00–7:15 PM.


Add this event to your calendar
---
EXHIBITION
True Sons of Freedom
Tuesday, January 16, 2018 — Friday, November 09, 2018
Place: Exhibition Gallery & Lobby, Free
True Sons of Freedom, a photographic exhibition at the Library of Virginia, explores the stories of Virginia's African American soldiers who served during World War I. More than just mementos for families and sweethearts, these portraits challenge the crude and demoralizing cultural products of an era that often reduced African Americans to stereotypes and denied them full participation as citizens of the United States. Reflecting the pride and determination of African American World War I servicemen, the images were submitted with the soldiers' responses to military service questionnaires created by the Virginia War History Commission as part of an effort to capture the scope of Virginians' participation in the Great War. The original photographs, reproduced in the gallery at nearly life-size dimensions, place visitors at eye level in front of the soldiers. The monumental scale allows viewers the opportunity to examine rich details not seen in the original photo postcards.

---