Wednesday, April 25, 2018
---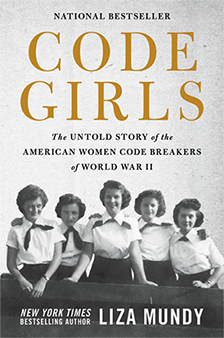 BOOK TALK WITH LIZA MUNDY
Code Girls: The Untold Story of the American Women Code Breakers of World War II
Wednesday, April 25, 2018
Time: Noon–1:00 PM
Place: Lecture Hall, Free
Join author and journalist Liza Mundy as she discusses her new book, Code Girls: The Untold Story of the American Women Code Breakers of World War II. Recruited by the U.S. Army and Navy from small towns and elite colleges, more than 10,000 women served as codebreakers during World War II. While their brothers and boyfriends took up arms, these women moved to Washington and learned the meticulous work of code-breaking. Their efforts shortened the war, saved countless lives, and gave them access to careers previously denied to them. A strict vow of secrecy nearly erased their efforts from history. Now, through dazzling research and interviews with surviving code girls, Mundy brings to life this riveting and vital story of American courage, service, and scientific accomplishment. A book signing follows the talk.



The Richmond Times-Dispatch is media sponsor for our book talks. Additional funding provided by the Carole Weinstein Endowment for Virginia Authors.

---
EXHIBITION
True Sons of Freedom
Tuesday, January 16, 2018 — Friday, November 09, 2018
Place: Exhibition Gallery & Lobby, Free
True Sons of Freedom, a photographic exhibition at the Library of Virginia, explores the stories of Virginia's African American soldiers who served during World War I. More than just mementos for families and sweethearts, these portraits challenge the crude and demoralizing cultural products of an era that often reduced African Americans to stereotypes and denied them full participation as citizens of the United States. Reflecting the pride and determination of African American World War I servicemen, the images were submitted with the soldiers' responses to military service questionnaires created by the Virginia War History Commission as part of an effort to capture the scope of Virginians' participation in the Great War. The original photographs, reproduced in the gallery at nearly life-size dimensions, place visitors at eye level in front of the soldiers. The monumental scale allows viewers the opportunity to examine rich details not seen in the original photo postcards.


For more information, go to www.virginiamemory.com/truesons.

---