Thursday, May 17, 2018
---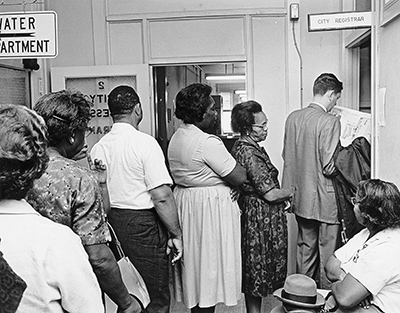 VIRGINIA'S CONSTITUTIONAL CONVENTION OF 1867–1868
Race and the Right to Vote: Contextualizing African American Suffrage in Virginia
Thursday, May 17, 2018
Time: 5:30 PM–8:00 PM
Place: Conference Rooms, Free
This roundtable discussion features Dr. Corinne Field (University of Virginia), Dr. Julian Maxwell Hayter (University of Richmond), Senator Jennifer McClellan (9th Senate District of Virginia), and Dr. Nicole Myers Turner (Virginia Commonwealth University). The election of delegates to the Constitutional Convention of 1867–1868 would mark the first time that African American men voted in Virginia. They also ran for seats, and 24 African American men were elected as delegates to the convention. Working with their white counterparts, they shaped and approved a new constitution in 1868 giving African American men the right to vote and hold public office. Now, 150 years later, we look back on the legacy of that constitution with a panel of historians, lawmakers, and activists to reflect on the promise and politics of African American suffrage then and now.



A reception precedes the program.

---
EXHIBITION
True Sons of Freedom
Tuesday, January 16, 2018 — Friday, November 09, 2018
Place: Exhibition Gallery & Lobby, Free
True Sons of Freedom, a photographic exhibition at the Library of Virginia, explores the stories of Virginia's African American soldiers who served during World War I. More than just mementos for families and sweethearts, these portraits challenge the crude and demoralizing cultural products of an era that often reduced African Americans to stereotypes and denied them full participation as citizens of the United States. Reflecting the pride and determination of African American World War I servicemen, the images were submitted with the soldiers' responses to military service questionnaires created by the Virginia War History Commission as part of an effort to capture the scope of Virginians' participation in the Great War. The original photographs, reproduced in the gallery at nearly life-size dimensions, place visitors at eye level in front of the soldiers. The monumental scale allows viewers the opportunity to examine rich details not seen in the original photo postcards.


For more information, go to www.virginiamemory.com/truesons.

---