Friday, June 08, 2018
---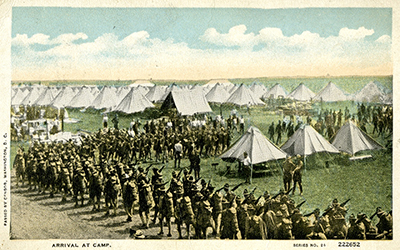 MILITARY RECORDS GENEALOGY WORKSHOP
To Provide for the Common Defense: Virginia Military Records Research
Friday, June 08, 2018
Time: 9:30 AM–12:30 PM
Place: Conference Rooms, $25 ($20 for Semper Virginia Society members)
Preregistration required: https://militaryrecordsresearch2018.eventbrite.com

The Library of Virginia is the most important repository of military records of Virginians who served in various ways from Virginia's founding in 1607 to the end of World War II. Library staff members Tom Crew (senior reference archivist) and Ginny Dunn (archives and library reference services manager) present records unique to the Library, as well as records available here on microfilm and in digital format from institutions such as the National Archives, including printed resources. Service in the Revolutionary War, the Civil War, and World Wars I and II will be highlighted, along with militia service through the centuries, as well as lesser-known conflicts such as the War of 1812 and the French and Indian War. For more information, contact catherine.wyatt@lva.virginia.gov or 804.692.3999.

---
EXHIBITION
True Sons of Freedom
Tuesday, January 16, 2018 — Friday, November 09, 2018
Place: Exhibition Gallery & Lobby, Free
True Sons of Freedom, a photographic exhibition at the Library of Virginia, explores the stories of Virginia's African American soldiers who served during World War I. More than just mementos for families and sweethearts, these portraits challenge the crude and demoralizing cultural products of an era that often reduced African Americans to stereotypes and denied them full participation as citizens of the United States. Reflecting the pride and determination of African American World War I servicemen, the images were submitted with the soldiers' responses to military service questionnaires created by the Virginia War History Commission as part of an effort to capture the scope of Virginians' participation in the Great War. The original photographs, reproduced in the gallery at nearly life-size dimensions, place visitors at eye level in front of the soldiers. The monumental scale allows viewers the opportunity to examine rich details not seen in the original photo postcards.


For more information, go to www.virginiamemory.com/truesons.

---