Thursday, July 06, 2017
---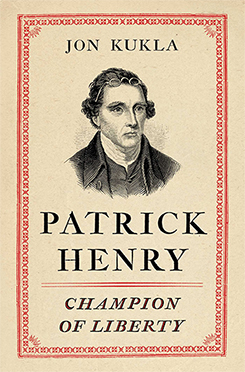 BOOK TALK WITH JON KUKLA
Patrick Henry: Champion of Liberty
Thursday, July 06, 2017
Time: 5:30 PM–7:00 PM
Place: Lecture Hall, Free
Join historian and author Jon Kukla as he discusses his latest work with Sarah McConnell, producer and host of public radio's "With Good Reason." This authoritative biography of Patrick Henry—the underappreciated founding father best known for saying, "Give me liberty, or give me death!"—restores him and his fellow Virginians to their seminal place in the story of American independence. Henry was enormously influential in his time, but his accomplishments, other than his oratory, were subsequently all but forgotten. Kukla has thoroughly researched Henry's life, even living on one of Henry's estates. He brings both newly discovered documents and new insights to the story of the patriot who played a central role in the movement to independence, the Revolution, the Constitutional era, and the early Republic. Reception at 5:30 pm, book talk at 6:00 pm, and book signing at 7:00 pm. The book is available for pre-order through the Virginia Shop at 804.692.3524 or https://goo.gl/rlW2xQ.

---
EXHIBITION
Teetotalers & Moonshiners: Prohibition in Virginia, Distilled
Monday, April 03, 2017 — Saturday, December 02, 2017
Place: Exhibition Gallery & Lobby, Free
Which Virginia county is the Moonshine Capital of the World? The Library of Virginia's upcoming exhibition, Teetotalers & Moonshiners: Prohibition in Virginia, Distilled, will reveal that and more as it explores the impact of Prohibition on the Old Dominion. On November 1, 1916, Virginia's breweries and distilleries closed their doors as the state began a grand experiment in Prohibition. From that date until 1933, state inspectors and federal agents attempted to stem the flow of illicit alcohol to a thirsty populace. Newsreels of still-busting raids, music from the Jazz Age, and vintage stills will complement the archival record of the exploits of Virginia's Prohibition Commission. This exhibition is supported in part by the Virginia Department of Alcoholic Beverage Control and the National Alcohol Beverage Control Association.

---