Wednesday, July 18, 2018
---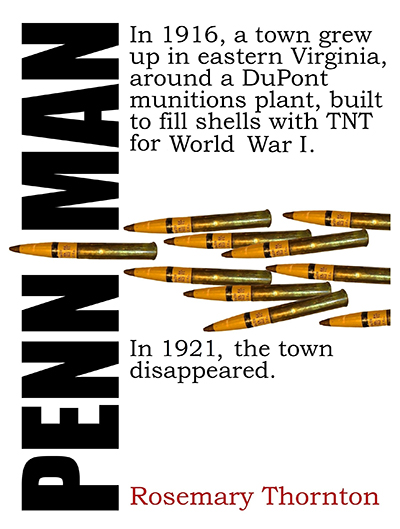 EXHIBITION-RELATED BOOK TALK WITH ROSEMARY THORNTON
Penniman: Virginia's Own Ghost City
Wednesday, July 18, 2018
Time: 5:30 PM–6:30 PM
Place: Conference Rooms, Free
Join author Rosemary Thornton as she discusses her new book, Penniman: Virginia's Own Ghost City. If you've never heard of Penniman, you're not alone. It's a lost chapter of Virginia history. Located on the York River between Williamsburg and Yorktown, Penniman was the site of a DuPont munitions plant that produced artillery shells for World War I in 1918. At its peak, it had 15,000 inhabitants, many of whom lived in newly built Sears Modern Homes, catalog and kit houses sold primarily through mail order by Sears, Roebuck, and Company. The predominantly female workforce loaded TNT into 2.8 million shells. When the war ended, so did the town.


Within the pages of this fascinating story, you'll learn about:

• German espionage at Penniman

• Why the Great Atlantic Fleet remained anchored in the York River–at the town's front door

• Why 90 percent of plant's shell-loaders were female

• What happened to Penniman's houses


A book signing follows the talk. This event complements the Library's exhibition True Sons of Freedom. The Richmond Times-Dispatch is media sponsor for our book talks. Additional funding provided by the Carole Weinstein Endowment for Virginia Authors and the Library Services and Technology Act administered by the Institute of Museum and Library Services.


Add this event to your calendar
---
EXHIBITION
True Sons of Freedom
Tuesday, January 16, 2018 — Friday, November 09, 2018
Place: Exhibition Gallery & Lobby, Free
True Sons of Freedom, a photographic exhibition at the Library of Virginia, explores the stories of Virginia's African American soldiers who served during World War I. More than just mementos for families and sweethearts, these portraits challenge the crude and demoralizing cultural products of an era that often reduced African Americans to stereotypes and denied them full participation as citizens of the United States. Reflecting the pride and determination of African American World War I servicemen, the images were submitted with the soldiers' responses to military service questionnaires created by the Virginia War History Commission as part of an effort to capture the scope of Virginians' participation in the Great War. The original photographs, reproduced in the gallery at nearly life-size dimensions, place visitors at eye level in front of the soldiers. The monumental scale allows viewers the opportunity to examine rich details not seen in the original photo postcards.


For more information, go to www.virginiamemory.com/truesons.

---