Saturday, August 16, 2014
---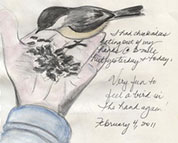 Nature Journaling with Betty Gatewood CANCELLED
Saturday, August 16, 2014
Time: 1:00 PM–4:00 PM
Place: Conference Rooms, $25 + registration fee (includes materials) Registration required, visit www.eventbrite.com/e/nature-journaling-with-betty-gatewood-tickets-12239260959?ref=estw
Join us for an afternoon of learning about nature journaling. While you're here, check out our latest exhibition, Flora of Virginia, for ideas to help with your journal. Betty Gatewood—National Park Service interpretative ranger, nature artist, and journal keeper—will lead this three-hour workshop. Her botanical illustrations have been published in the Appalachian Trail Conservancy's A. T. Journeys magazine, and have been the cover art for Virginia's Mountain Treasures and the Virginia Native Plant Society's Wildflower of the Year brochures. Registration deadline: August 1. For more information, call 804.692.3001.

---
Mapping RVA: Where You Live Makes All the Difference
Monday, June 02, 2014 — Saturday, August 23, 2014
Time: 9:00 AM–5:00 PM
Place: Voorhees Map Reading Room, Second Floor
Housing Opportunities Made Equal (HOME) presents Mapping RVA: Where You Live Makes All the Difference, a multimedia exhibition of nine maps created using geographic information systems to display a unique history of the Richmond metro area. In this iteration of the traveling exhibit, maps from the Library of Virginia's holdings will be presented alongside the maps created by HOME's director of research, Brian Koziol. The current circumstances of Richmond's neighborhoods have roots in state and federal policies that have had lasting effects on concentrations of poverty and growth, lending patterns, homeownership, and educational outcomes for children.

---

Flora of Virginia
Monday, March 17, 2014 — Saturday, September 13, 2014
Place: Exhibition Hall, Free
Discover the power of the flower. Delve into Virginia's natural environment through Flora of Virginia, an exhibition featuring hundreds of colorful illustrations from the Library of Virginia's collections. Learn fun facts about Virginia's native plants. Examine the history of botanical description and illustration. Explore the personalities behind the folks who collected and described these plants. Try your hand at sketching a specimen at the drawing station. Check our Web calendar for information about exhibition-related events.

---