Tuesday, August 22, 2017
---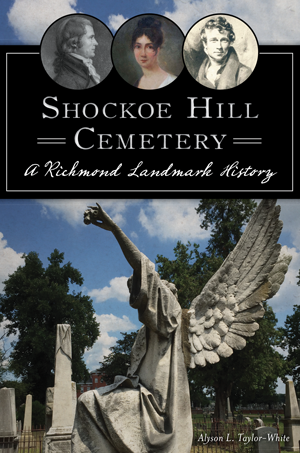 BOOK TALK WITH ALYSON L. TAYLOR-WHITE
Shockoe Hill Cemetery: A Richmond Landmark History
Tuesday, August 22, 2017
Time: Noon–1:00 PM
Place: Conference Rooms, Free
Author Alyson L. Taylor-White charts the history of the celebrated Shockoe Hill Cemetery and brings to life the stories of those buried there. Established in 1822, the cemetery is the final resting place for many famous and infamous icons of Richmond, including Chief Justice John Marshall, the longest-serving chief justice of the United States, and Union spy Elizabeth Van Lew, who operated an extensive espionage ring during the Civil War. A book signing follows the program.

---
EXHIBITION
Teetotalers & Moonshiners: Prohibition in Virginia, Distilled
Monday, April 03, 2017 — Saturday, December 02, 2017
Place: Exhibition Gallery & Lobby, Free
Which Virginia county is the Moonshine Capital of the World? The Library of Virginia's upcoming exhibition, Teetotalers & Moonshiners: Prohibition in Virginia, Distilled, will reveal that and more as it explores the impact of Prohibition on the Old Dominion. On November 1, 1916, Virginia's breweries and distilleries closed their doors as the state began a grand experiment in Prohibition. From that date until 1933, state inspectors and federal agents attempted to stem the flow of illicit alcohol to a thirsty populace. Newsreels of still-busting raids, music from the Jazz Age, and vintage stills will complement the archival record of the exploits of Virginia's Prohibition Commission. This exhibition is supported in part by the Virginia Department of Alcoholic Beverage Control and the National Alcohol Beverage Control Association.

---
EXHIBITION
Virginia's Forgotten Canneries
Tuesday, August 01, 2017 — Saturday, February 03, 2018
Place: Second Floor Reading Rooms, Free
Created by the Blue Ridge Institute of Ferrum College, Virginia's Forgotten Canneries documents the home canning industry developed by local farmers that supplied vegetables and fruits to the commonwealth's increasingly urban population for more than 50 years. These rural canneries were small operations that also provided cash wages for rural residents. Counties along Virginia's central Blue Ridge Mountains were particularly rich in canneries, such as Botetourt County, which was home to 193 of them in 1915. The exhibition features colorful and eye-catching labels–on graphic panels as well as on a pyramid of actual cans–many of which were created by the Piedmont Label Company (now Smyth Companies), of Bedford, which donated approximately 10,000 of its pre-1960 labels to the Blue Ridge Institute in 2014.

---