Tuesday, March 03, 2015 | Calendar of Events
To Be Sold: Virginia and the American Slave Trade
This groundbreaking exhibition explores the pivotal role that Richmond played in the domestic slave trade. Curated by University of Virginia professor Maurie McInnis, To Be Sold draws from her recent book, Waiting to Be Sold: Abolitionist Art and the American Slave Trade, and is anchored by a series of paintings and engravings by Eyre Crowe, a British artist who witnessed the slave trade as he traveled across the United States in 1853. This internal trade accounted for the largest forced migration of people in the United States, moving as many as two thirds of a million people from the Upper South to the Cotton South. Virginia was the largest mass exporter of enslaved people through the Richmond market, making the trade the most important economic activity in antebellum Virginia. This exhibition is not merely a story of numbers and economic impact, but also one that focuses on individuals and the impact that the trade had on enslaved people.
All Events » | Holiday Schedule » | Inclement Weather Closings »
Current News Releases | Archive
2015 Virginia Women in History Program Honors Eight Outstanding Women
The first African American woman to become a certified public accountant in Virginia, the first woman to preside over the House of Delegates' powerful budge t-writing committee, and an African American poet who uses language to raise awareness of social issues are among eight Virginia women recognized by the Library of Virginia as part of its Virginia Women in History program...
Strong Men and Women Essay Contest Winners Announced
Please join the Library of Virginia and Dominion Virginia Power in congratulating the winners of the student essay contest for the 2015 Strong Men and Women in Virginia History program. This program highlights eight African American leaders and their achievements...
What's New In The Collections | Archive
The Library of Virginia Quarterly Report of Newly Available Accessions
October 1 – December 31, 2014
A report including the creator, title, size, brief description, and accession number of the local, map, private, and state archival collections described and/or received during the time period. Some collections may be closed for processing; check with Archives Reference Services regarding availabilty for research use.
Primary Sources Semiannual Report of Newly Processed Collections
July – December 2012
Welcome to the latest issue of the Library of Virginia's semiannual report Primary
Sources. Here you will find a listing of the latest collections processed, microfilmed, or digitized by the Library. Since 1999, the Library has annually received General Assembly support for archival positions in order "to relieve the 54-year backlog in processing significant archival, special, and other historical collections."
Featured Events

BOOK LAUNCH BY TED MARIS-WOLF Family Bonds: Free Blacks and Re-enslavement Law in Antebellum Virginia
Between 1854 and 1864, more than a hundred free African Americans in Virginia proposed to enslave themselves and, in some cases, their children. Author Ted Maris-Wolf, Interim Vice President of Research and Historical Interpretation and Abby and George O'Neill Director of the John D. Rockefeller Jr Library at Colonial Williamsburg, explains this phenomenon as a response to state legislation that forced free African Americans to make a terrible choice: leave enslaved loved ones behind for freedom elsewhere or seek a way to remain in their communities, even by renouncing legal freedom. Maris-Wolf paints an intimate portrait of these people whose lives, liberty, and use of Virginia law offer new understandings of race and place in the upper South. A book signing follows the talk.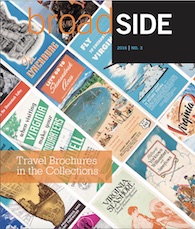 The magazine of the Library of Virginia Our quarterly magazine describes and illustrates the holdings and happenings at the Library of Virginia. Discover fascinating items from the collections as well as events, exhibitions, educational programs, and opportunities to become more involved. More.

The first issue of the Library of Virginia's E-Newsletter debuted on September 4, 2008. The free, monthly newsletter concentrates on Library events, services, and collections. The inaugural issue went to 1,971 subscribers. The newsletter will help us communicate directly with readers on a more frequent basis, and enable us to deliver useful information about the Library, its mission, and services. The newsletter is only sent to readers who have indicated an interest in hearing from the Library or who opt-in to receive it. You can indicate a desire to receive the newsletter here Subscription is free and easy and you will always have the option of unsubscribing. Because your privacy is important to us, we will never sell or trade your address.