Thursday, April 24, 2014 | Calendar of Events
Flora of Virginia
Discover the power of the flower. Delve into Virginia's natural environment through Flora of Virginia, an exhibition featuring hundreds of colorful illustrations from the Library of Virginia's collections. Learn fun facts about Virginia's native plants. Examine the history of botanical description and illustration. Explore the personalities behind the folks who collected and described these plants. Try your hand at sketching a specimen at the drawing station. Check our Web calendar for information about exhibition-related events.
All Events » | Holiday Schedule » | Inclement Weather Closings »
Current News Releases | Archive
Flora of Virginia Exhibition Opens March 17 at the Library of Virginia
Discover the power of the flower. Delve into Virginia's natural environment through Flora of Virginia, an exhibition featuring colorful illustrations from the Library of Virginia's collections and beyond. Flora of Virginia opens on Monday, March 17, 2014, at the Library of Virginia and is presented in collaboration with the Flora of Virginia Project Inc. The exhibition explores the science and art of the 2012 Flora of Virginia, the first flora of the commonwealth published in 250 years. Photographs, pen-and-ink drawings, sculpture, fossils, and illustrated volumes will complement the exploration of Virginia's flora...
2014 Virginia Women in History Program Honors Eight Outstanding Women
The principal in a Supreme Court case that helped legalize interracial marriage, a civic activist who advocated for improving the lives of women and children, a member of the Women's Basketball Hall of Fame and cancer treatment advocate, a banker who became a member of the Federal Reserve's Board of Governors, an artistic director and choreographer, an antislavery advocate, a principal in a freedom suit, and an artist and patron of the arts are among eight Virginia women recognized by the Library of Virginia as part of its Virginia Women in History program...
What's New In The Collections | Archive
The Library of Virginia Quarterly Report of Newly Available Accessions
January 1 – March 31, 2014
A report including the creator, title, size, brief description, and accession number of the local, map, private, and state archival collections described and/or received during the time period. Some collections may be closed for processing; check with Archives Reference Services regarding availabilty for research use.
Primary Sources Semiannual Report of Newly Processed Collections
July – December 2012
Welcome to the latest issue of the Library of Virginia's semiannual report Primary
Sources. Here you will find a listing of the latest collections processed, microfilmed, or digitized by the Library. Since 1999, the Library has annually received General Assembly support for archival positions in order "to relieve the 54-year backlog in processing significant archival, special, and other historical collections."
Featured Events

"BOOKS ON BROAD" FEATURING BILL LOHMANN AND BOB BROWN
Richmond Times-Dispatch columnist Bill Lohmann and photographer Bob Brown have traveled around Virginia for many years. Back Roads: People, Places and Pie from Around Virginia features a collection of Brown's photographs from the road with insights from Lohmann that tell the stories behind the pictures. Reception (wine and cheese) 5:30–6:30 PM, book talk 6:00–7:00 PM, and book signing 7:00–7:30 PM.

Mrs. Poe
Lynn Cullen will discuss and sign her new novel, Mrs. Poe, inspired by literature's most haunting love triangle: Edgar Allan Poe, his tubercular young wife, and a lady poet. Closely based on Poe's life and writings, and rich with authentic historical detail, Mrs. Poe is a novel of romantic obsession, set in the fascinating world of New York's literati scene of the 1840s.

MEET THE AUTHOR
Richmond author Kathryn Starke will join us to debut her new novel, Because of You, and speak on her transition from children's author to novelist. An urban elementary school reading specialist, literacy consultant, and keynote speaker, Starke travels to schools and organizations across the nation presenting workshops on urban literacy education for children, parents, teachers, and administrators. She was named one of the 50 Great Writers You Should Be Reading in 2012.
5:30–6:15 PM: Reception (wine and cheese)
6:15–7:00 PM: Book discussion and questions
7:00–7:15 PM: Book signing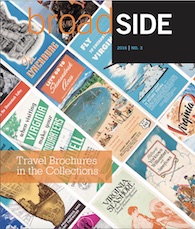 The magazine of the Library of Virginia Our quarterly magazine describes and illustrates the holdings and happenings at the Library of Virginia. Discover fascinating items from the collections as well as events, exhibitions, educational programs, and opportunities to become more involved. More.

The first issue of the Library of Virginia's E-Newsletter debuted on September 4, 2008. The free, monthly newsletter concentrates on Library events, services, and collections. The inaugural issue went to 1,971 subscribers. The newsletter will help us communicate directly with readers on a more frequent basis, and enable us to deliver useful information about the Library, its mission, and services. The newsletter is only sent to readers who have indicated an interest in hearing from the Library or who opt-in to receive it. You can indicate a desire to receive the newsletter here Subscription is free and easy and you will always have the option of unsubscribing. Because your privacy is important to us, we will never sell or trade your address.