Friday, December 06, 2013 | Calendar of Events
The Importance of Being Cute: Pet Photography in Virginia
Photographs of animals dominate the web. From the cute to the ridiculous, millions of pet images are viewed and shared each day. The historical precedent for this online phenomenon can be found in The Importance of Being Cute. This entertaining exhibition focuses on the relationships that have existed between Virginians and their pets since the advent of photography. Vintage images from the Library of Virginia's collection allow visitors to explore more than a century and a half of pet photography, including photographs from Victorian cartes de visite, cabinet cards, and original glass plate negatives. Today's visitors will be able to participate by submitting a picture of their furry loved ones to become part of the exhibition.
No Vacancy: Remnants of Virginia's Roadside Culture
Explore the evolution of Virginia's roadside lodging along U.S. Route 1, once the main highway for travel along the East Coast, through this exhibition of vintage and current photographs. Early and mid-20th century travelers along Route 1 stopped at camps, motor courts, roadside cottages, and motels to take a break from the hours of driving. Often locally owned, these businesses were full of the local flavor of the area. Today, in the shadows of the bright lights of the Holiday Inns, Best Westerns, and the Hiltons, the remnants of Virginia's roadside culture can still be seen through its rusted signs, overgrown lots, boarded windows, and re-purposed buildings.
Cooking with My Sisters: A Culinary Adventure with Adriana Trigiani - SOLD OUT
This elegant luncheon will feature a three-course meal prepared with the cookbook Cooking with My Sisters, a collaborative project of Adriana Trigiani and her three sisters. Trigiani and her family will host the event, which includes a presentation, book signing, and food by Cateraide, one of Richmond's most elegant caterers. Please note this event is sold out.
Friends and Family Open House
We're celebrating our friends and family this holiday season with some outrageous deals in the Virginia Shop at the Library of Virginia.  Tons of holiday and regular merchandise will be marked down up to 70% off the original price and any full-priced items will be 10% off.  We'll also provide samplings of our favorite Virginia Finest foods, tastings of Virginia wines and the chance to mingle with some special guests!

As a bonus to our Semper Virginia Society members, we're extending 20% off all full-priced merchandise in the Library store through the month of December.

Or, join as a new or renewing member and receive a whopping 30% off your entire purchase of full-priced merchandise! Visit us online at www.thevirginiashop.org/foundation-membership.aspx or call Dorian at 804-692-3561.
All Events » | Holiday Schedule » | Inclement Weather Closings »
Current News Releases | Archive
GARSTANG, BERG, AND KEENER-MIKENAS RECEIVE LITERARY AWARDS
The Library of Virginia is pleased to announce the winners of the 16th Annual Library of Virginia Literary Awards, sponsored by Dominion. The October 19 awards celebration was hosted by award-winning Virginia author David Baldacci. Awards categories were fiction, nonfiction, poetry, and literary lifetime achievement. Winners of the Library of Virginia's Annual Literary Awards receive a monetary prize and a handsome engraved crystal book...
Library of Virginia Announces Finalists for the 16th Annual Literary Awards

Nine authors are the finalists for the Library of Virginia's 16th Annual Library of Virginia Literary Awards honoring Virginia authors or, in the case of nonfiction, works on a Virginia subject. The finalists were chosen by an independent panel of judges from 180 books nominated for the awards. The winners in each category will be selected from among these finalists...
What's New In The Collections | Archive
The Library of Virginia Quarterly Report of Newly Available Accessions
July 1 - September 30, 2013
A report including the creator, title, size, brief description, and accession number of the local, map, private, and state archival collections described and/or received during the time period. Some collections may be closed for processing; check with Archives Reference Services regarding availabilty for research use.
Primary Sources Semiannual Report of Newly Processed Collections
July – December 2012
Welcome to the latest issue of the Library of Virginia's semiannual report Primary
Sources. Here you will find a listing of the latest collections processed, microfilmed, or digitized by the Library. Since 1999, the Library has annually received General Assembly support for archival positions in order "to relieve the 54-year backlog in processing significant archival, special, and other historical collections."
Featured Events

The Gift of Pets: Stories Only a Vet Could Tell
Veterinarian Bruce R. Coston will share stories from his new book, The Gift of Pets, about his animal patients and the clients who make his veterinary practice fulfilling. Coston is a gifted storyteller and a worthy follower of the James Herriot school of veterinary memoirs. Presented in conjunction with the Library's exhibition The Importance of Being Cute: Pet Photography in Virginia.
BOOK LAUNCH: VIRGINIA IS FOR MYSTERIES
Virginia is for Mysteries is a collection of sixteen short stories set in the state of Virginia. All of the authors are Virginia residents as well as members of the Sisters in Crime writers group, and their stories are written with "murder" in mind. Each story features a Virginia landmark, such as the Lake Charles Lighthouse, Richmond's Old Hollywood Cemetery and Thomas Jefferson's Monticello, and transport readers across Virginia's rich, unique and very deadly landscape. A wine-and-cheese reception will follow the book talk.

"BOOKS ON BROAD" FEATURING SARAH KENNEDY | The Altarpiece
Sarah Kennedy is a professor of English at Mary Baldwin College in Staunton and holds a PhD in Renaissance literature. The Altarpiece introduces us to Catherine Havens, a young nun in Henry VIII's England. Catherine has grown up knowing Henry as the "Defender of the Faith," and when he breaks up with Rome, she begins her long journey towards self-discovery. Reception (wine and cheese) 5:30–6:30 PM, book talk 6:00–7:00 PM, and book signing 7:00–7:30 PM.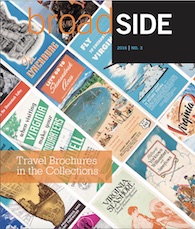 The magazine of the Library of Virginia Our quarterly magazine describes and illustrates the holdings and happenings at the Library of Virginia. Discover fascinating items from the collections as well as events, exhibitions, educational programs, and opportunities to become more involved. More.

The first issue of the Library of Virginia's E-Newsletter debuted on September 4, 2008. The free, monthly newsletter concentrates on Library events, services, and collections. The inaugural issue went to 1,971 subscribers. The newsletter will help us communicate directly with readers on a more frequent basis, and enable us to deliver useful information about the Library, its mission, and services. The newsletter is only sent to readers who have indicated an interest in hearing from the Library or who opt-in to receive it. You can indicate a desire to receive the newsletter here Subscription is free and easy and you will always have the option of unsubscribing. Because your privacy is important to us, we will never sell or trade your address.