Virginia Military Dead - 45,000 Stories to Tell
This month's update of the Virginia Military Dead database (www.lva.virginia.gov/public/guides/vmd) marks its eighth-and-one-half year of existence. Although work on the database has always been done on an as-time-permits basis, the pace of input has slowed during the last year or so because of budget cuts and the resulting reduction in personnel. Approximately 12 volumes of the H. E. Howard Regimental Histories series remain to be entered into the Civil War segment in commemoration of the sesquicentennial of the war. Nevertheless, the database has now grown to nearly 45,000 entries spanning every conflict Virginians have participated in since 1607. Along the way, the work has been greatly assisted by numerous volunteers and Library staff members. Increasingly we have been receiving valuable information from relatives of military dead and from other interested parties offering to fill in blanks, correct errors, and clarify points of confusion.
Data from the VMD database has aided users in small, but important, ways such as assisting in identifying burial locations of personnel previously missing in action, connecting people with lost relatives, and revealing service not previously recognized. Every person represented in the database has a story to tell. These include stories of Medal of Honor recipients, fathers and sons, brothers, women, African Americans, rampant disease, a soldier killed by a baseball, an exploding ammunition ship, and even a ship disappearing in the Bermuda Triangle. All of these Virginians deserve to have their stories told to their families and to other Virginians. Please commemorate Memorial Day this year by honoring the military service and sacrifice of your loved ones.
—submitted by Edwin Ray, Research and Information Services
<< back to e-newsletter

Cast Your Vote for the 7th Annual People's Choice Awards
The Library of Virginia is pleased to announce the finalists for the 7th Annual People's Choice Awards. Finalists in fiction and nonfiction were selected by an independent panel of judges from the books nominated for the 13th Annual Library of Virginia Literary Awards. The People's Choice Awards are given for the best fiction and nonfiction books by Virginia authors or in the case of nonfiction on a Virginia subject. The books must be published in the past year. Winners are decided by a vote of Virginia readers.
This year's fiction finalists for the People's Choice Awards are First Family by David Baldacci, The Riesling Retribution by Ellen Crosby, The Lacuna by Barbara Kingsolver, Very Valentine by Adriana Trigiani, and Half Broke Horses by Jeannette Walls.
The nonfiction finalists are Haunted Plantations of Virginia by Beth Brown, I Am Murdered by Bruce Chadwick, Girl in a Library by Kelly Cherry, It'll All Come Out in the Wash by Joanne Crutchfield, and Soul of a People by David A. Taylor.
The winners of the People's Choice Awards for fiction and nonfiction will be chosen from these finalists by readers voting at libraries and online at the Library of Virginia's Web site http://www.lva.virginia.gov/public/litawards/vote.asp. Voting for the People's Choice Awards runs from May 17 through June 30. Winners will be announced at the Library of Virginia Literary Awards Celebration on October 16, 2010. Dominion is the sponsor of the 2010 Literary Awards.
<< back to e-newsletter

Spring Sale in the Virginia Shop
Just in time for Mother's Day—the Virginia Shop holds a spring sale on Friday, May 7, from 10:00 AM until 4:00 PM. Celebrate spring with a 25 percent discount on all note cards, cookbooks, journals, and Virginia-made food products. From 10:00 AM until 2:00 PM the shop will feature samples of Virginia's Finest food and beverages including gourmet chocolate by Chocolate Cravings, LLC, and handmade lotions by Jackson Sage. Semper Virginia members and state employees receive a 10 percent discount on all regularly-priced merchandise. (No additional discounts on sale items.)
<< back to e-newsletter

Virginia Libraries Receive American Dream Grants
Two Virginia libraries are among 70 public libraries in 21 states that have been selected by the American Library Association to receive $5,000 grants as part of "The American Dream Starts @ your library®" literacy initiative. Loudoun County Public Library and the Thomas Jefferson Library, a branch of the Fairfax County Public Library, will use the grant funds to build innovative literacy services for adult English-language learners living and working in their communities. The libraries will expand their print and digital literacy collections, offer classes and conversation clubs, develop mobile tech labs, and reach out to immigrant organizations.
This initiative is funded by the Dollar General Literacy Foundation. Since its inception in 1993, the foundation has awarded more than $40 million in grants to nonprofit organizations, helping more than 2.1 million individuals take their first steps toward literacy, a general education diploma, or English proficiency.
<< back to e-newsletter

Brownstone Book Fund Enriches Lives of Children through Gift of Books
Forty Virginia public libraries received an unexpected but very welcome gift of 100 new children's books from the Brownstone Family Foundation, a nonprofit private foundation headquartered in New York City. Diane Brownstone, director of the Brownstone Book Fund, contacted Librarian of Virginia Sandra G. Treadway and asked her if Library of Virginia staff would recommend 40 Virginia public library systems to receive books from the foundation. The participating libraries were selected to receive the books based on per capita funding.
"This generous gift comes at a time when Virginia's libraries are struggling with declining budgets at the same time they are experiencing increased visitation," said Treadway.
<< back to e-newsletter

LVA Hosts Fairfax County Library Historical Photographs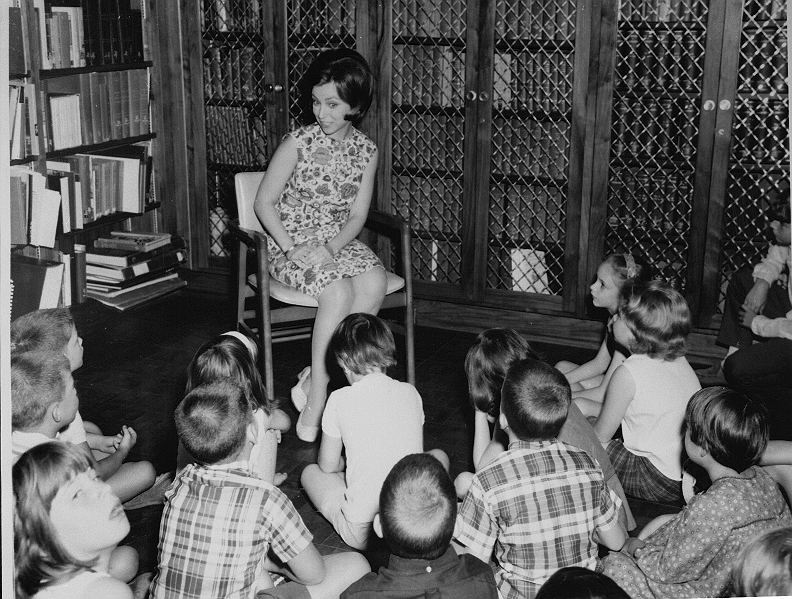 When staff members at the Fairfax County Public Library learned that their new integrated library system could not deliver digital images from their historical photograph collection, they asked the Library of Virginia for help. The Library has been hosting other FCPL historic photographs for nearly 10 years, and adding to that collection seemed like a natural fit.
In less than a year, employees at both libraries—librarians and technologists—collaborated to make 574 historic photographs from the Fairfax County Public Library's Virginia Room available on the Library of Virginia's Web site. Marianne S. Gearhart, associate director for Library Support Services at FCPL, notes that staff members at both libraries "worked together as an efficient and effective team, e-mailing data, questions, and answers to each other in a timely manner to keep this project on track." After a few e-mail discussions regarding technical details, the Library of Virginia received the images and metadata and made them available online for FCPL staff members to review. The editing and "tweaking" process took only a couple of months before the collection was ready for the public.
Calling it a "great example of what's possible when libraries work together," Mary Mulrenan, FCPL's director of marketing and communication, is pleased that these historic resources will remain available to users all over the world, making them "a true community resource, reinforcing yet again the commitment libraries have to make information available to everyone." The collaboration benefits both libraries, because the addition of the Fairfax County images to the Library of Virginia's Web presence also enhances the quality and quantity of digital materials the Library can offer online to researchers, history buffs, and students interested in Virginia history and culture.
This collection, just a small part of the thousands of photographs available to researchers in the Virginia Room, includes digitized images depicting everyday life in Fairfax County over much of the late-19th and most of the 20th centuries. The photographs and postcard images cover subjects and events such as the Civil War, farms, businesses, schools, churches, and much more in locations across the county.
While the older digital collection of Fairfax County photographs is available through the Library's catalog, this newer collection has been added to DigiTool, the Library's digital asset management system, which provides thumbnails and easy browsing of digital photographs. Both collections are available via Virginia Memory's Digital Collections A to Z page: http://www.virginiamemory.com/collections/collections_a_to_z.
—submitted by Kathy Jordan, Information Technology Services
<< back to e-newsletter

Library of Virginia Offers "Friends of the Library" Workshops in May
The Library of Virginia's Library Development and Networking Division will offer a series of workshops for Friends of Libraries members, library trustees, and library staff in May at six locations around the state. Friends groups are enthusiastic library supporters who believe in the importance of libraries as the social and intellectual centers of communities. The topics that will be covered in these workshops are:
Library issues in Virginia over the past year
How to attract (and keep) younger Friends members
Actual public library case studies presented and discussed
A look at Friends' roles and how they differ from those of trustees and library staff
Development-funding models between Friends groups and foundations
Workshops will be offered at Staunton Public Library on May 4, the Porter branch of the Central Rappahannock Regional Library in Stafford on May 5, the Mathews Memorial Library on May 6, the Farmville-Prince Edward branch of the Central Virginia Regional Library in Farmville on May 11, the Christiansburg branch of the Montgomery-Floyd Regional Library on May 12, and the Russell County Public Library in Lebanon on May 13. The workshops will run from 9:00 AM to 1:00 PM.
Contact Kim Armentrout at 804-692-3601 or e-mail: kim.armentrout@lva.virginia.gov for additional information. There is no cost for the workshops. Advance registration is required.
<< back to e-newsletter

Transfer of Outgoing Governor's Papers
The Library of Virginia houses the official records of all Virginia's governors from Patrick Henry to the last sitting governor. Events in Virginia history and government ranging from the momentous to the mundane are chronicled in letters, reports, lists, legal documents, petitions, proclamations, appointments, applications, messages, and other types of documents. In no small way, it is these official state records that document the activities of a governor's administration and that allow us, and future generations, to understand a governor's place in history.
Virginia law states: "The Governor preceding the end of his term of office shall have delivered to the Library of Virginia for safekeeping all correspondence and other records of his office during his term; provided that this shall not apply to correspondence or other records of a personal or private nature, or active files necessary for the transaction of business by the Office of the Governor, the decision thereon to be made by the Governor."
The law goes on to spell out the Library's duties in terms of these public records. "Records delivered to the Library of Virginia shall be made accessible to the public, once appropriate cataloging has been completed."
This long legal precedent continued in January with the transfer of 920 cubic feet of outgoing Governor Timothy M. Kaine's records to the Library of Virginia. The Kaine administration also transferred one terabyte of electronic records including 352,081 office files (Word, Excel, Power Point, and PDFs), 229 e-mail boxes, 32,000 images, 338 video files, and 332 audio files. The transfer marked the end of a four-year collaboration between the Library and the governor's office to ensure the preservation of a complete record of the Kaine administration.
Roger Christman, governors' records archivist at the Library, praised Kaine for his role in the archiving project. "The governor sets the tone. Kaine believes in transparency and accountability in government and his records reflect that," Christman said. Library records analysts and archivists are already working with the McDonnell administration to archive their records.
The Kaine Administration records are closed to the public until they have been processed. Trained archivists will systematically organize and describe the records before making them available to the public.
—submitted by Roger Christman, Archival and Records Management Services
<< back to e-newsletter

Photographs of 2010 Women in History Event Available on Shutterfly
If you have ever attended a Library of Virginia event, the chances are you saw one of the Library's photographers (either Pierre Courtois or Paige Buchbinder) taking photographs of speakers, panelists, honorees, or the audience. Now the Library has a way for you to see these photographs.
The Library of Virginia is using Shutterfly to share photographs from its public events. Ordering prints is easy and inexpensive. You can easily view thumbnails of prints and decide which photographs and what size photographs you prefer. Photographs from the 2010 Virginia Women in History program are available on Shutterfly at www.shutterfly.com/pro/libraryofvirginia/libraryofvirginia.
<< back to e-newsletter

Library Is on the Road to Revolution
The Road to Revolution Heritage Trail, created by the Virginia General Assembly in 2007, links historic sites in Virginia that interpret the life of Patrick Henry, orator of the American Revolution. The Library of Virginia holds numerous executive papers from the five-term governor of Virginia as well as other items illustrating his life and work in the commonwealth, including the inventory of his estate in Charlotte County, books and ledgers pertaining to his practice of law, and business proposals and papers. Since 2001 the Library has jointly sponsored the annual Governor Henry Lectures with the Patrick Henry Memorial Foundation. Initially the lecture was offered in the spring at Charlotte Courthouse and at the Library of Virginia. Now the annual lecture is held in the fall at the Library of Virginia and at Hampden-Sydney College.
At the Library of Virginia on November 16, Dr. Kevin Hardwick, associate professor of history at James Madison University, will deliver this year's annual Governor Henry Lecture, Partners in Liberty: George Mason and Patrick Henry, comparing and contrasting Patrick Henry and George Mason. Dr. Hardwick will repeat lecture on November 17 at Hampden-Sydney.
More information on other Road to Revolution events.
<< back to e-newsletter

Snapshot: A Day in the Life of Virginia's Libraries
Libraries all over Virginia held a "Snapshot Day" between April 19 and 30 to collect information and photos illustrating the impact that Virginia libraries make in their communities on a typical day.
Snapshot Day is a Virginia Library Association and Library of Virginia project, based on similar projects of the same name that began in New Jersey and have been held all over the country. The goals of Snapshot Day were to encourage Virginia libraries to collect and report basic data on a given day between April 19 and 30—including the numbers of people who visited the library, used computers, and attended programs—and to capture images of people using the library and its resources. Virginia's libraries are busier than ever these days, with people coming in to check out books, use computers, look for jobs, and attend the many programs our libraries offer. All across the state, libraries are the cornerstones of their communities, places were people come together to visit, learn, and share ideas.
Through Snapshot Day, a slice of life in Virginia's libraries will be captured. Library customers will have the opportunity to comment on what their library means to them, and pictures from libraries all over the state will be available on the Snapshot Day Flickr page. Results of Snapshot Day will be available after June 15, 2010.
<< back to e-newsletter

Women in History Honoree's Papers Available for Researchers at LVA
The papers of Marian Van Landingham of Alexandria, Virginia, are now available to the public at the Library of Virginia. A guide to her papers can be found at: http://ead.lib.virginia.edu/vivaead/published/lva/vi00677.html
Van Landingham, a recent Virginia Women in History honoree at the Library of Virginia, represented the 45th District in the Virginia House of Delegates from 1982 to 2005.
The Library maintains an active program to acquire the papers of members of the Virginia General Assembly. Legislative collections document the work of government and shed light on issues that were important to the citizens of the commonwealth at a particular time.
Marian Van Landingham was born in Albany, Georgia, on September 10, 1937. She studied political science at Emory University. In 1967 she moved to Arlington County and in 1972 to Alexandria. She was president of the Art League, and became involved in efforts to restore the vacant torpedo plant in Alexandria and turn it into studio space for area artists. As a result of her innovative leadership, the dilapidated World War II–era factory was renovated into the Torpedo Factory Art Center, a professional studio for artists with three floors of open studios and galleries.
In 1981 Van Landingham waged a successful campaign for a seat in the Virginia House of Delegates representing part of Fairfax County and part of the City of Alexandria. Her career in the Virginia General Assembly spanned 23 years.
The Marian Van Landingham Papers contain legislative files, subject files, copies of outgoing letters sent from her office, and campaign files. Areas of interest reflected in the legislation she introduced include consumer services protection, election laws, funding for the arts, gun control, historic preservation, parental leave, parole eligibility, spousal abuse and rape crisis centers, telecommunications, tenant rights, and youth programs.
Also included in the collection are awards and certificates, biographical information, clippings, newsletters, office files, photographs, press releases, programs, scrapbooks, and other items. There is a good deal of material relating to the Walt Disney Company's proposed theme park development in Prince William County, the improvement and replacement of the Woodrow Wilson Bridge, and redistricting of House of Delegates and Senate seats and congressional districts in Virginia in 1991. Van Landingham's interests in parole eligibility, sentencing guidelines, and prison conditions are also reflected in the collection.
Van Landingham was the first woman to chair the Privileges and Elections Committee and, by the time she retired, she was the most-senior woman serving in the House. In 2005 she decided not to run for re-election because of health concerns. She continues to maintain her studio at the Torpedo Factory Art Center and is involved in various philanthropic and humanitarian activities in Alexandria.
—submitted by Jim Greve, Archival and Records Management Services
<< back to e-newsletter