LVA Archivists to Scan Materials for Civil War Legacy Project
A team of archivists from the Library of Virginia will be at the Meyera Oberndorf Central Library in Virginia Beach on September 18 from 8:30 AM to 4:30 PM as part of the CW Legacy 150 Project. The archivists will be scanning privately-held Civil War–era materials for inclusion on the Web sites of both the Library of Virginia and the Virginia Sesquicentennial of the American Civil War Commission. Local citizens may call 757-385-0150 to schedule an appointment for a scanning session.
The Virginia Sesquicentennial of the American Civil War Commission and the Library of Virginia are partnering in the Civil War Legacy 150 Project to identify and locate original manuscript material concerning the Civil War. These materials may include letters, pension materials, military passes, discharge papers, diaries, hand-drawn maps, and other Civil War–era manuscripts. Items must be owned by the individual presenting the materials for digitization.
Library of Virginia archivists with the Civil War Legacy 150 Project will be holding scanning sessions around the state. In September, additional sessions will be held in Charlotte and Mecklenburg counties. For more information, please contact Renee Savits (renee.savits@lva.virginia, 804-692-3629) or Laura Davis (laura.davis@lva.virginia.gov, 804-692-3632).
<< back to e-newsletter

Governor McDonnell Announces Library Board Appointments
Governor Bob McDonnell announced the following appointments to the Library Board on August 9:
Peter E. Broadbent, Jr., of Richmond, partner with Christian and Barton, LLC. Broadbent served on the Library Board from 1996 until 2006 and was chair from 2003 through 2004.
Kathryn C. Watkins of Midlothian. Watkins is a retired educator and and a volunteer in the Library's K-12 education program..
Mark Emblidge, of Richmond, who was appointed by former Governor Kaine to fill an unexpired term that ended on June 30, was reappointed by Governor McDonnell. Emblidge is an affiliate professor and director of the Literacy Institute at VCU.
<< back to e-newsletter
In 2008 a collection of cartographic gems stowed in an unmarked drawer was discovered at the Library of Virginia. The cache consisted of approximately 20 hand-colored 18th-century Guillaume Delisle (1675–1726) and Philippe Buache (1700–1773) maps that had been augmented and reprinted by J. Dezauche with his imprint. The dates of the maps range from 1734 to 1798 and cover areas from Asia to Mexico. Attempts to verify provenance were inconclusive, which is not unusual under some circumstances. For example, the Library has numerous French maps that were acquired in the 1830s and later but were not accessioned until 1911 when that Library began to accession maps. This collection of maps is significant to the history of cartography, including that of the United States, because of the scientific knowledge Delisle applied to his maps.
Delisle was the preeminent cartographer of his time and is considered to be the founder of modern cartography. He was Premier Géographe du Roi and Académie des Sciences. Prior to Delisle's cartography, maps were embellished with symbols and decoration that filled the unexplored space usually referred to as "terrae incognita." Jonathan Swift in On Poetry: Rhapsody (1733) satirized the embellishment on maps that represented lack of knowledge: "So Geographers in Afric-maps . . . Place Elephants for Want of Towns." Transitioning cartography from the decorative to the scientific and from symbol to sign, Delisle transformed the role of the map from a representation of boundaries to a tool of intervention for control. His use of the techniques and learning of his contemporaries, such as Gian Domenico Cassini's distance measurements and Jean Picard's triangulation methods, improved accuracy in his maps. His other contributions to cartography include his use of measuring scales, marking of important landmarks, extensive research of travel books and maps, and his thoroughness and orthography of toponymy. His maps were used for surveying and land management purposes because of the information Delisle provided on them.
After Delisle's death, Buache, his nephew, continued Delisle's business. Buache had studied with Delisle and entered the Depôt des Cartes et Plans de Marine in 1721. He was appointed Premier Géographe du Roi in 1729. When Buache died, his wife sold his work to his nephew Jean Nicholas Buache de la Neuville. In 1780 J. Dezauche purchased both Buache and Delisle's work and continued to publish it.
These maps have been cataloged for accessibility and are now available for research at the Library. A few of the titles include 1) Nuevo mapa geographico de la America septentrionale perteneciente al Virreynato de Mexico dedicado à los sabios miembros de la Academia Real de las Ciencias de Paris, por su muy rendido servidor, y Capellan, Don Joseph Antonio de Alzate, y Ramirez, ano de 1768, à Paris chez Dezauche, graveur, successeur et possesseur du fond géographique, publié sous le privilége de l'Académie Rle. des Sçiences de Paris; 2) Novissima tabula regionis Ludouicianae gallice dictae La Louisiane iam olim quidem sub Canadae et Floridae nomine in America Septentrionali notae nunc vero sub auspiciis sereniss : Ducis Aurelianensis maxime inclarescentis Coloniae Gallicae, delineata ex recentissimis itinerariis et commentariis Gallicis â Guil ; Insulano Geographo et Socio Regiae Scientarum Academiae et recognita a Chr. Weigelio, Nor., cum privil. S.C. Majestatis ; M.K., sc.; and 3) Carte du Congo et du pays des Cafres par G. Del'Isle, premier geographe du Roy de l'Academie Royale des Sciences ; Ph. Buache, P.G. d.R.d. l'AR d S, gendre de l'auteur avec privilege du Roi, à Paris chez Dezauche, successeur des Srs. Delisle et Buache, Rue des Noyers, avec privilege, Janvier 1780.

–submitted by Leah Thomas, Collection Management Services
<< back to e-newsletter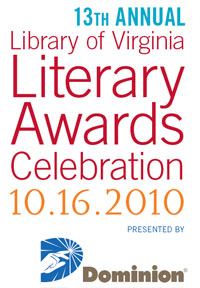 Library of Virginia Announces Finalists for the 13h Annual Literary Awards
Nine authors are the finalists for the Library of Virginia's 13th Annual Library of Virginia Literary Awards honoring Virginia authors or, in the case of nonfiction, works on a Virginia subject. Two additional authors will receive honorable mention.
The finalists were chosen by an independent panel of judges from 131 books nominated for the awards. The winners in each category will be selected from among these finalists and announced at a gala celebration on October 16, 2010, at the Library of Virginia.
Poetry
Fred D'Aguiar Continental Shelf
Sarah Kennedy Home Remedies
Debra Nystrom Bad River Road
The judges also selected an honorable mention in the poetry category: Illustrating the Machine that Makes the World by Joshua Poteat.
Fiction
Ramola D Temporary Lives: Stories
Barbara Kingsolver The Lacuna
Josh Weil The New Valley
The judges also selected an honorable mention in the fiction category: Basil's Dream by Christine Hale.
Nonfiction
Woody Holton Abigail Adams
David A. Taylor Soul of a People
Melvin I. Urofsky Louis D. Brandeis: A Life
The Library of Virginia's annual literary awards were first given in 1998 to recognize the best books published the previous year by a Virginia author or, in the case of nonfiction, on a Virginia theme.
This year's finalists include Debra Nystrom, who received the poetry prize in 2004 for Torn Sky.
Woody Holton, a finalist this year for nonfiction, received the People's Choice Award in 2008 for Unruly Americans and the Origins of the Constitution. David Taylor, who is a finalist this year in the nonfiction category for Soul of a People, was a fiction finalist last year for Success: Stories.
The finalists for the 2010 awards include authors who have received numerous honors including the Orange Prize, the Bancroft Prize, the Whitbread Prize for Best First Novel, the Sue Kaufman Prize for First Fiction from The American Academy of Arts, the National Humanities Medal, and National Endowment for the Arts fellowships. Many of this year's books have made their way into the ranks of bestsellers.
The winners of the fiction, nonfiction, and poetry awards will be announced on Saturday, October 16, 2010, at the 13th Annual Library of Virginia Awards Celebration Honoring Virginia Authors & Friends. This gala event, sponsored by Dominion, attracts authors, publishers, and those who enjoy the written word. Award-winning author Adriana Trigiani will again serve as host for this event. Lee Smith will be honored this year as the recipient of the Literary Lifetime Achievement Award.
The winners of the People's Choice Award, the Weinstein Poetry Prize, and the Whitney & Scott Cardozo Award for Children's Literature also will be announced that evening. Winners of the fiction, nonfiction, poetry, and lifetime achievement awards will receive a $3,500 monetary award and a crystal replica of a book.
For ticket information, please call 804-692-3900.
<< back to e-newsletter

Church Delivers Convocation Remarks to First Virginia Cohort
In the fall of 2008, the Department of Library and Information Sciences at the University of North Texas, in partnership with James Madison University Library, began a cohort-based master's program in library science and information services. On Saturday, August 14, 2010, the first 38 students in the inaugural Virginia Cohort received their degrees at James Madison University in Harrisonburg.
Cynthia Church, continuing education consultant at the Library of Virginia, was the convocation speaker for the commencement celebration. Church has been instrumental in assisting the cohort in reaching out to potential students through information sessions around the state. In her remarks she urged the graduates to find and be mentors and to continue learning.
When asked why the first cohort program had been so successful, Church said," The existence of the University of North Texas–James Madison partnership to provide a master's degree in library and information service fills a need, since no state university in Virginia offers the degree. The flexibility and cost of the cohort program is appealing to students who cannot afford to travel out of state to obtain a degree."
Dr. Philip Turner, the program director for the University of North Texas collaborative program with James Madison University, presented the graduates with their diplomas. Turner is a leading expert in the field of distance learning and the application of technology to the teaching and learning process.
The second cohort has already begun, with graduation scheduled for August 2012. The master's degree in library and information sciences from the University of North Texas is fully accredited by the American Library Association. The cohort approach combines intensive on-site instruction and social events with a highly interactive online experience. On-site instruction includes two four-day Web institutes at the James Madison University Library. The Web institute portion of the master's program includes an orientation, technology training, and instruction in the core courses, as well as time to socialize with colleagues and faculty. The remainder of the instruction is offered online. For more program information, please contact Dr. Phil Turner, pturner@unt.edu, or the College of Information Advising Office at ci-advising@unt.edu.
<< back to e-newsletter

Library of Virginia to Create Literacy Activity Centers
The Library of Virginia is creating Early Literacy Activity Centers to place in public libraries. Each Early Literacy Activity Center learning station will contain noncirculating books, educational or manipulative items, storage, and a small bookshelf.
The purposes of the early literacy learning stations are to:
Promote early literacy skills
Inspire children to explore and learn through self-discovery
Demonstrate the purpose of reading and writing and inspire children to explore
Demonstrate the purpose and power of print
Encourage social interactions and oral language development
Invite children to gradually understand print concepts
Provide practice with real-life experiences that require reading
Add an element of fun to the library — kids learn when they are having fun
Currently the Library is gathering names of libraries that are interested in this project. If you or your library are interested in this project, please e-mail Enid Costley at enid.costley@lva.virginia.gov.
<< back to e-newsletter
Public Library Directors to Meet at LVA in September
Public library directors from across the state will gather at the Library of Virginia on September 16 and 17 for the 2010 Library Directors' Meeting. Directors will receive updates from Library Development and Networking staff on issues and projects for the coming year.
Stephen Abram, vice president of strategic partnerships and markets at Gale/Cengage Learning, will speak to the group about strategies that libraries can use in these stressful times. Abram, who holds a master of library science degree, is a former president of the Special Libraries Association and the past president of the Canadian Library Association and Ontario Library Association. Prior to joining Gale, he was vice president of innovation for SirsiDynix and chief strategist for the SirsiDynix Institute. Abram was listed by Library Journal as one of the top 50 people influencing the future of libraries. He has received numerous honors and speaks regularly to national and international audiences. His blog, Stephen's Lighthouse, is popular in the library community.
The meeting will conclude with a humorous look at the lighter side of librarianship presented by Will Manley. Manley recently retired after a 35-year career as a librarian and public administrator. The author of nine books on the lighter side of librarianship, Manley has published more than 500 magazine articles. He currently writes the "Manley Arts" column in Booklist and the "Will's World" column in American Libraries.
<< back to e-newsletter

Osher Lifelong Learning Institute Partners with LVA
The Osher Lifelong Learning Institute of the University of Richmond's School of Continuing Studies will present "Exploring Virginia's Treasures: Special Collections at the Library of Virginia." This Osher mini-course meets from 2:00 to 4:00 PM at the Library of Virginia on November 4, November 18, and December 2. Session leaders are Tom Camden, Tameka Hobbs, Audrey Johnson, and Dale Neighbors. The fee is $60 for Silver members. There is no fee for Gold/Gold Plus One members.
Participants will experience behind-the-scenes tours to see some of the Library's rarely viewed items and will hear experts discuss and interpret these treasures. A registration form is available online at osher.richmond.edu. For more information, call 804-287-1264.
<< back to e-newsletter

Virginia Student Receives Spectrum Scholarship
Incoming University of Tennessee School of Information Sciences' graduate student Dorothy Hargett has been awarded a Spectrum Scholarship by the American Library Association's Office for Diversity. The scholarship provides a $5,000 scholarship award and numerous other benefits from ALA, including free student admission to their annual conference. Hargett is enrolled in the school's distance education program and will continue her job as head of circulation at Regent University Library in Virginia Beach, Virginia, where she has worked for seven years.
Encouraged to apply for the Spectrum Scholarship by a coworker and SIS alumna, Hargett is passionate about public services librarianship and plans to continue working in an academic library after graduation.
The Spectrum Scholarship Program is ALA's national diversity and recruitment effort designed to address under-representation of critically needed ethnic librarians within the profession while serving as a model for ways to bring attention to larger diversity issues in the future. Its mission is to improve service at the local level through the development of a representative workforce that reflects the communities served by all libraries.
<< back to e-newsletter
The Library of Virginia maintains a collection of more than 3,000 prints and glass-plate negatives by Harry C. Mann (1866–1926), a Norfolk commercial photographer who specialized in landscape and industrial views and in portrait photography. Most of his images depict Norfolk during and immediately following World War I. Mann's photographs are part of more 250,000 photographs and images in the Library's collections documenting the history of Virginia and its people.
The photograph featured with this article is of an unidentified building from the area surrounding Norfolk. We need your help in identifying this structure. If you know the name and location of the building, please contact Dale Neighbors, our Prints & Photographs Collection coordinator, at dale.neighbors@lva.virginia.gov or 804-692-3711.
<< back to e-newsletter