Library Receives $150,000 Grant to Scan Augusta County Chancery Records

The Library of Virginia has received a grant of $150,000 from the National Historical Publications and Records Commission to support the scanning of the Augusta County chancery records, one of the most significant collections of these records in the nation. The Augusta County chancery causes are comprised of case files from the Augusta County Court of Chancery, 1745 to 1912; the District Court of Chancery, Augusta District, with jurisdiction of five localities, from 1789 to 1802; and the Staunton Superior Court of Chancery, with a jurisdiction of 28 localities, from 1802 to 1831.
The Augusta County chancery causes are the most voluminous of any locality in Virginia and are one of the longest and most complete continuous collections of chancery records of any locality in the country. The collection consists of 1,002 legal boxes and 18 oversize boxes and contains 10,437 individual cases. The causes also document an unusually large geographic area. For the period from 1745 to 1770, the boundaries of Augusta County encompassed most of western Virginia and what became the states of West Virginia, Kentucky, Illinois, and Ohio, and parts of present-day Pennsylvania as far north as Pittsburgh.
A chancery cause is one that could not be decided readily by existing written laws. Decisions were made by a county justice or judge, not a jury, and on the basis of fairness, or equity. These justices administered most facets of local government and were the face of government for most people during this period. As justices made decisions based on equity, they expressed social mores and values that governed everyday life in communities. They were appointed, not elected, until 1852, and most were not trained lawyers. Since chancery cases dealt with issues of equity rather than law, they often contain lengthy depositions, similar to oral histories, and can also hold other valuable materials in the form of exhibits submitted to the court. It is not uncommon to find land plats, correspondence, wills, publications, photographs, architectural drawings, and the like as exhibits. As such, these records are vital to genealogists and historians.
This project will provide free online access to all pre-1913 Augusta County chancery causes. The Chancery Records Index is available through the Library's Virginia Memory Web portal (www.virginiamemory.com). Currently, records from 48 localities can be searched through the index. The scanning project will begin in February 2011 and be complete on January 31, 2013.
<< back to e-newsletter

Deadline to Nominate Books Is February 11
The deadline to nominate books for the Library of Virginia's annual literary awards is February 11, 2011. Books eligible for the awards must have been written by a Virginia author or, for nonfiction books, have a Virginia-related theme. A Virginia author is defined as a writer meeting one or more of the following qualifications: a native-born Virginian, an author living in Virginia, or an author whose permanent home address is in Virginia. Entries can be submitted in the following categories: fiction, nonfiction, or poetry.
Entries for the 2011 awards must have been published and distributed between January 1 and December 31, 2010. Publishers should submit three copies of the books they nominate.
The following types of books are not eligible for the awards: reference works, anthologies, documentary editions, children's and juvenile literature, photographic books, self-help books, and "how-to" books.
Entry forms can be submitted online (http://www.lva.virginia.gov/public/litawards/nominate.asp)
or completed as an interactive PDF and mailed to: The Library of Virginia Literary Awards, 800 East Broad St., Richmond, Virginia, 23219-8000. For more information, please call 804-692-3722.
<< back to e-newsletter
President Signs Museum and Library Services Act of 2010
President Obama signed into law the Museum and Library Services Act of 2010 on December 22, 2010. The new law reauthorizes the existing programs of the Institute of Museum and Library Services with some important changes. The updated language calls on IMLS to take an active role in research and data collection and to advise the president and Congress on museum, library, and information services. This Act also clearly recognizes how libraries and museums contribute to a competitive workforce and engaged citizenry. New language focuses on the development of essential 21st-century skills.
The Museum and Library Services Act of 2010 authorizes nearly $300 million in federal assistance to museums and libraries nationwide. The bill provides money for the Institute of Museum and Library Services, which helps institutions of all sizes and types.
The legislation advances the roles of libraries and museums in education, lifelong learning, preservation, and workforce development. IMLS has been particularly active in providing leadership to align the activities of libraries and museums in support of an educated workforce—its national priority.
Over the last five years the Library of Virginia has received nearly $20 million in federal grants from IMLS to, among other things, support Find It Virginia, a collection of databases that provide free, 24/7 access to online resources; make unique Virginia collections accessible on the Web; and provide services to children and youth such as the summer and winter reading programs and early literacy training.
"All Virginians have benefited from IMLS funding. The changes in the legislation will allow us to offer more guidance to the president and Congress on the challenges facing museums and libraries and will assist us as we work to help Virginians develop the skills necessary for the 21st century," said Librarian of Virginia Sandra G. Treadway.
<< back to e-newsletter

Treadway to Moderate Program with Former First Lady
Librarian of Virginia Sandra G. Treadway will moderate a Richmond Forum program featuring one of the nation's best-known librarians for a sold-out audience on January 15, 2011. Of course, the speaker is better known for the role she held for eight years—First Lady of the United States. Dr. Treadway is pleased to have been selected for the honor of moderating "Laura W. Bush: An Evening with the Former First Lady," one of the most popular and respected first ladies in our history. Bush, who holds a master's degree in library science from the University of Texas, taught in public schools in Dallas, Houston, and Austin and worked as a public school librarian before marrying George W. Bush in 1977. She continues to speak out on behalf of women's health, education, and human rights. While serving as First Lady, Bush worked with the Library of Congress to launch the National Festival for the Book. That same year she convened a Summit on Early Childhood Cognitive Development, a forum for researchers to share the best ways for parents to prepare children for lifelong learning. Her memoir, Spoken from the Heart, was critically received and was a New York Times best seller.
<< back to e-newsletter

Library to Honor 2011 African American Trailblazers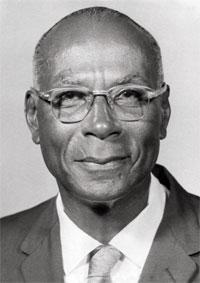 Image courtesy of Robert W. Johnson III
In observance of African American History Month, the Library of Virginia, in partnership with Capital One Financial Corporation, is honoring eight distinguished Virginians as the 2011 African American Trailblazers in Virginia history for their contributions to Virginia and the nation.
Those being honored this year include a stockcar racer, entrepreneurs, an abolitionist, and a tennis coach.
This year's honorees are:
John Rollison (d. 1780), York County
Entrepreneur and landowner
Henry Box Brown (1815 or 1816–after February 26, 1889), Richmond
Abolitionist and performer
Lucy Frances Simms (d. 1934), Harrisonburg
Educator
Robert Walter Johnson (1899–1971), Lynchburg
Tennis coach and physician
Henrietta Lacks (1920­–1951) Clover
Principal in a medical cause célèbre
Wendell Scott (1921–1990), Danville
Stockcar racer
Annie Belle Daniels, Newport News
Entrepreneur
John Arthur Stokes (1931– ), Prince Edward County
Civil rights activist
The men and women featured as Trailblazers offer powerful examples of individuals who refused to be defined by their circumstances. Their biographies are a testament to the determination and perseverance displayed by extraordinary people during challenging times. Through education and advocacy, these individuals demonstrate how African Americans have actively campaigned for better lives for themselves and their people. It is these many contributions that the African American Trailblazers program seeks to share.
The 2011 honorees also will be celebrated at an awards program on February 24 hosted by Cheryl Miller, anchor, WTVR CBS 6. The program starts promptly at 6:00 PM. Seating is limited, so please call 804-692-3900 for reservations.
Biographies of the honorees will be featured in an exhibition on display at the Library in February; on a poster that has been sent to schools, libraries, and museums across Virginia; and included on an educational Web site for teachers and students. To learn more about the individuals honored this year, visit our Web site at www.lva.virginia.gov/trailblazers.
<< back to e-newsletter

Governor Appoints Baron to SHRAB
Governor Bob McDonnell has appointed Sara Baron, dean of Regent University Library, to the State Historical Records Advisory Board. Baron earned her undergraduate and master's degrees in speech communication from Southwest Texas State University and received her master of library science degree from the University of North Texas. She is completing work on her doctorate in education administration from the University of Massachusetts.
The State Historical Records Advisory Board works to preserve Virginia's irreplaceable documentary heritage. SHRAB works with record keepers throughout
Virginia—at local historical societies, archival institutions, museums, and other organizations—to save endangered records, preserve them, and make them available to all researchers.
It serves as the central advisory body for historical records planning and related projects developed and carried out by the state. The board may publish and sponsor surveys of conditions and needs of historical records in the state, review records and proposals by institutions in the state, and make recommendations to the National Historical Publications and Records Commission.
<< back to e-newsletter

Erskine Wins National Book Award for Young People's Literature
Charlottesville resident Kathryn Erskine has won the 2010 National Book Award for Mockingbird, her book about a young girl with Asperger's syndrome whose brother is killed in a school shooting. Erskine was motivated to write Mockingbird by the shootings at Virginia Tech and her daughter's diagnosis with Asperger's syndrome.
In an effort to find closure, Caitlin, the book's protagonist, decides to complete her brother's Eagle Scout project of making a desk. Children with Asperger's syndrome have difficulty with nonverbal communication and social interaction and appear to lack empathy. They dislike changes in routine.
Erskine allows Caitlin's thoughts and words to demonstrate the syndrome. Readers see the world as Caitlin does—in black and white. Mockingbird is a moving novel that helps readers cope with senseless school violence and understand those who see the world differently.
Erskine, whose father was in the foreign service, was born in the Netherlands and lived in Israel, South Africa, Scotland, and Newfoundland. She practiced law for a number of years before deciding to write.
<< back to e-newsletter

Virginia Libraries Collaborate to Offer Health Information and Advocacy @ your library
In response to the demand for accurate and reliable health information, Virginia Commonwealth University's Massey Cancer Center created "Health Information and Advocacy @ your library," using the Campaign for America's Libraries' "@ your library" brand.
According to a recent U.S. impact study from the University of Washington Information School, 37 percent of library computer users reported that they have used the resources at their libraries to research treatment options, caregivers, or ways of improving their health.
"Health Information and Advocacy @ your library" is a health-based information literacy program that encourages Virginians to use the resources at the library and trained librarians to help them access reliable print and digital resources related to their health.
The program is a partnership that consists of the Campbell County Public Library, the Pittsylvania County Public Library and the Tobacco Indemnification and Community Revitalization Commission. Funding for the program helps support access to trained health information specialists at both county libraries. Specialists guide residents to reliable, authoritative health-based resources and develop innovative programming on a wide range of health issues.
"Health Information and Advocacy @ your library" also hosts a Web site with health-related resources available to everyone. Resources include a guide to Web sites focused on health reference sources, multicultural and multilingual resources, health literacy, health resources for minorities, and resources for patients with special needs.
"Health Information and Advocacy @ your library" is funded with part of a two-year $2.39 million grant provided to VCU's Massey Cancer Center.
—submitted by Megan McFarlane, American Library Association
<< back to e-newsletter