CW 150 Legacy Project Scanning Material Across Virginia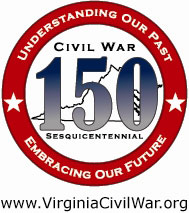 The fading ink, yellowing paper, and the ghostly images signal their age. They are priceless remnants of Virginia's past­—privately held letters, maps, diaries, daguerreotypes, and records of the Civil War. They are disappearing, and without immediate, professional help, a piece of Virginia will disappear with them.
In some ways the job of archivists is a race against the ravages of time. Many of these cherished items are in need of conservation. Fortunately, archivists from the Library of Virginia are working with the Virginia Sesquicentennial of the American Civil War Commission to preserve these materials in a statewide online collection of original Civil War manuscripts. A team of archivists from the Library of Virginia, collaborating with the local sesquicentennial committees, is traveling around the state scanning manuscript materials that reflect social, political, military, business, or religious life in Virginia during the period of the Civil War and the early period of Reconstruction. People are encouraged to bring original family materials to be scanned and included in the project. Scanned materials will be made available on the Web via the Library of Virginia Web site and the Virginia Sesquicentennial of the American Civil War Commission Web site.
An incredible wealth of privately held material already has been scanned and is available at http://www.virginiamemory.com/cw150. Among the items recently scanned are letters describing conditions at home and in camps; diaries recounting home life and troop movements, the capture of prisoners, and desertions; and amnesty oaths and discharge papers.
Check the schedule at http://www.virginiacivilwar.org/legacy to find out when the team is coming to your area for scanning events.
<< back to e-newsletter

2011 Virginia Women in History Program Honors Eight Outstanding Women
The woman known as the "First Lady of Virginia Wine," a crusading attorney for civil liberties, a Methodist lay leader, a botanical illustrator, and a civic leader are among eight Virginia women recognized by the Library of Virginia as part of its Virginia Women in History program. On March 24, the Library of Virginia will honor the eight outstanding women who are featured in the 2011 Virginia Women in History program at an awards ceremony at 6 PM at the Library of Virginia. The evening's program will be hosted by May-Lily Lee, with a reception to follow. Seating is limited, so please call 804-692-3900 for reservations.
The women honored this year are:
Lucy Addison (1861–1937), Roanoke
Educator
Eleanor Bontecou (1891–1976), Arlington Co
Attorney
Emily White Fleming (1855–1941), Fredericksburg
Preservationist
Pearl Fu, Roanoke
Civic Leader
Lillian Lincoln Lambert, Mechanicsville
Entrepreneur and author
Bessie Niemeyer Marshall (1884–1960), Petersburg
Botanical illustrator
Felicia Rogan, Albemarle Co.
Vintner
Elizabeth Henry Campbell Russell (1749–1825), Saltville
Methodist lay leader
To learn more about the 2011 Virginia Women in History Program and this year's honorees, visit www.lva.virginia.gov/vawomen
<< back to e-newsletter
LVA Offers Free E-Rate Help to Public Libraries
The Library of Virginia is offering comprehensive E-Rate consulting services to all Virginia public library systems at no cost through E-Rate Central. E-Rate Central has been retained with funding made available through the Bill & Melinda Gates Foundation's Opportunity Online Broadband grant to serve every Virginia library system that would like to participate in the E-Rate program for 2011.
"We are pleased to be able to provide the services of E-Rate Central to the public libraries. With fewer staff and reduced budgets, anything we can do to help public libraries identify new funding sources to defray the costs of Internet in our public libraries goes a long way to help citizens find the resources they need," said Librarian of Virginia Sandra G. Treadway.
The E-Rate program was created out of the federal Telecommunications Act of 1996. It is intended to provide discounts on telecommunications services, Internet access, and internal connections to libraries and schools. The planning and paperwork involved in the application process for E-Rate funding discouraged many libraries from applying.
Through its Library Development and Networking Division, the Library of Virginia assists public libraries in understanding the E-Rate process, navigating the rules and regulations, preparing technology plans, and completing applications.
The Library of Virginia's goal is for all libraries to participate in the E-Rate program. By providing full-service E-Rate consulting to all Virginia libraries, the Library of Virginia will help library systems receive substantial discounts on eligible services. Recognizing that the E-Rate program is complicated and time consuming, this agreement will relieve much of the burden associated with the E-Rate process and provide much-needed financial benefit to library systems throughout the state.
<< back to e-newsletter

Library of Virginia Receives Lorenz Award
The Library of Virginia has received the John G. Lorenz Award from the Institute of Museum and Library Services. The Lorenz Award recognizes state library agencies that promptly meet the Institute of Museum and Library Services' standards for the completeness, quality, and timely submission of statistical data. The award was presented last fall for data related to fiscal year 2009.
Statistical data submitted by state library agencies is used by chief officers of state library agencies, federal and state policymakers, government and library administrators at all levels, the American Library Association and its members, researchers, the public, and journalists.
<< back to e-newsletter

To Collect, Protect, and Serve Teaches Children about the Library
A new children's book, To Collect, Protect, and Serve: Behind the Scenes at the Library of Virginia by Tameka Hobbs, program and education manager at the Library of Virginia, will soon be teaching young people about the important work done by Library staff. The book uses engaging cartoon figures—Archie the Archivist, Libby the Librarian, and Connie the Conservator dedicated to fighting Archival Enemies called Liquid Lenny, Andy Acid, Mildred Mold, Bartholomew B. Bug, Fred the Flame, Lucia Light, and Surge and Worm.i.am—to explain the roles of librarians and archivists in keeping historical documents safe for future generations. The illustrations are by Les Harper of Lightbox Studios, who previously worked with the Library on the graphics for the Library's 2009 exhibition Poe: Man Myth, or Monster.
The book was funded through a grant from the Garland and Agnes Taylor Gray Foundation. The Library will distribute copies of the 36-page softcover book to students who attend programs at the Library and to select schools in Virginia. Individual copies can be purchased through the Virginia Shop (804-692-3592, www.thevirginiashop.org) for $15.99.
<< back to e-newsletter

Governor Appoints Kelly Cherry Poet Laureate of Virginia
Kelly Cherry, who lives in Southside Virginia, has been named to a two-year term as Poet Laureate of Virginia by Governor Bob McDonnell. She was born in Baton Rouge, grew up in Chesterfield County, and received a bachelor's degree from Mary Washington College and a master of fine arts degree from the University of North Carolina at Greensboro. Her parents were violinists and her father taught at Richmond Professional Institute (now Virginia Commonwealth University). He also was a cofounder of the Richmond Symphony Orchestra.
Cherry, a professor emerita at the University of Wisconsin-Madison, is the author of 19 books of fiction (novels, short stories), poetry, and nonfiction (memoir, essay, and criticism); eight chapbooks; and translations of two classical plays. Her most recently published titles are The Retreats of Thought: Poems and Girl in a Library: On Women Writers and the Writing Life. She has received numerous honors for her work, including the Pushcart Prize, the National Endowment for the Arts fellowship, the PEN/Syndicated Fiction Award, and the first-ever James G. Hanes Poetry Prize from the Fellowship of Southern Writers.
<< back to e-newsletter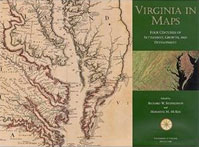 Virginia Shop Offers Special Price on Virginia in Maps Book
The Virginia Shop is running a special price on Virginia in Maps: Four Centuries of Settlement, Growth, and Development. First published in 2000 by the Library of Virginia, Virginia in Maps is the first fully illustrated comprehensive atlas of historical Virginia maps. The atlas includes full-color reproductions of 187 of the most important maps of the colony and the state, presenting many in multiple plates to enhance readability.
Originally $95, the atlas is now available for $49.99 while supplies last. To order visit http://www.lva.virginia.gov/shop/ or call 804-692-3524.
<< back to e-newsletter

17th Virginia Festival of the Book Runs March 16-20
Book lovers will converge on Charlottesville March 16–20 for the 17th Annual Virginia Festival of the Book. As in years past, this mostly free five-day public festival features author readings, panel discussions, workshops, and book signings that appeal to readers of all ages. Librarian of Virginia Sandra G. Treadway will be the featured speaker at the opening ceremony for the festival at noon on March 16. Among this year's participating authors are: Donna Andrews, Scott Simon, Helen Simonson, Kathryn Stockett, Kathy Reichs, Brad Parks, Susan Gregg Gilmore, David Wojahn, Alan Cheuse, Ashley Bryan, and Jim Lehrer. The Virginia Festival of the Book is a program of the Virginia Foundation for the Humanities. Names of the attending authors and a final schedule can be found at www.vabook.org.
<< back to e-newsletter

American Library Association Announces Award Winners
Moon over Manifest by Clare Vanderpool has won the John Newbery Medal for the most outstanding contribution to children's literature. This powerful debut novel set in 1936 features 12-year-old Abilene Tucker, who feels deserted in her father's hometown of Manifest, Kansas, where she has been sent by her father to live for the summer with an old friend while he works for the railroad. Four Newbery Honor Books also were named: Turtle in Paradise by Jennifer L. Holm, Heart of a Samurai by Margi Preus, Dark Emperor and Other Poems of the Night by Joyce Sidman, and One Crazy Summer by Rita Williams-Garcia.
A Sick Day for Amos McGee written by Philip C. Stead and illustrated by Erin E. Stead received the 2011 Caldecott Medal for best children's picture book. Two Caldecott Honor Books also were named: Dave the Potter: Artist, Poet, Slave, illustrated by Bryan Collier and written by Laban Carrick Hill and Interrupting Chicken, written and illustrated by David Ezra Stein.
Ship Breaker written by Paolo Bacigalupi received the 2011 Michael L. Printz Award for excellence in literature written for young adults. Four Printz Honor Books also were named: Stolen by Lucy Christopher, Please Ignore Vera Dietz by A. S. King, Revolver by Marcus Sedgwick, and Nothing by Janne Teller.
This year's Coretta Scott King (Author) Book Award recognizing an African American author of outstanding books for children and young adults went to Rita Williams-Garcia author of One Crazy Summer. Three King Author Honor Books were selected: Lockdown by Walter Dean Myers, Ninth Ward by Jewell Parker Rhodes, and Yummy: The Last Days of a Southside Shorty written by G. Neri.
Dave the Potter: Artist, Poet, Slave illustrated by Bryan Collier is the winner of the 2011 Coretta Scott King (Illustrator) Book Award recognizing an African American illustrator of outstanding books for children and young adults. The book was written by Laban Carrick Hill. One King Illustrator Honor Book was selected: Jimi Sounds Like a Rainbow: A Story of the Young Jimi Hendrix illustrated by Javaka Steptoe and written by Gary Golio.
More than 20 awards were announced by the American Library Association at its annual meeting.
Recognized worldwide for the high quality they represent, ALA awards guide parents, educators, librarians, and others in selecting the best materials for youth. For more information, please visit http://www.ala.org/ala/mgrps/divs/alsc/awardsgrants/bookmedia/index.cfm.
<< back to e-newsletter

Loudoun County Public Library Wins John Cotton Dana Award
Loudoun County Public Library has been selected as one of five libraries in the nation to receive the John Cotton Dana Award. This prestigious award recognizes and honors outstanding achievement in library public relations. The John Cotton Dana award winners receive a cash grant of $5,000 from the H. W. Wilson Foundation. The John Cotton Dana honor has been awarded continuously since 1946 and is sponsored by the H. W. Wilson Co., the H. W. Wilson Foundation, and the Library Leadership and Management Association, a division of the American Library Association. John Cotton Dana, for whom the award is named, was an innovative leader in the library world who pioneered in publicizing library services.
Loudoun County Public Library received the award for the "Try Poetry" program, a year of building community through the borderless conversation of poetry. The program developed a long partnership with the public school system, created a unique relationship with the juvenile detention center, and offered a variety of captivating presentations to the community. Extensive media coverage in the Washington Post and other outlets, as well as assistance from highly respected authors, poets, and actors, helped to inform and excite all ages within the community.
<< back to e-newsletter