Woodrum to Lead State Library Board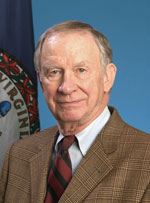 Clifton A. "Chip" Woodrum III, of Roanoke, Virginia, has been elected chair of the Library Board. He was appointed to the Library Board in 2004 by Governor Mark Warner and reappointed in 2009 by Governor Tim Kaine. He served as vice chair of the Library from July 1, 2010, through June 30, 2011. Woodrum represented Roanoke and part of Roanoke County in the House of Delegates from 1980 until 2003. He earned his undergraduate degree at the University of North Carolina and his law degree from the University of Virginia. He is an attorney in private practice in Roanoke.
Meyera E. Oberndorf, of Virginia Beach, was elected vice chair of the Library Board. Oberndorf was appointed to the Library Board in 2009 by Governor Tim Kaine. In 1976, with her election to the Virginia Beach City Council, she became the first woman elected to public office in the city. In 1988 she became the first directly elected mayor and the first woman mayor in Virginia Beach's history, serving until 2008. Oberndorf served as chair of the Virginia Beach Public Library Board from 1967 until 1976. The Virginia Beach City Council renamed the city's Central Library in her honor in 2008.
<< back to e-newsletter

Children's Book Bank of Virginia and Library to offer Autism Workshop on September 27
The Library of Virginia and the Children's Book Bank of Virginia (formerly Read Aloud Virginia) are cosponsoring an autism workshop on September 27 featuring a presentation and book signing by Kathryn Erskine, winner of the 2010 National Book Award for Young People's Fiction for Mockingbird. The book explores the world of a young girl with Asperger's syndrome as she tries to cope with the killing of her older brother.
The workshop, which is geared toward educators, runs from 11:30 AM until 1:30 PM.
<< back to e-newsletter

Hancock and Miller Selected as 2011 Anne and Ryland Brown Teacher Research Fellows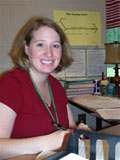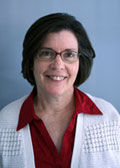 The Library of Virginia is pleased to announce the third annual Anne and Ryland Brown Teacher Research Fellows for 2011.
Nicole Hancock teaches U.S. history and English at J. E. J. Moore Middle School in Prince George, Virginia. She is a graduate of the College of William & Mary, and has a master's degree in history from Virginia State University. Hancock employs a cross-curricular approach, combining history and English curricula in her classroom. She also uses primary sources to help students delve deeply into the content.
Sally Miller is a fourth-grade teacher at William F. Fox Elementary School in Richmond, Virginia. Miller and her students read a book by John Stokes and then nominated him as a 2011 African American Trailblazer at the Library of Virginia. She has a degree in early education from Auburn University. Miller is also an R.E.B. Award for Teaching Excellence finalist, was selected for the Colonial Williamsburg Teacher Institute, and serves on the Virginia Historical Society Education Board.
"We are so pleased to work with both of these exemplary educators this summer," said Tameka Hobbs, program and education manager at the Library of Virginia. "They are both dedicated to creating rich and meaningful learning experiences for students by using primary sources. We continue to receive applications from amazing teachers all over the commonwealth and these two educators really stood out to the selection committee this year."
Founded in 2009, the Anne and Ryland Brown Teacher Research Fellowship provides Virginia educators the opportunity to research and study a specific aspect of Virginia history and produce educational resources to support the Library of Virginia's ongoing exhibition and education programs. The award includes a stipend of $2,000 and a $500 allocation to cover fees and travel for conference presentations.
<< back to e-newsletter

Finalists for Cardozo Children's Literature Award Announced
The Library of Virginia is pleased to announce the finalists for the 2011 Whitney and Scott Cardozo Award for Children's Literature. A juried panel reviewed 32 titles from authors whose works focused on literature for children ages three through ten, with a publication date of 2010. Nominated titles were accepted from the greater mid-Atlantic region.
The finalists are:
City Dog, Country Frog, by Mo Willems, illustrated by Jon J. Muth (Hyperion Book CH)
Chalk, by Bill Thomson (Marshall Cavendish Corp)
Mirror Mirror, by Marilyn Singer, illustrated by Josée Masse (Dutton Juvenile)
Ruth and the Green Book, by Calvin Alexander Ramsey, illustrated by Floyd Cooper (Carolrhoda Books)
The Strange Case of Origami Yoda, by Tom Angleberger (Amulet Books)
The winner will be chosen through public voting, and children and adults are invited to read each finalist's book and vote for their favorite. Voting boxes are now available at the Library of Virginia, and at Richmond area public libraries. Voting is also available online by visiting www.lva.virginia.gov/vote. Voting will take place July 5-August 5. The Cardozo Award was established in 2007 to recognize outstanding works of children's literature. The winner, who receives a $2,500 monetary prize, will be honored at the 14th Annual Library of Virginia Awards celebration on October 15, 2011.
<< back to e-newsletter
July's "30 for 30" sale at the Virginia Shop features 30 percent off all Print-On-Demand image orders through our online store at www.thevirginiashop.org.
Images include prints from the Album of Virginia, the Voorhees Map collection, Catesby's naturalist drawings, and vintage tobacco labels. The sale includes only those images that are preloaded on the site and listed under the "From the Collection" tab.
For assistance, please call the shop directly at 804-692-3524.
<< back to e-newsletter

Charles City Library Campaign Receives Challenge Grant
The Mary Morton Parsons Foundation has awarded a 2-to-1, $250,000 Challenge Grant to the Charles City County Library Campaign. The campaign has until May 2012 to raise $500,000 in new or increased gifts or pledges to secure the Parsons Foundation's grant. James A. J. Tyler, Jr, campaign chair, stated: "The campaign leadership was ecstatic to learn of the Parsons Foundation's extraordinary generosity and we are very grateful for this endorsement of the library project. This challenge grant is a timely catalyst for taking the campaign to a broader base of prospective donors in the year ahead."
The Parsons Foundation grant and matching gifts raised will go toward the campaign's overall goal of $5.2 million to construct, furnish, and equip a 16,000-square-foot library facility, adjacent to the new Charles City County Courthouse. The facility will also house the County's Center for Local History. To date, more than $3.1 million has been raised in lead gifts from a host of individuals and organizations, including $175,000 from the Charles City Economic Development Authority, $150,000 from the Flagler Foundation, and $95,000 from the Heritage Library Foundation.
<< back to e-newsletter
Commonwealth of Virginia Releases Interactive Broadband Availability Map
Virginia Secretary of Technology Jim Duffey has announced the release of the new broadband availability map for Virginia. The most comprehensive and interactive map of Virginia to date, it is available for use by policy makers, government leaders, broadband providers, and citizens to identify where broadband services are available as well as to identify unserved or underserved areas in the state.
The map, developed from data provided by broadband service providers and other sources, is a collaborative effort of the Center for Innovative Technology, the Virginia Information Technologies Agency's Virginia Geographic Information Network (VGIN), and Virginia Tech's eCorridors Program. In addition to allowing users to view where different types of services are available, the interactive map also allows users to search by address and view a list of providers who offer services at that location.
"This new map will play a vital role in our efforts to ensure that all Virginians have access to affordable, reliable broadband services. Having the ability to identify and closely analyze unserved areas gives us the opportunity to strategically align resources and pursue collaborative efforts between public and private organizations to expand broadband coverage across the commonwealth," said Secretary Duffey. "Improving access will revolutionize the way many Virginians work, are educated, and receive their healthcare-imperatives to economic growth and quality of life in the commonwealth."
Secretary Duffey continued, "Virginia is a leader in broadband policy and mapping. This map is a clear indication of our continued commitment to bringing affordable broadband to every citizen and insuring that our schools, libraries, hospitals, and first responders have the connectivity they need to leverage cutting edge applications to the benefit of all citizens in the commonwealth."
The broadband mapping project is part of the National Telecommunications and Information Administration (NTIA) Broadband Mapping Initiative. The new map is the second one for Virginia; the first edition was released by CIT in 2009.
To view the latest broadband availability map, please visit www.wired.virginia.gov.
<< back to e-newsletter

LVA Cardholders Gain More Access
Remote access to the ReferenceUSA database http://www.referenceusa.com/Home/Home is now available for Library of Virginia library card holders (both Virginia and out-of-state cards). The link is on the Library's Web site under Using the Collections, Research Databases and eBooks, Business and Economics.
This database is very helpful when researching a business, as it provides key information such as the year the business was established, number of employees, financial data, location of headquarters and branches, and an extensive contact list for key personnel. It also serves as a competitive analysis tool, enabling users to see all businesses of a similar type located in a specific geographic area.
-submitted by Lisa Wehrmann, Public Service and Outreach
<< back to e-newsletter

Four Virginia Libraries Receive Grants from ALA and NEH for American Civil War Reading and Discussion Program
Four Virginia libraries-Central Rappahannock Regional Library in Fredericksburg, Russell County Public Library in Lebanon, Loudoun County Public Library in Leesburg, and Washington County Public Library in Abingdon­-are among 65 public, academic, and community college libraries that will receive Let's Talk About It: Making Sense of the American Civil War reading and discussion program grants from the American Library Association Public Programs Office and the National Endowment for the Humanities.
Let's Talk About It: Making Sense of the American Civil War follows the popular Let's Talk About It model, which engages participants in discussion of a set of common texts selected by a nationally known scholar for their relevance to a larger, overarching theme.
As a part of the grant, the 65 selected libraries will receive:
A $3,000 grant from NEH to support program-related expenses.
Fifty sets of three titles: March by Geraldine Brooks (Penguin, 2006); Crossroads of Freedom: Antietam by James McPherson (Oxford University Press, 2002); and a forthcoming Civil War anthology of historical fiction, speeches, diaries, memoirs, biography, and short stories edited by national project scholar Edward L. Ayers and copublished by NEH and ALA.
Promotional materials, including posters, bookmarks, and folders, to support local audience recruitment.
Training for the library project director at a national workshop, where he or she will hear from the project scholar, expert librarians, and organizers and receive a program-planning guide, materials, and ideas. As part of the grant, NEH will pay for two nights of lodging in Chicago for the library project director.
Funding for this program was provided by a grant from NEH to the ALA Public Programs Office. Let's Talk About It: Making Sense of the American Civil War is supported by NEH's We the People initiative, which aims to stimulate and enhance the teaching, study, and understanding of American history and culture.
-submitted by Angela Thullen, American Library Association
<< back to e-newsletter

"Friends of the Library" Workshops Offer Ideas on Strengthening Support for Libraries
Public library consultant Kim Armentrout from the Library Development and Networking Division at the Library of Virginia offered a series of free workshops for Friends of Libraries members, library trustees, and library staff in May and June at Abingdon, Amelia, Danville, and Fishersville. The workshops covered the following topics:
Marketing Your Friends Group to Its Fullest Potential
Online Giving: Show Me the Money!
Networking Opportunities & Sharing of Publicity/Event Materials
More than 50 attendees participated in the workshops, exchanging ideas and learning new methods for showcasing their groups and their libraries in their communities, as well as exploring new avenues of fundraising.
Contact Kim Armentrout at 804-692-3601 or e-mail: kim.armentrout@lva.virginia.gov for additional information.
<< back to e-newsletter

U.S. Navy and OpSail to Commemorate Bicentennial of War of 1812 and Star-Spangled Banner
U.S. Secretary of the Navy Ray Mabus and the chairman of Operation Sail, Inc., Jose Fuentes, have announced a seven-port public/private partnership for the bicentennial commemoration of the War of 1812 and the writing of "The Star-Spangled Banner." Norfolk, Virginia, is one of several cities to host OpSail 2012-bringing tall ships for the public to watch and tour during next year's Harborfest.
"From 2012 to 2015, the United States Navy and its partners, including Operation Sail, Inc., will commemorate the War of 1812 and the writing of our national anthem, 'The Star-Spangled Banner,'" Mabus said. "It is remarkable that, 200 years ago, one of the first wars in our country's history was fought against nations who have become our closest allies."
Mabus and Fuentes said that week-long events, including "parades of sail," ship tours, spectacular air shows, international athletic competitions, and community relations activities, will mark the occasions in New Orleans, New York City, Norfolk, Baltimore/Annapolis, and Boston/New London. Similar events will take place in Great Lakes ports and across the nation.
The chief of naval operations has invited 120 countries to send appropriate combat ships as well as their national academy sail training tall ships to America, Mabus noted.
OpSail, the congressionally chartered nonprofit producer of tall-ship events, has partnered with the navy for previous milestones such as the 1976 bicentennial of American independence, the 1986 Statue of Liberty centennial, and the new millennium in 2000.
<< back to e-newsletter