Library of Virginia Announces Finalists for the 14th Annual Literary Awards
Nine authors are the finalists for the Library of Virginia's 14th Annual Library of Virginia Literary Awards honoring Virginia authors or, in the case of nonfiction, works on a Virginia subject. One additional author will receive honorable mention.
The finalists were chosen by an independent panel of judges from 129 books nominated for the awards. The winners in each category will be selected from among these finalists and announced at a gala celebration on October 15, 2011, at the Library of Virginia.
Poetry
Michael Chitwood, Poor-Mouth Jubilee
Kathleen Graber, The Eternal City
Lesley Wheeler, Heterotopia
The judges also selected an honorable mention in the poetry category: A Walk in Victoria's Secret by Kate Daniels.
Fiction
Belle Boggs, Mattaponi Queen
John Casey, Compass Rose
John Grisham, Ford County
Nonfiction
Rebecca Skloot, The Immortal Life of Henrietta Lacks
Suzanne E. Smith, To Serve the Living: Funeral Directors and the African American Way of Death
Kristin Swenson, Bible Babel: Making Sense of the Most Talked About Book of All Time
The Library of Virginia's annual literary awards were first given in 1998 to recognize the best books published the previous year by Virginia authors or on a Virginia theme. The winners in each of the three categories receive a monetary prize of $3,500.
This year's finalists include John Casey, who won the National Book Award for Spartina in 1989, and poet Kathleen Graber, who was a finalist for the 2010 National Book Award for The Eternal City. Nonfiction finalist Rebecca Skloot's The Immortal Life of Henrietta Lacks was a New York Times best seller and won the Heartland Prize for nonfiction from the Chicago Tribune.
The finalists for the 2011 awards include authors who have received numerous honors including the Rona Jaffe Foundation Writers' Award, Fulbright Scholarship, Harper Lee Prize for Legal Fiction, Hanes Award for Poetry from the Fellowship of Southern Writers, James Dickey Prize, Writers for Writers Award, Robert Ruark Foundation Award for Short Fiction, and the Bakeless Fiction Prize.
The winners of the fiction, nonfiction, and poetry awards will be announced on Saturday, October 15, 2011, at the 14th Annual Library of Virginia Awards Celebration Honoring Virginia Authors & Friends. This gala event, sponsored by Dominion, attracts authors, publishers, and those who enjoy the written word. Award-winning author Adriana Trigiani will again serve as host for this event. Earl Hamner will be honored this year as the recipient of the Literary Lifetime Achievement Award.
The winners of the People's Choice Award, the Weinstein Poetry Prize, and the Whitney & Scott Cardozo Award for Children's Literature also will be announced that evening. For ticket information, please call 804-692-3900.
<< back to e-newsletter

Virginia Literary Festival Offers a Week of Book Talks, Workshops, Celebrations, and Literary Events for Readers and Authors
Bookended by the popular James River Writers Conference and the elegant Library of Virginia Literary Awards Celebration, the Virginia Literary Festival celebrates Virginia's rich literary resources with a weeklong series of events.
Throughout its colorful history, Virginia has produced significant literary figures. Writers such as Edgar Allan Poe, Rita Dove, Tom Wolfe, Ellen Glasgow, William Styron, Virginius Dabney, and Douglas Southall Freeman have enriched American literature with their poetry, fiction, history, biography, and criticism.
Today, Virginia is home to a large, diverse, and ever-growing group of accomplished novelists, nonfiction writers, and poets. Featured authors who will speak during this week-long celebration of Virginia literature include Donna Andrews, Kelly Cherry, Elizabeth Kostova, Katherine Neville, Dean King, Earl Hamner, and many more.
Many events are free, and all are open to the public. For a schedule of festival events and to order tickets, please visit www.literaryva.com.
<< back to e-newsletter

Tom Angleberger Wins the Fifth Annual Cardozo Award for Children's Literature

Tom Angleberger's The Strange Case of Origami Yoda has been selected by the public as the winner of the fifth annual Whitney and Scott Cardozo Award for Children's Literature. The New York Times Sunday Book Review calls The Strange Case of Origami Yoda "a delightful first novel presented as a joint effort between the neatly typed notes of Tommy, a sixth grader, and the scribblings of friends." The book features a weird kid named Dwight and his wise Yoda finger puppet, which dispenses advice to the sixth grade.
Angleberger, an artist-turned-writer, is a former columnist for the Roanoke Times and began work on his first book while in middle school. He is married to author-illustrator Cece Bell and lives in Christiansburg, Virginia.
A juried panel selected five finalists from nominated authors whose works focused on literature for children ages four through eight, with a publication date of 2010. Nominated titles were accepted from the greater mid-Atlantic region. A public vote occurred online and in public libraries throughout central Virginia in July and August.
The winning book and author will be officially recognized at the 14th Annual Library of Virginia Literary Awards Celebration that takes place at the Library of Virginia on the evening of Saturday, October 15, 2011.
<< back to e-newsletter

Vote for Virginia's Most Endangered Artifact
The Library of Virginia has submitted our collection of the Gubernatorial Papers of Thomas Jefferson for consideration as one of Virginia's top ten endangered artifacts. Now through September 20, the Virginia Collections Initiative is holding a public vote to help draw attention to artifacts that are in need of immediate attention throughout the commonwealth-and we encourage you to place your vote!
The Virginia's Top 10 Endangered Artifacts project is designed to create awareness of the importance of preserving artifacts in care at museums, libraries, and archives throughout the commonwealth and in the District of Columbia. Collecting institutions from across Virginia and D.C. have nominated an array of items that they believe tell a significant story and deserve to be recognized on this list.  
The correspondence, letters, and documents pertaining to Thomas Jefferson's service as the second governor of Virginia bring to life the daily challenges faced by him and other leaders during the Revolutionary War and while drafting the Articles of Confederation and addressing frontier relations. Due to inferior conservation techniques of the early 20th century, this collection needs to be delaminated, deacidified, cleaned, mended, and digitized in order to be preserved and made accessible worldwide. The Library recently received a Save America's Treasures grant for the conservation of Jefferson's gubernatorial papers, but additional support is needed to complete this vital project.
The Virginia's Top 10 Endangered Artifacts campaign showcases the importance of Virginia's diverse history, heritage, and culture and the role that artifacts and archival materials play in telling those stories. This fun and educational project enables all citizens of Virginia to take part in supporting the institutions that are entrusted with caring for our communities' treasures.
"Winning" entries will be announced in November 2011. To see the nominated artifacts and to place your vote, please visit http://www.vamuseums.org/?page=Top10.
<< back to e-newsletter

The Virginia Shop's 30 for 30 Sale
For 30 days enjoy 30 percent off all genealogical publications and supplies through the Virginia Shop's online store (www.thevirginiashop.org) throughout the month of September. The sale includes Library of Virginia publications such as Cavaliers and Pioneers, vestry and parish books, and guides to Library resources. Family tree charts and other tools for researching and preserving your family's history will be included in the online special.
<< back to e-newsletter

Records of Home Demonstration Clubs Donated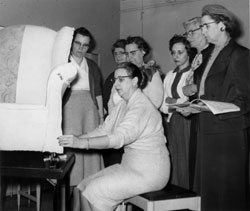 The records of the Home Improvement Clubs in Prince Edward County (Accession 50011) were recently donated to the Library by Eunice Mottley of Burkeville. The collection, covering the years 1926-1982, gives a unique look at how the women of that county adapted as their way of life changed from rural to suburban.
The history of the clubs begins early in the 20th century. In the summer of 1910, Ella G. Agnew (1871-1958) was made "State Agent for Girls' Tomato Clubs" by Dr. Seaman A. Knapp (1831-1911) under the auspices of the General Education Board. Agnew began to work with girls in Halifax and Nottoway counties who planted tomatoes, cared for them, and preserved their fruit-laying the foundation for home demonstration work in Virginia. The tomato clubs later became known as canning clubs and gradually began to influence other phases of homemaking.
In 1914, the Smith-Lever Act was passed by Congress, providing funds for cooperative extension work in agriculture and home economics. Home demonstration work grew steadily in Virginia from 1914 to 1917 with expanded programs and an increase in agents employed and counties affected. In Prince Edward County, Claudia Hagy was the first home demonstration agent, with an office at Hampden-Sydney College. By 1923 there were four clubs in the county.
As Farmville developed into a shopping and business center, the clubs established a "rest room" in the basement of the county courthouse where women could obtain daycare while they shopped or relax, read, eat, and enjoy other comforts. During the Depression, curb markets, where farm women could sell their surplus fruits and vegetables, provided a needed source of income. Over the years, other programs were developed and were workshops held in the areas of canning, gardening, meal preparation, health and nutrition, home repair, home furnishings, clothing, crafts, and financial and legal matters.
The number of clubs in Prince Edward County eventually grew to 12. They were organized locally, but depended on the Virginia extension service for program support. The home demonstration clubs ceased operation in 1975. Some, including the Serendipity Club, continued to exist as independent organizations.
The collection of records of the Home Demonstration Clubs in Prince Edward County includes clippings; correspondence; photographs; yearbooks; financial reports; extension agents' monthly and annual reports; and lists of members, committees, and attendees at various programs and workshops. Also included are constitutions and by-laws and minutes of the Advisory Council, Home Demonstration Club, Home Making Board, and Program Planning Committee. There are also histories of home demonstration work and a national directory and handbook (1964).
Esther Herzig Spurlock (1895-1996) of Meherrin wrote in her history of the clubs that throughout their existence, "the clubs' group activities and programs have helped rural women develop their potentials, broadened their outlook, given them new interests and insights, [and] made them more aware and appreciative of their surroundings, as well as their duties and their contributions to the well-being of their families, their neighbors in the county, and indeed the whole world."
–submitted by Jim Greve, Archival and Records Management Services
<< back to e-newsletter
Nominations Are Open for the 2011 "I Love My Librarian" Award
Nominations are being sought from library users nationwide to recognize the accomplishments of librarians in public, school, college, community college, and university libraries for their efforts to improve the lives of people in their community. Nominations are being accepted online at http://www.atyourlibrary.org/ilovemylibrarian through September 12.
Up to 10 winners will be selected this year and receive a $5,000 cash award, a plaque, and a $500 travel stipend to attend an awards reception in New York hosted by the New York Times.
Each nominee must be a librarian with a master's degree from a program accredited by the American Library Association in library and information studies or a master's degree with a specialty in school library media from an educational unit accredited by the National Council for the Accreditation of Teacher Education. Nominees must be currently working in the United States in a public library, a library at an accredited two- or four-year college or university, or at an accredited K-12 school.
The award is administered by the ALA with support from Carnegie Corporation of New York and the New York Times.
–submitted by Megan Humphrey, ALA
<< back to e-newsletter

Library's Collections Continue to Grow as Access Increases
The collections of the Library of Virginia contain the most comprehensive information available about Virginia and Virginians, past and present. The printed collections include 1,891,721 books, periodicals, government publications, and microforms; 49,897 reels of newspaper microfilm; nearly 300,000 photographs and images; and 682,176 federal government publications. The Library's archival collections include 114,690,838 manuscript items as well as 49,139 reels of microfilm, 45,587 maps, and 13,062 architectural plans and drawings. The Library's Web site (www.lva.virginia.gov) provides access to the Library's catalog and many other resources, including digital collections. Thirty-eight percent of the Library's subscription databases are available online for cardholders.
In fiscal year 2011, 246,007 in-house researchers and visitors came to the Library of Virginia. In addition, 2,489,648 users visited the Library's Web site to take advantage of its online information resources, with an average session length was 10.22 minutes. Of these, 13.58 percent were international users.
<< back to e-newsletter

Banned Books Week to Feature Virtual Read-out in September
This year, for the first time, readers from around the world will be able to participate virtually in Banned Books Week, September 24-October 1. During this year's celebration, readers will be able to proclaim the virtues of their favorite banned books by posting videos of themselves reading excerpts to a dedicated YouTube channel.
Videos (no more than two minutes long) can be submitted by anyone as long as the video includes a reading from a banned or challenged book. (A list of banned literary classics can be found at http://tinyurl.com/kwxwdz.) Alternatively, videos of up to three minutes can be submitted giving eyewitness accounts of local challenges.
Although most videos will be posted by individuals, libraries and bookstores are encouraged to film their patrons and customers and upload the videos as part of their Banned Books Week celebration. Publishers are invited to provide videos of their authors, either reading from a banned book or talking about the problem of censorship.
Videos can be posted beginning in September. Details can be found on the Banned Books Week Web site, bannedbooksweek.org. Questions can be sent to info@abffe.org.
Intellectual freedom-the freedom to access information and express ideas, even if the information and ideas might be considered unorthodox or unpopular-provides the foundation for Banned Books Week. The week stresses the importance of ensuring the availability of unorthodox or unpopular viewpoints for all who wish to read and access them.
Banned Books Week highlights the threats to the freedom to read posed by the hundreds of challenges to books in schools and libraries every year. The American Library Association reports 348 challenges last year, but acknowledges that many go unreported.
Last year's most challenged book was And Tango Makes Three, an award-winning children's picture book, based on an actual incident, that tells the story of two male penguins who hatch an abandoned egg and parent the chick. The book has been on the list of most frequently challenged books for five years.
In Virginia the Albemarle County School Board recently voted to remove Sir Arthur Conan Doyle's A Study in Scarlet from sixth-grade reading lists. They suggested substituting another of his books, The Hound of the Baskervilles, to introduce the mystery genre to sixth grade students.
Banned Books Week is sponsored by the American Booksellers Association, American Booksellers Foundation for Free Expression, American Library Association, American Society of Journalists and Authors, Association of American Publishers, National Association of College Stores, Comic Book Legal Defense Fund, National Coalition Against Censorship, National Council of Teachers of English, and the PEN American Center. It is endorsed by the Center for the Book in the Library of Congress.
-submitted by Barbara M. Jones, Freedom to Read Foundation
<< back to e-newsletter

Call for Papers for the 2012 Virginia Forum by September 30, 2011
The 2012 Virginia Forum, to be held on the campus of James Madison University in Harrisonburg, Virginia, March 29-31, is interdisciplinary and welcomes proposals from scholars, teachers, and professionals in all fields.
This year's theme, "Greater Virginias," emphasizes Virginia's relationship across political and geographical boundaries to broader ideas, patterns, and adjoining regions. The theme is comparative and can encompass papers about all aspects of Virginia life, geography, environment, history, and culture. Sessions and workshops will draw from the full range of Virginia-focused research, including the humanities and sciences.
Organizers invite proposals from fields including all the arts and sciences: economics, politics, geography, law, literature, history, politics, archaeology and anthropology, environmental studies, museum and library studies, preservation, and others. Please submit a one-page paper proposal and a one-page curriculum vitae in a single e-mail message to vaforum@jmu.edu by September 30, 2011. Please be sure to include your e-mail address and other contact information.
Proposals for complete panel sessions, workshops, etc., are encouraged, and should include a one-page description of the overall session, as well as a separate, one-page description for each individual presentation in the session and a one-page curriculum vitae for each panel member. Additional information is available online at http://www.virginiaforum.org/
Direct further inquiries to: vaforum@jmu.edu.
<< back to e-newsletter

Hopewell Labor Images Available on Flickr.com and at LVA
In honor of Labor Day, the Library of Virginia will add 100 photographs from its Hopewell Virginia Locals of the United Mine Workers of America Photograph Collection to its collections on Flickr.com. The photographs largely document Hopewell's Hercules Power Company from 1947 to 1957. The nearly 4,000 images in the collection picture safety efforts, strikers in action, notable visitors, contract-signing ceremonies, parades, Labor Day festivities, and other special events.
<< back to e-newsletter

Osher Lifelong Learning Institute Partners with LVA
The Osher Lifelong Learning Institute of the University of Richmond's School of Continuing Studies will present "Genealogy for Beginners" at the Library of Virginia. This Osher mini-course meets from 1:00 to 3:00 PM at the Library of Virginia on September 26, September 28, October 3, and October 5. The fee is $60 for Silver members. There is no fee for Gold/Gold Plus One members.
Participants will receive an introduction to the basics of family history research, followed by sessions on setting goals, keeping organized, and identifying resources. Led by Donna Shumate, the class will focus on using the Library of Virginia's rich on-site and online collections of Virginia heritage. For registration information, visit http://scs.richmond.edu/osher/. For more information, call 804-287-1264.
<< back to e-newsletter