Pilot Scanning Project Helps Brookneal Library
Several staff members from the Library of Virginia visited Campbell County in late February as part of an outreach project to assist small libraries and historical societies in scanning and digitizing locally significant collections. As a result of feedback gathered from the highly successful May 2010 workshop for local historical societies held at the Library of Virginia, the State Historic Records Advisory Board included a funding request in a subsequent grant application to sponsor two sessions of the Society of American Archivists' workshop on the Basics of Imaging. One of the issues raised at that time was the need to scan and digitize collections. The workshop speaker presented cost ranges for acquiring scanners and software equipment. For some in attendance, that option did not seem practical, especially for those with small collections, even smaller budgets, and volunteer staff.
After the workshop, Carl Childs, the Library of Virginia's director of Local Records Services and deputy director of SHRAB, was approached by Nan Carmack, director of the Campbell County Public Library, about the possibility of the Library of Virginia loaning scanning equipment and offering training to localities that cannot afford to purchase their own. Childs thought this sounded like a promising pilot project that would be a natural outgrowth of the SHRAB mission of promoting and supporting statewide policies and practices that ensure the preservation of and access to the commonwealth's public and private historical records.
Cindy Church, continuing education consultant in the Library Development and Networking Division of the Library of Virginia, also heard about Carmack's request. She worked with Childs to secure funding through a  Library Services and Technology Act program, administered by the Library of Virginia, to acquire a high-resolution scanner, an Apple computer, external hard drives, and funds for training.
On February 28 the equipment and a contingent from the Library of Virginia arrived in Brookneal, Virginia, to set up a scanning workstation and train the Campbell County Library staff and volunteers from the Staunton River Historical Society. The Willie Hodges Booth Museum, located in the Patrick Henry Memorial Library, houses a collection of artifacts, documents, and photographs that tell the story of Brookneal. The museum is open a few hours a week under the care of dedicated historical society volunteers Tim Wilson and Virginia Colbert.
Mark Fagerburg, manager of Photographic and Digital Imaging at the Library of Virginia, trained Carmack, Wilson, Colbert, and five other library and historical staff members on the use of the equipment, best scanning practices, file-naming protocols, and file storage methods. Childs and Church also helped with advice on the scanning and digitization of the museum's collection. Tom Ray, the Library of Virginia's collections management coordinator, assisted in evaluating the collection and prioritizing a list for scanning. Ray also was able to identify one of the items in the museum's collection as a valuable folk art cane in near-mint condition carved by Thomas Jefferson Craddock. On it he had carved scenes of important events such as Thomas Jefferson's accomplishments. Craddock, who served in the 5th Virginia Cavalry of the Confederate Army under General Thomas L. Rosser, was wounded at Hamilton Crossing. He later sold his walking sticks at Jefferson's tomb around 1900.
By the time the Library of Virginia staff left, the local staff and volunteers had devised a schedule for scanning that would have the equipment being used continuously while the building was open in order to maximize the amount of material they could scan.
The Library hopes to build on its collaboration with the Campbell County Public Library and the Willie Hodges Booth Museum and to assist other small historical societies with scanning and digitizing collections. "The Library of Virginia is committed to preserving and making available to Virginians as much of our history as is possible," said Childs. "Scanning these unique historical items for the Willie Hodges Booth Museum ensures that more of our history is preserved for future generations."
"This project is of enormous value in preserving local history," said Carmack.
<< back to e-newsletter

Library of Virginia to Celebrate Preservation Week with Four Programs
During Preservation Week, April 22-28, libraries all over the country present events, activities, and resources that highlight what we can do, individually and together, to preserve our personal and shared collections. The Library of Virginia is offering four programs illustrating the need for and value of preserving collections-two in Richmond, one in Bedford, and one in Lynchburg.
In 2011, the Library of Virginia was awarded a Saving America's Treasures grant to restore the Executive Papers of Governor Thomas Jefferson, 1779-1781. Please join us at noon on April 24 for a screening of a film that describes Jefferson's collection and shows the process used to conserve and restore the original manuscripts. Senior paper conservator Leslie Courtois of Etherington Conservation/HF group will provide some background on the process and describe her work. State Records appraisal archivist Craig Moore and State Records program manager Paige Neal will be on hand as well to answer questions about the collection and display some of the original Jefferson documents. This event is open to the public and free of charge.
On Wednesday, April 25, at 7:00 PM at the Bedford Museum and Genealogical Library, 201 East Main Street in Bedford, archivists from the Library of Virginia-Local Records Services director Carl Childs and Local Records program manager Greg Crawford, plus Karen Glover from Bedford Circuit Court-will share some of the discoveries made in their work to preserve the historic records of Virginia, its localities, and its people. Learn about archivists' work and the people, events, and documents they discover. This event is open to the public and free of charge. For more information, call 540-586-4520.
On Thursday, April 26, at 6:30 PM at the Lynchburg Public Library, 2315 Memorial Lane, Childs and Crawford will offer a repeat of the previous day's program on courthouse records. This event is also open to the public and free of charge. For more information, call 434-455-6300.
On Saturday, April 28, from 10:00 PM until noon, in conjunction with the Library of Virginia's Antiquarian Book Fair, Library of Virginia visitors will see materials conserved through the Adopt Virginia's History program. With the assistance of donors (individuals, businesses, and interested groups) to the Library of Virginia Foundation's Adopt Virginia's History program, the Library has been able to conserve many unique and interesting items. Prints and Photographs Collection coordinator Dale L. Neighbors, senior rare book librarian Audrey C. Johnson, and senior paper conservator Leslie Courtois of Etherington Conservation/HF Group will be on hand to show materials and answer questions. This event is open to the public and free of charge.
Preservation Week was created in 2010 because some 630 million items in collecting institutions require immediate attention and care. Eighty percent of these institutions have no paid staff assigned responsibility for collections care; 22 percent have no collections care personnel at all. Some 2.6 billion items are not protected by an emergency plan. As natural disasters of recent years have taught us, these resources are in jeopardy if a disaster should strike. Personal, family, and community collections are equally at risk.
Preservation Week @ Your Library is an initiative of the Association for Library Collections and Technical Services (ALCTS), a division of the American Library Association (ALA).
<< back to e-newsletter

Lost & Found Adventure Race: A Challenge of Historic Proportions!
The Library of Virginia and its environs are the setting for an adventure on Saturday, June 9, that pits your wits against a series of cunning clues, crafty codes, and ingenious puzzles. Based on the Library's current exhibition, Lost and Found, the event challenges teams of up to six to embark on a quest that has been described as a combination of Amazing Race and National Treasure. Put on your sneakers, thinking caps, and imaginative team uniforms and get lost, if only for a couple of hours, in the colorful culture of Richmond's past.
Equipped with the maps and clues you need, your team of up to six members will race around downtown Richmond to crack the code and decipher the clues and head to the finale at the Library of Virginia. Fabulously tacky prizes and bragging rights await the winning teams! Top prizes for winning teams, best team name, and best team "uniforms" will be awarded.
Register online (http://lostandfoundatlva.eventbrite.com/ ) by midnight on June 8. Check in for the race at the Library of Virginia, 800 East Broad Street, from 9:00 to 9:45 AM. The race starts promptly at 10:00 AM on Saturday, June 9 and goes on-rain or shine! (No refunds.) The race is completely on foot, so please dress appropriately. The cost is $25 per person with up to six players on a team. The post-race celebration begins at 11:00 AM at the Library with lunch included.
<< back to e-newsletter
Remote Access to American Founding-Era Texts Now Available
Library of Virginia users now have remote access to three titles that are part of the University of Virginia Press's American Founding Era database collection. These titles document the lives of some of the most important political figures in our nation's history and are a valuable source of primary and secondary materials for students and scholars. Users can perform full-text, date, author, or recipient searches across all volumes in a title, and all internal document cross-references are linked. These databases are wonderful research tools, and the Library is pleased to expand their availability through off-site access.
Papers of George Washington - Includes the Colonial Series (1748-1775), Revolutionary War Series (1775-1779), Confederation Series (1784-1788), Presidential Series (1788-1794), and Retirement Series (1797-1799), as well as the complete diaries (1748-1799).
Papers of Thomas Jefferson - Provides access to the Main Series (1760-1802) and the first four volumes of the Retirement Series (1809-1812). This edition includes all of the illustrations and bibliographical content of the print edition.
Papers of James Madison - Contains the complete content of the print edition, which includes the Congressional Series (1751-1795), Secretary of State Series (1801-1804), Presidential Series (1809-1813), and Retirement Series (1817-1820).
Remote access is available from the Library's Using the Collections Web page. A Library of Virginia library card is required.
-submitted by Lisa Wehrmann, Public Services and Outreach
<< back to e-newsletter

Bills Allow Access to Historical Vital Records
House Bill 272, introduced by Delegate Christopher K. Peace (R-Hanover) and signed by Governor Robert F. McDonnell, reduces from 50 years to 25 years the time period after which marriage, divorce, and death records in the custody of the State Registrar may become public information. House Bill 272 was recommended by the Joint Commission on Health Care, a commission on which Del. Peace serves.
Senate Bill 660, introduced by Senator Harry Blevins (R-Chesapeake) and signed by Governor Robert F. McDonnell, includes provisions for the State Registrar to enter into a long-term contract with a private company to create, maintain, and update an online index, at no direct cost to the Commonwealth, in exchange for allowing the private company to also provide such index to its subscribers and customers. The bill stipulates that the online index be designed and constructed to allow birth, marriage, divorce, and death entries on the index to be linked to a digital image of the original corresponding record once any such underlying record has become public information. It also stipulates that the index shall be designed to allow the Library of Virginia to create and activate such links to digital images of the original records. The vital records ultimately will be accessible through the State Registrar's and Library of Virginia's Web sites.
These bills will offer genealogical and historical researchers increased access to vital records. Vital records are a reliable form of genealogical information because they are created close to the time of the event by someone with personal knowledge of the facts.
<< back to e-newsletter

Account Book for Early Richmond Business Added to Library's Collections
A pocket receipt, accounts, and a memoranda book detailing the financial and farming activities of Samuel Finley from 1795 to 1815 has been purchased for the Library of Virginia's collections. The 174-page book covers Finley's departure from his previous business, Finley & Walker, and the beginning of a new venture, which occasioned an order for "books and stationary" from Baltimore bookseller John Hagerty.
Finley's notes throughout the book list both sterling and dollar currencies for his business dealings. He regularly exchanges silver coinage for paper specie, keeping a careful note of each bill's number. Credit notes are also listed in detail.
On Christmas Day 1799 Finley took out an advance subscription ($4) to the newly projected Virginia Federalist, due to be printed in Richmond by William Rind. In 1803 he had handbills printed by the Greenville printers Wise & Woodruff, and later the same year paid a three-dollar subscription to the Greenville printer/engraver William Kinney for "a view & measure of the Road from Rockfish Gap to Richmond."
Finley's farming accounts detail a growing herd of cattle on which he turned a healthy profit; corn, flax, and wheat were cropped and stands of timber regularly felled. Farm labor seems to have been casual, hired as and when needed. In May 1815 he hired and boarded "3 Negro fellows & 3 boys." Some entries offer insight on Finley's personality. He could be an exacting man, as the following entry notes: "Agreed with Thomas Mathews to give him 6d a pair extra for horse shoeing if he would warrant them for 3 months." If they came off earlier they were to be replaced free of charge. However, in July 1815, "Betsy" was given $30 expenses "to go to the warm springs"-probably the nearby Rockbridge Alum Springs and Baths.
The book offers details on individuals and businesses in Richmond and Greenville in Virginia and in Baltimore, Maryland, during the waning years of the Federalist era, with sidelights on the printing, engraving, and newspaper trades.
<< back to e-newsletter

Library of Virginia to Close on Wednesday, May 9
In observation of Public Services Week in the Commonwealth of Virginia, the Library of Virginia and State Records Center will be closed May 9 for a Staff Development Day, and re-open for normal hours on Thursday, May 10.
Staff members at both locations will attend sessions on conducting effective meetings, using new technology, and managing records. 
Nettie Meluch, associate professor of management development at the University of Richmond's Robins School of Business, will deliver the keynote address on "Workforce Skills of the Future." No library fines will accrue on May 9, and any holds that were due to expire will be extended to May 10.
Library card holders can still use the resources on the Library's Web sites (http://www.lva.virginia.gov/ and http://www.virginiamemory.com/).
The Library of Virginia and the State Records Center will re-open at 9 a.m. on May 10.
<< back to e-newsletter

Howell Named Program and Education Coordinator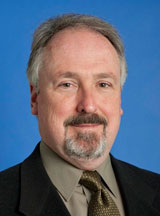 Mark Howell has joined the staff of the Library of Virginia as program and education coordinator. He has extensive experience in the field, including as education director at the American Civil War Center at Historic Tredegar from 2008­ to 2011. He has more than 20 years of experience working for the Colonial Williamsburg Foundation. During his tenure there, Howell worked his way through the ranks, serving, at various times, as a waiter, tradesman, character interpreter, dancer, militiaman, publications editor, presentation skills trainer, content instructor, and program manager. Most recently, he was the president of Howell Consulting, specializing in improving the professionalism and programming of museums and other nonprofit organizations. He has worked with, among many others, Monticello, Mount Vernon, Historic Hudson Valley, and The Hermitage.
Howell earned a bachelor of arts in colonial American studies and a master of arts in American studies from the College of William and Mary.
<< back to e-newsletter

Snapshot Virginia: One Day in the Life of Virginia's Libraries
Libraries all over Virginia will hold a Snapshot Day in April to collect information, photos, and patron comments that illustrate the impact that Virginia libraries make in their communities every day. At the Library of Virginia, Snapshot Day will be Wednesday, April 18. The Library of Virginia serves as the research and reference library of Virginia and as the official archives of the Commonwealth.
Snapshot Virginia is a Virginia Library Association and Library of Virginia project. The goal is to use collected data-such as how many people visit the library, use computers, attend programs, etc., as well as candid photographs and patron comments-to demonstrate how essential libraries are within our communities. All across the commonwealth, libraries are the cornerstones of their communities, places where people come together to visit, learn, and share ideas.
On April 18, we will capture a slice of life at the Library of Virginia. Please visit SnapshotVirginia.org to find out more about this exciting project. Better yet, check with your local public library to see when it will hold Snapshot Day and visit that day.
<< back to e-newsletter