Eight Chosen as 2014 Strong Men & Women in Virginia History
In observance of Black History Month the Library of Virginia and Dominion Virginia Power are honoring eight distinguished Virginians as the 2014 Strong Men & Women in Virginia History for their contributions to Virginia and the nation. Those honored this year include men and women who were born into slavery but rose to become authors, editors, and educators, as well as those who continue to push back frontiers in their communities.
The 2014 honorees are:
Elizabeth Hobbs Keckly (1818–1907), Dinwiddie County, Seamstress and Author
John Mitchell, Jr. (1863–1929, Richmond, Newspaper Editor
James Heyward Blackwell (1864–1931), Richmond, Educator and Community Advocate
Mary Hatwood Futrell (1940– ) Lynchburg, Educator and Organization Leader
Olivia Ferguson McQueen (1942– ), Charlottesville, Civil Rights Pioneer
James Randolph Spencer (1949– ), Richmond, Federal Judge
William Darnell "Bill" Euille (1950– ) Alexandria, Mayor
Marcellus Spencer "Boo" Williams, Jr. (1958– ) Hampton, Youth Sports Mentor
Each generation of African Americans has built on the achievements of those who came before to lead the way to the future. The men and women featured in the Strong Men & Women in Virginia History program offer powerful examples of individuals who refused to be defined by their circumstances. Their biographies are a testament to the determination and perseverance displayed by extraordinary people during challenging times. Through education and advocacy, these individuals demonstrate how African Americans have actively campaigned for better lives for themselves and their people. It is these many contributions that the Strong Men & Women program seeks to share.
Biographies of the honorees will be displayed in an exhibition at the Library in February; featured on materials that have been sent to schools, libraries, and museums across Virginia; and included on an educational website for teachers and students. To learn more about these extraordinary men and women, all of whom have used their talents and creativity to push for equality and inclusion in American society, visit our website at: www.lva.virginia.gov/smw.

February 14 is the Deadline to Nominate Books for 2014 Literary Awards
The Library of Virginia is currently accepting nominations from the public, publishers, and authors for our 2014 literary awards. The deadline to nominate books is February 14, 2014.
Books eligible for the awards must have been written by a Virginia author or, for nonfiction books, have a Virginia-related theme. A Virginia author is defined as a writer meeting one or more of the following qualifications: a native-born Virginian, an author living in Virginia, or an author whose permanent home address is in Virginia. Entries can be submitted in the following categories: fiction, nonfiction, or poetry.
Entries for the 2014 awards must have been published and distributed between January 1 and December 31, 2013. Publishers should submit four copies of each book nominated.
The following types of books are not eligible for the awards: reference works, anthologies, documentary editions, children's and juvenile literature, photographic books, self-help books, and "how-to" books.
Entry forms can be submitted online (www.lva.virginia.gov/public/litawards/nominate.asp) or completed as an interactive PDF and mailed to: The Library of Virginia Literary Awards, 800 East Broad St., Richmond, Virginia, 23219-8000.

Person of the Year: 1864 Symposium Set for February 22
The Library of Virginia, the American Civil War Center, and the Museum of the Confederacy are pleased to present the 2014 Symposium: "Person of the Year: 1864" on February 22, 9:30 AM–4:00 PM, at the Library of Virginia. Civil War scholars Gary Gallagher, John Marszalek, Joe Mobley, and Craig Symonds will provide the nominees for "Person of the Year" in their lectures, and the audience will have the final say by casting ballots for the most influential person of 1864. Who will join Abraham Lincoln (1861), Robert E. Lee (1862), and Ulysses S. Grant (1863) on this most distinguished list?
The cost is $60, $40 for Museum of the Confederacy members and Library of Virginia donors (box lunch included). Seating is limited and advance registration is recommended. You may register on the museum's website at www.moc.org.
Virginia Festival of the Book Set for March 19–23 in Charlottesville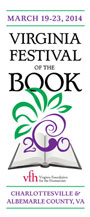 Book lovers from across the Southeast will gather in Charlottesville for the 20th annual Virginia Festival of the Book, March 19–23. Produced by the Virginia Foundation for the Humanities and held at more than 50 venues throughout Charlottesville and Albemarle County, the Festival of the Book has become a spring tradition. At its 20-year mark, the festival is now the largest educational book event on the East Coast. Last year attendees came from more than 40 other states and foreign countries, attending 200 festival programs.
The festival offers programs with poets, mystery writers, historians, memoirists, fantasy and science fiction authors, children's writers, and experts on publishing. Program participants range from authors such as David Baldacci, Rita Mae Brown, Dean King, and Lois Lowry to Joanne Gabbin, Joel Salatin, Gary Gallagher, and Meg Medina. Each day of the festival offers participants the chance to gorge on the words of some of today's best writers. All programs are open to the public and free of charge, with the exception of a few ticketed events.
For a full list of participants and programs, see Virginia Festival of the Book.

Congratulations to the 2014 Strong Men & Women in Virginia History Essay Contest Winners
As part of the Strong Men & Women in Virginia History Program, Dominion Virginia Power and the Library of Virginia sponsor an annual student essay contest in which high school students throughout Virginia are invited to honor outstanding African Americans. Four winning essays are chosen, one from each of the four regions in Virginia that Dominion serves.
This year students were asked to reflect on John Mitchell Jr. (1863–1929), editor of the influential African American newspaper the Richmond Planet. As editor, he fought against racism and for African American advancement in politics, business, and education. Students were then asked to write essays about overcoming obstacles in their communities.
The winners of the 2014 Strong Men & Women in Virginia Historystudent essay writing contest are:
Garrett Jones – Greenbrier Christian Academy, Chesapeake
Jocelyn Lee – Franklin Military Academy, Richmond
Tyler Phillips – Turner Ashby High School, Rockingham County
Lexi Maycock – West Springfield High School, Fairfax County
Each student received a laptop and $1,000 for his or her school. The winning essays, as well as other program details, are posted on www.lva.virginia.gov/smw. Photos and videos can be accessed at www.dom.com, keyword "strong."

LVA Staff on the Road This Spring
The Library of Virginia is more than the modern stone-and-glass building in downtown Richmond.
It's more than the primary collection of official government documents and records for the commonwealth, and more than a genealogical resource connecting millions of Americans to their roots.
Many Virginians who take advantage of the obvious attractions don't realize that the Library is also a traveling resource, taking information and expertise into communities across Virginia.
Lectures, speeches, and teaching opportunities are just a few of ways the Library works to encourage learning and understanding of Virginia's history and culture. Specialists and experts offer presentations on Virginia history, genealogy, maps, preservation, local and state records, woman's history, and much more. During the upcoming months, Library of Virginia staff will be on the road delivering presentations on the Library of Virginia's services, collections, and programs in communities from the Chesapeake Bay to the Northern Virginia suburbs.
On February 19 Greg Crawford, local records program manager, will speak to the Warwick County Historical Society in Newport News on "Finding Warwick County History at the Library of Virginia."
Crawford and Renee Savits, Civil War 150 Project archivist, will participate in Fredericksburg Family History Day on March 1. Crawford will discuss the Library of Virginia's Lost Records Project and Savits will speak about the Civil War 150 Legacy Project, a multi-year initiative to locate, digitize, and provide access to privately held Civil War–era documentary items located throughout Virginia.
On March 10, Cara Griggs, reference archivist with the Library of Virginia, will speak to the Richmond West Breakfast Lions Club on genealogical research at the Library of Virginia, which holds the world's most extensive collection of material about Virginia and Virginians.
Several staff members will be heading to northern Virginia to participate in the Virginia Forum at George Mason University, a gathering of historians, teachers, writers, archivists, museum curators, historic-site interpreters, and librarians to share their knowledge and research about Virginia history. Trenton Hizer, finding aids archivist; Errol Somay, director of the Virginia Newspaper Project; and Greg Crawford, local records program manager, will be sharing stories on a panel entitled "Travelers' Stories in the Collections of the Library of Virginia" on March 15. John Deal, an editor at the Library, will serve on a panel examining digital historical resources and demonstrating Encyclopedia Virginia, a partnership between the Library of Virginia and the Virginia Foundation for the Humanities.
At the Straight to the Source conference on March 28, Errol Somay, newspaper project director, will speak about the Virginia Newspaper Project, a collaborative effort of the Library to find, preserve, and make available Virginia newspapers. Minor Weisiger, coordinator of archives services, will discuss the miscellaneous microfilm collections of the Library. Greg Crawford will talk about the African American Narrative Project, which is collecting names and information about African Americans found in state and local records. The African American Narrative Project will become the foundation of a collaborative project to expand the database. Edwin Ray, reference services librarian, will speak on how to research in the Virginia Military Dead database.
Ben Bromley, state records archivist, and Bari Helms, local records archivist, will participate in the Hunt for Hampton History 2014 on March 29. They will share information about the Library's pre-Civil War–era Elizabeth City County/Hampton records.
Dale Neighbors, prints and photographs collection coordinator at the Library, will share his expertise on how to identify and care for family photos on April 17 at 11:00 AM at Bull Run Regional Library in Manassas. Neighbors coordinates the Library's collection of more than 300,000 prints, photographs, postcards, posters, and ephemera.
In addition to these programs, other Library experts are on the road offering training to teachers, records managers, and librarians. Learn more about these efforts in next month's e-newsletter.