2014 Virginia Women in History Program Honors Eight Outstanding Women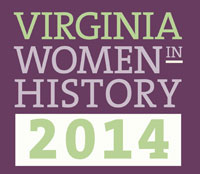 The principal in a Supreme Court case that helped legalize interracial marriage, a civic activist who advocated for improving the lives of women and children, a member of the Women's Basketball Hall of Fame and cancer treatment advocate, a banker who became a member of the Federal Reserve's Board of Governors, an artistic director and choreographer, an antislavery advocate, a principal in a freedom suit, and an artist and patron of the arts are among eight Virginia women recognized by the Library of Virginia as part of its Virginia Women in History program. The eight are also featured on a handsome poster and in the Library's 2014 Virginia Women in History panel exhibition, on display on the second floor of the Library of Virginia, March 1–31. The exhibition will then travel to libraries, schools, and cultural institutions across the state. Copies of the 2014 poster and learning activities tied to the Virginia Standards of Learning were distributed to public and private schools and cultural institutions across Virginia.
The 2014 Virginia Women in History program culminates on March 27 with an evening program recognizing the honorees. The ceremony begins at 6:00 PM at the Library of Virginia and will be hosted by May-Lily Lee, with a reception to follow.
The women honored this year are:

Rachel Findlay (ca. 1750–1820), Wythe County
The granddaughter of an illegally enslaved Indian woman, Findlay sued for her freedom and ensured the freedom of her descendants
Mary Berkeley Minor Blackford (1802–1896), Fredericksburg
Appalled by the violence of slavery and its impact on society, Blackford became a vocal antislavery supporter.

Naomi Silverman Cohn (1888–1982), Richmond
The daughter of Polish immigrants, Cohn worked for legislation to improve labor conditions for workers in the state. Her lobbying led to the passage of a state law in 1938 limiting women's paid work in many occupations to 48 hours a week rather than the previously allowed 70 hours.

Christine Herter Kendall (1890–1981), Bath County
An accomplished artist and patron of the arts, Kendall cofounded the Garth Newel Music Center in Bath County.

Mildred Jeter Loving (1939–2008), Caroline County
As the plaintiff in the 1967 Supreme Court case Loving v. Virginia, Loving helped legalize interracial marriage in Virginia and the United States.

Elizabeth Ashburn Duke (1952–), Portsmouth
As a member of the Federal Reserve's Board of Governors, Duke helped implement the Federal Reserve System's response to the 2008 financial panic. Duke is this year's recipient of the VABPW Foundation Business Leadership Award.

Deborah "Debbie" Ryan (1952–), Albemarle County
The coach, who turned the University of Virginia's basketball team into a national power, now advocates for research into the causes and prevention of pancreatic cancer.

Stoner Winslett (1958–), Richmond
As artistic director and choreographer, Winslett has built the Richmond Ballet into a nationally recognized professional dance company.

Dominion is the signature sponsor of the 2014 Virginia Women in History program and the Richmond Times-Dispatch is the media sponsor. The Virginia Business and Professional Women's Foundation Fund sponsors the Business Leadership Award and programming for Virginia Women in History. To learn more about the program, visit www.lva.virginia.gov/public/vawomen/2014.
<< back to e-newsletter

Flora of Virginia Exhibition Opens March 17
Discover the power of the flower. Delve into Virginia's natural environment through Flora of Virginia, an exhibition featuring colorful illustrations from the Library of Virginia's collections and beyond. Flora of Virginia opens on Monday, March 17, 2014, at the Library of Virginia and is presented in collaboration with the Flora of Virginia Project Inc. The exhibition explores the science and art of the 2012 Flora of Virginia, the first flora of the commonwealth published in 250 years. Photographs, pen-and-ink drawings, sculpture, fossils, and illustrated volumes will complement the exploration of Virginia's flora.

On display will be original artwork by Lara Call Gastinger, Lou Greiner, and Jackie Bailey Labovitz as well as a 1754 edition of Mark Catesby's Natural History and plant specimens. Institutional lenders include Lewis Ginter Botanical Garden, Oak Spring Garden Library, the Virginia Museum of Natural History, the College of William and Mary, the Petersburg Garden Club, Mountain Lake Biological Station (University of Virginia), the Ramsey-Freer Herbarium of Lynchburg College, the University of Richmond Herbarium, the Virginia Department of Agriculture and Consumer Services, the Nature Conservancy, and the Flora of Virginia Project Inc.
Published in 2012, the Flora of Virginia identifies and describes 3,164 plants native to or naturalized in Virginia. Plant descriptions feature the latest scientific classification and naming, synonyms—which are simply scientific names that were applied in the past to a species, illustrations, step-by-step keys for identification, and an extensive list of references. Where botanists use language to describe a plant, a botanical artist uses pen, ink, pencil, or watercolor to help the reader visualize the plant. The Flora continues a long tradition of merging science and art by combining technical scientific text with delicate black-and-white drawings of plants. Botanists and artists alike use dried and mounted plant specimens for research. Collecting and preserving specimens for study has a long history in Virginia, and Flora of Virginia will highlight the work at Mountain Lake Biological Station (University of Virginia), the Lee Memorial Park herbarium (Petersburg Garden Club), and herbaria around the commonwealth to document Virginia's native plants.

The Library will offer a series of programs to complement the exhibition. Among the programs are:

April 18, 2014 | 5:30–7:30 PM
Lecture and Tasting: Fifth-generation apple grower Tom Burford discusses his new book, Apples of North America, followed by a hard-cider tasting provided by Albemarle Cider Works.
April 24 2014 | Noon–1:00 PM
Illustration Demonstration: Lara Call Gastinger, one of the Flora in Virginia illustrators, demonstrates the use of pen and ink, watercolor, and other media in the accurate rendering of plant life. Attendance limited to 35. Free, but attendees are encouraged to register by calling 804-692-3719.

May 3, 2014 | 11:00 AM–3:00 PM
Family Day: The Central Virginia Botanical Artists present a variety of ongoing interactive activities including a plant dissection, demonstrations, needle arts, and leaf rubbing, among others.
June 19, 2014 | Noon–1:00 PM
Lecture: Donna Ware, professor emeritus at the College of William and Mary, discusses the history of botany in Virginia.

September 5, 2014 | Noon–1:00 PM
Illustrated Lecture: Robert Llewellyn discusses his book Seeing Flowers, a visual feast that highlights more than 300 garden flowers through the use of large macrophotographs.

Please check our web calendar (www.lva.virginia.gov/news/calendar.asp) for information about exhibition-related events. This exhibition is made possible in part by the Virginia Native Plant Society and the Library of Virginia Foundation.
<< back to e-newsletter

Semper Virginia Society to Hold Member Appreciation Day on March 22
Thank you to Semper Virginia Society members for your annual support—enjoy a special day in your honor! The Library of Virginia hosts Semper Virginia Society Member Appreciation Day on Saturday, March 22 to recognize its tremendous members at every level—from throughout Virginia and across the nation—for everything you do for the Library. Your generous contributions help preserve the extraordinary culture and history of the commonwealth.
We invite you to a celebration in your honor featuring entertaining workshops on book preservation and botanical illustration. Two sessions are available: 9:00 AM–Noon and 1:00–4:00 PM. Special tours to see items from the Library's collections will be offered as well. This event is free and open only to Semper Virginia Society members, but space is limited and reservations are required. Please call 804-692-3561 for more information. Not a member? Join now: www.thevirginiashop.org/foundation-membership.aspx
<< back to e-newsletter
Celebrate National Library Week April 13–19
The Library of Virginia joins libraries in schools, campuses, and communities across Virginia and the United States in celebrating National Library Week, a time to highlight the value of libraries, librarians, and library workers.
Libraries today are more than repositories for books and other resources. Libraries are deeply committed to the places where their patrons live, work, and study. The Library of Virginia has promoted the development of public libraries in the commonwealth for more than 100 years. The Library's efforts can be traced to action by the Virginia General Assembly on March 8, 1904, when the State Library was ordered to "purchase and procure books and other necessary equipment for the establishment of libraries."
Today, Library of Virginia staff members work closely with the local public library community administering state aid to public libraries, sponsoring the winter and summer reading programs, offering advice and training to librarians and trustees, supporting early literacy efforts, supporting the efficient and economical management of public records, inspiring learning, and encouraging understanding through engaging exhibitions and informative talks and programs on Virginia's culture and history.
We invite you to visit us at 800 East Broad Street in historic downtown Richmond or online at www.lva.virginia.gov or www.virginiamemory.com.
<< back to e-newsletter

African American Genealogy Workshop to Be Held on April 18
African American genealogy prior to the end of the Civil War can be daunting. The institution of slavery broke up families and resulted in fewer or at least different documents related to family history in pre–Civil War slave-holding states like Virginia. Because slaves were considered property, they did not have legal rights and so were rarely found in records on which much genealogical research is based. This workshop will demonstrate ways to use the records of slave owners to learn what they did with their property. Wills, chancery and other court records, plantation records, bills of sale, land deeds, cemetery records, and even runaway slave advertisements in newspapers often can supply much-needed details.

In this workshop designed for intermediate-level family researchers with some degree of skill or competence, participants will explore methods of determining whether an individual was enslaved or free, and what types of records will be useful in furthering your search based on this information. Case studies of Virginians will be used to show various records and ways to trace the history of your family up to 1870. The 1870 federal census is the first one to list all African Americans by name. Cara Griggs, reference archivist with the Library of Virginia, will lead an exploration of records in the Library's collections, including cohabitation registers, free Negro lists, wills, deeds, Bible records, and personal papers, as well as selected federal records that can be accessed through its databases.

Griggs received a B.A. in history from the University of Richmond, an M.A. in social science from the University of Chicago, and an MSLIS with an archival studies concentration from Drexel University. She has been a reference archivist at the Library of Virginia since 2006.

The three-hour workshop will be held on the morning of Friday, April 18, in the conference rooms of the Library of Virginia. The fee is $25 and attendance is limited to 25 participants. Registration will open on March 17. Watch our website for details.
<< back to e-newsletter

Library of Virginia Offers Training Across the Commonwealth
In addition to giving talks and lectures about the Library collections, programs, and services, Library of Virginia experts are on the road offering training to teachers, records managers, and librarians.
Records management staff will host Educate, Participate, and Motivate: Making the Most of Your Records Management Program on April 16 as a part of the Library's celebration of Records Management Month. This half-day event will include two sessions: an interactive session to help records officers meet their responsibilities and an overview of ARMA's Generally Accepted Recordkeeping Principles—and how to use the associated "Maturity Model" to grade the various aspects of a records management program—presented by Kim Kindrew, certified records manager at Jefferson Labs.
The Council of State Archivists' State Electronic Records Initiativewill hold itsAdvanced Electronic Records Institute at the Library March 31­–April 4. Representatives from U.S. states, territories, and the District of Columbia will attend this electronic records institute. Participants are expected to have taken some steps toward establishing an electronic records program for their state governments.

On June 27 the staff of the Library's education section will offer the annual Anne and Ryland Brown Teacher Institute, this year titled "Teaching Tough Topics in Virginia History." Teachers will come away with ideas on how to address some of Virginia's darker points in history—including Anglo-Indian relations and the domestic slave trade—as well as learning techniques to become facilitators of productive classroom discussions on sensitive subjects.

Staff members from Education and Outreach travel the state, conducting training to help teachers use the Library's primary sources in the classroom. Primary sources teach students not only the stories that tell our history, but also how to think critically and analyze information from a variety of perspectives. [
The Library Development and Networking Division sponsors a variety of training opportunities each year to help those responsible for library service to develop their skills and learn new approaches. Workshops and conferences cover such topics as library services to special populations, cataloging, databases, reference services, children and youth services, library trustees and friends of the Library. Staff members coordinate and distribute information on a variety of monthly online training opportunities for public library employees. Among the offerings are Early Literacy and Books, Rethinking Reference Collections, Collaborating Successfully with Your Local Schools, Libraries and Autism, Connecting with Spanish Speaking Communities, and Homework Help.

In recent years Library staff members have developed online training on specific topics, some of which are posted on the Library's YouTube channel (www.youtube.com/user/LibraryofVa). Visit the Library's Records Management playlist on YouTube for short videos covering a range of topics, including: Introduction to the Virginia Public Records Act (VPRA), Filling Out the Certificate of Records Destruction (RM-3 Form) and What Is a Public Record? Also available are videos on early literacy, genealogy, conservation, and the Freedom of Information Act.

<< back to e-newsletter

Third Annual Antiquarian Book Fair at the Library in May
Don't miss the commonwealth's premier rare-book event featuring more than 40 of the region's finest dealers in mass-market titles, rare books, manuscripts, maps, autographs, and ephemera. Book lovers will find a fascinating selection of items in all price ranges.
The Library of Virginia hosts the Antiquarian Book Fair in conjunction with the Virginia Antiquarian Booksellers' Association and with the support of the Southeast Chapter of the Antiquarian Booksellers' Association of America. The Fair begins at noon on Friday, May 30, and features a wine-and-cheese reception from 5:30 to 7:30 PM. It is open from 9:00 AM until 3:00 PM on Saturday, May 31.
–submitted by Jennifer Blessman, Library of Virginia Foundation
<< back to e-newsletter