NEH Grant to Support To Be Sold Exhibition
The Library of Virginia has received a grant for $100,000 from the National Endowment for the Humanities for To Be Sold: Virginia and the American Slave Trade, the first exhibition to examine the development of the visual culture and material world of the American slave trade through art, artifacts, and documents. Grant funds will be used to implement traveling and online versions of the exhibition, educational workshops, and a one-day symposium examining the American domestic slave trade through paintings and engravings of British artist Eyre Crowe.
To Be Sold will raise awareness of the scope of the domestic trade in American-born enslaved people that developed after the United States ended its participation in the international trade in 1808. The panel exhibition and programs will feature Crowe's surviving paintings—Slaves Waiting for Sale and After the Sale—which provide some of the most powerful and compelling visual evidence of the domestic slave trade in antebellum America. Virginia was the largest mass exporter of enslaved people through the Richmond market, making the trade the most important economic activity in antebellum Virginia.
The Library's grant from the National Endowment for the Humanities was part of $18.2 million in grants for 208 humanities projects, including grants to digitize, annotate, and analyze a corpus of ancient Coptic texts of importance to scholarship in biblical studies, early Christian history, and linguistics. This funding will also support a wide variety of projects including film production and development, historic collection preservation and access, and new undergraduate courses in the humanities, as well as stipends and fellowships that support scholarly research, the development of new digital tools for study of the humanities, traveling exhibitions, and the study and preservation of languages at risk of extinction.
Among the grants given to Virginia institutions were ones to the Thomas Jefferson Foundation, the University of Virginia (2), the University of Richmond, Sweet Briar College, and the Omohundro Institute of Early American History and Culture. Institutions and independent scholars in 41 states, the District of Columbia, and Puerto Rico will receive NEH support.
Created in 1965 as an independent federal agency, the National Endowment for the Humanities supports research and learning in history, literature, philosophy, and other areas of the humanities by funding selected, peer-reviewed proposals from around the nation.
<< back to e-newsletter

Cycling Events to Cause Street Closures
The USA Cycling Collegiate Road National Championships will be held in Richmond, May 2–4, 2014. Approximately 400 athletes from 100 universities will compete in a time-trial course in downtown Richmond that passes the Library's front door on Friday, May 2; on a shorter criterion course just to west of the Library on Saturday, May 3; and on a road course that will also pass the Library on Sunday, May 4. Organizers hope that the event will draw a crowd of about 10,000, people based on the number of competitors and schools involved in the race. The largest impact on the Library will be the closing of Broad, 8th, and 9th streets on Friday, May 2. Access to the parking deck will be difficult that day. Traffic will also be a problem on Saturday, May 3, due to closed streets to the west of the Library, but 8th and 9th streets should be open. Tim Miller, chief operating officer of Richmond 2015, agreed to meet with his traffic engineering people to devise strategies to help Library staff and patrons with parking deck access. He will provide information to post on the Library's website to help alert patrons to the event and traffic disruptions. Details on the event, including course maps, can be viewed at www.usacycling.org/2014/collegiate-road-nationals.
Miller says this spring's collegiate cycling championship is a dry run for the Richmond 2015 UCI World Road Cycling Championship to be held September 19–27 in downtown Richmond. A series of 12 championship races will be held over the nine-day event. Fifteen hundred competitors representing countries around the world will vie for world championships in three different disciplines—Road Race, Individual Time Trial, and Team Time Trial. Organizers predict 450,000 spectators and a worldwide television audience of 300 million. A preliminary review of the schedule indicates that access to the Library and its parking deck in particular will be difficult during races to be held on Saturday, September 19 and Monday–Saturday, September 21–26. Details on the event, including maps, can be viewed at http://richmond2015.com.
<< back to e-newsletter

Genealogy Workshop Series at the Library of Virginia
The Library of Virginia houses a vast collection of materials and records documenting the lives of Virginians. Delving into those records to explore your family's history can be an immensely satisfying and rewarding experience. We are now offering an ongoing series of workshops to help you with your quest. Geared to all levels of expertise, the workshops will explore our collections and offer advice on how to organize your research.
Future plans for the program include half- and full-day workshops, multiday conferences, and online webinars—with content for beginner, intermediate, and experienced genealogists.
2014 SCHEDULE
Friday, April 18, 9:30 AM–Noon
Researching Your African American Ancestors: Genealogy to 1870
Beginner to intermediate
Friday, June 6, 9:30 AM–12:30 PM
Find Your Family History at the Library of Virginia: Getting Started
Beginner

Friday, August 8, 9:30 AM–12:30 PM
Find Your Family History at the Library of Virginia: Getting Started

Friday, November 14, 9:30 AM–12:30 PM
Find Your Family History at the Library of Virginia: Getting Started
Beginner
Friday, November 21, 1:30 PM–4:00 PM
Researching Your War of 1812 Ancestor
Intermediate
The workshop registration fee is $25 ($20 for Semper Virginia Society members). Attendance is limited to 25 participants. To register, go to www.thevirginiashop.org/findyourhistory.aspx.
<< back to e-newsletter

Donation to Assist in Digitizing Historical Roanoke-Area Newspapers
The Library of Virginia and the Virginia Newspaper Project are excited by a generous donation from Sherry Highberger of Wilmington, North Carolina, to assist in the preservation and digitization of Roanoke-area newspapers.
The gift of $35,800 has been earmarked for the Newspaper Project staff to process local historical newspapers in order to make them accessible online through the Library's newspaper database, Virginia Chronicle. The titles will be fully text searchable. More than a dozen local titles will be considered for the project and work on the project will get underway this spring.
The reason for the donation might best be explained in Highberger's own words:
"Some of my ancestors came to Roanoke City from Montgomery County, Virginia. Quite by accident, while searching Ancestry.com, I found several Montgomery County newspaper articles mentioning that my grandmother and her sister had been to parties and visited various friends and neighbors in the county. This was the Facebook of 1910. I was HOOKED on preserving old newspapers!"
"Errol Somay and the VNP staff worked on a list of Roanoke City newspapers published prior to 1923, which would fit the donation parameters," said Highberger. "Most important, this donation is in memory of my mother, Eunice St. John Roberts, who introduced her two daughters to libraries and the love of reading."
The gift provides the Library an opportunity to expand the universe of titles in Virginia Chronicle from the Roanoke area while also improving geographical and political representation of newspapers published in the state prior to 1923, the cutoff date for newspapers in the public domain.
Highberger has also kindly donated funds to support the purchase of a digital film reader and scanner at the Roanoke Public Library's Virginia Room. The reader/scanner will be a valuable tool for patrons working with this fine collection.
–submitted by Errol Somay, Archives, Records, and Collections Services
<< back to e-newsletter

Church and Costley to Serve with National Groups Exploring Continuing Education and Online Learning
Cynthia Church, continuing education consultant at the Library of Virginia, has been selected to represent CE coordinators on the Chief Officers of State Library Agencies' Coordinating Committee for the CE Connector Function.
Church will provide insights and recommendations for collaboration among state libraries while proactively engaging her peers to benefit from their input and involvement in this project. She will:
Represent the interests of state libraries and facilitate outreach to peers by actively soliciting guidance and feedback on key issues
Participate in monthly conference calls and devote approximately 8 hours per month to committee work
Build support and raise awareness for the CE Connector project and strategies
Develop ideas for additional grant-funded projects and implement project activities
Make recommendations for ways to improve CE communication, coordination, and collaboration among state libraries
Support outreach efforts to enable more proactive and collective engagement on CE matters with national partners
Encourage state library participation in broader national CE efforts, including the Coalition for National Learning
Enid Costley, children's and youth services consultant at the Library of Virginia, has been chosen as one of 12 participants to work with WebJunction to formulate new strategic directions for the company. WebJunction is a web-based community helping
Costley will participate in WebJunction's free, four-month training program for seasoned trainers in public libraries who want to learn best practices for designing and delivering online learning that
takes less time and resources than traditional self-paced training
makes use of existing and emerging best practices for effective learning
focuses on teamwork, sharing, and mutual support

This WebJunction program will be offered with funding from the Institute of Museum and Library Services and in partnership with Infopeople. Participants will work in teams to create new online educational content on high-priority topics for building library staff skills. All activities will be completed by August 2014.
Selected for their diverse training and experiences, the 12 members of the WebJunction group represent a wide cross section of library types and geographic areas. The members also have experience in the design of instructional programs. The group's collaborative efforts will create stronger library-focused online learning that can be used within members' organizations and shared throughout the library field by WebJunction.org.
<< back to e-newsletter

Drawn & Observed in Nature on Display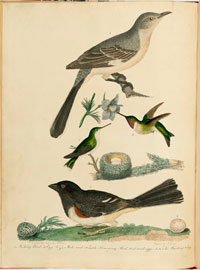 Visitors to the 2M level of the Library of Virginia can view a colorful display of digital images of several North American birds selected from the 76 hand-colored engravings that accompany the descriptions in American Ornithology by Alexander Wilson (1766–1813). This beautiful set of books, published in Philadelphia from 1808 to 1825, was conceived by Wilson as "a collection of all our finest birds," and is considered the first comprehensive work on American natural history. The Library is proud to have the entire set of American Ornithology, which was included in the first published catalog of the Library of Virginia's collection, A Catalogue of the Library of the State of Virginia, 1828.
Wilson was painstaking in his meticulous drawing, attention to detail, and accurate coloring of each bird. He was a writer and a poet who used engaging narrative prose to describe each bird species in scientific and artistic terms. He considered his work a patriotic undertaking that would nurture and encourage a shared cultural heritage and identity for Americans. He personally influenced John James Audubon (1785–1851) to publish his own drawings, which Audubon eventually did, borrowing and copying from a few of Wilson's original engravings. 
Alexander Wilson, known as the father of American ornithology, was the first American to describe and classify the birds of North America within the Linnaean system, a feat not taken on by earlier naturalists like Mark Catesby. Wilson hand-delivered the first printed volume to the White House for an early subscriber to the set, Thomas Jefferson, and together they spent an afternoon discussing birds in 1809.  
Wilson realized many of his aspirations during his lifetime, including his dream to publish this masterwork. His eighth volume (planned as the final one) and an added ninth volume were both published after his death, however. Wilson's tireless effort to accurately portray the shape and vibrant colors of American bird species eventually led him to travel over 12,000 miles, within all the states and territories, to observe in nature, describe, and draw more than 268 bird species, 36 of which had never before been described.
–submitted by Audrey McElhinney, Archives, Records, and Collections Services
<< back to e-newsletter

IMLS to Host Meetings with Library Stakeholders
Today's libraries are developing new ways to help their communities maximize educational and economic opportunities. The Institute of Museum and Library Services, the primary federal funder of the nation's 123,000 libraries, is launching a series of meetings to hear from a broad range of stakeholders about future IMLS funding strategies, particularly for the agency's National Leadership Grant program. The kickoff event, to be held at the New York Public Library on April 29, will examine how IMLS can best support national digital initiatives.
IMLS deputy director for Libraries Maura Marx will lead the series of nationally webcasted meetings with library leaders and other experts. IMLS invites broad participation via the webcasts and social media. Library professionals and the public are invited to view live webcasts of the meeting and to participate via Twitter at #imlsfocus.
These interactive events will spotlight the importance of strong libraries to benefit all Americans, and will explore three areas of funding that align with the agency's three goals, supporting libraries' role in providing opportunities for lifelong learning, serving as anchors for community engagement, and offering access to content.
The agency is encouraging potential applicants to engage in and contribute to these discussions. In the summer, IMLS will release a revised National Leadership Grant application that will reflect the priorities identified during these meetings. IMLS intends to pivot its grant-making strategy to focus on a few specific library challenges with the purpose of making a more significant comprehensive impact in these areas.
During the first meeting at the New York Public Library, participants will examine the "hubs model" of content aggregation and consider areas for expansion. The day-long meeting will examine the state of video and e-book services, barriers to broad access, challenges and opportunities in digital curation and stewardship, innovation in "hacking" the library, and digital literacy activities. The discussion will be framed with the goal of identifying concrete insights for funding, future research, and other tangible outcomes.
The topics, locations, and dates for the three meetings follow.
April 29
Access to Content: National Digital Initiatives
New York Public Library

May 15
Anchors for Community Engagement: Learning Spaces in Libraries
San Francisco Public Library

June 3
Opportunities for Learning: STEM Learning
Chicago Public Library
The IMLS National Leadership Grants for Libraries program invests $11 million annually in projects that improve professional practice with implications far beyond the grantee institutions. The grants help drive innovation and support projects with national impact. This springtime meeting series is designed to capture input from a broad range of library representatives and organizations to help IMLS focus its approach to supporting innovation in the nation's libraries.
–submitted by Giuliana Bullard, IMLS
<< back to e-newsletter