Governor Announces Board Appointments
Governor Terry McAuliffe has announced the reappointment of Jon Bowerbank and David Skiles to the Library of Virginia Board. Bowerbank is president and CEO of EMATS, Inc., of Rosedale, Virginia, and chairman of the Russell County Board of Supervisors. Skiles is director of Northern Virginia client services for the Vectre Corporation, a government relations and advocacy firm.
The governor also announced the appointment of a new Library Board member. Joining the board is Kristin Cabral, community leader and a trustee on the Fairfax County Public Library Board. She earned her undergraduate degree from the University of Michigan and her J.D. from Harvard Law School. After graduating from law school, Cabral became a federal prosecutor at the Justice Department, where she worked on immigration cases.
The 15 members of the Library Board are gubernatorial appointees and serve five-year terms. They can serve no more than two successive full terms.

Library of Virginia Sends Public Librarians to Boot Camp
The Library of Virginia is sending three public library employees to boot camp. That's PLA (Public Library Association) Boot Camp—not the Camp Lejeune version. Gearing up for the four-and a-half day session to be held this month in Nashville, Tennessee, are Virginia Cordial, director of the Chesapeake Public Library; Clint Rudy, director of the Suffolk Public Library; and John Huddy, director of the Handley Regional Library.
The Public Library Association offers intensive management training to library staff. This summer's program, which focuses on management tools and techniques to improve library services and programs, is led by Sandra Nelson (a consultant, speaker, trainer, and writer specializing in public library planning and management issues) and June Garcia (a consultant and public library director with more than 40 years of experience as a public librarian). Participants will engage in dynamic individual and group activities that emphasize the roles of innovation, risk, and change in public library management; the impact of trends on local service priorities; the value of data-based decision making; and the skills to effectively allocate resources.
Nashville Public Library will be the site for August boot camp. The Virginia participants will present a session on their boot camp experience at a future Library of Virginia meeting for public library directors.

Sayre to Deliver Annual Slatten Lecture on September 20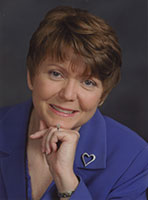 Pamela Boyer Sayre will be the featured speaker at the 15th Annual Slatten Lecture at the Friends of the Virginia State Archives annual meeting and conference on Saturday, September 20, 2014, at the Library of Virginia, with registration starting at 8:30 AM. The registration fee is $50 ($35 for FVSA members).
Sayre will offer sessions on eBooks for genealogists and evaluating Internet sources, and discuss case studies such as a murder in a close-knit rural community (research from arrest through the court system) and tracking rumors of a Virginia ancestor's Revolutionary War service (through military service records, pensioner records, neighbors, and extended family as well as descendants' DNA).
Pamela Boyer Sayre, CG, CGL, is a professional researcher, writer, and genealogical lecturer specializing in records of the National Archives and Records Administration (NARA) as well as computer tools. A popular seminar presenter, she has spoken at genealogy conferences and seminars in 31 states and coauthored Online Roots: How to Discover Your Family's History and Heritage with the Power of the Internet. She is a coordinator and instructor at Samford University's Institute of Genealogy and Historical Research and the Salt Lake Institute of Genealogy, and the former director of education and publications for the National Genealogical Society. Sayre has served on the boards of the National Genealogical Society and the Genealogical Speaker's Guild, is a former director of the Federation of Genealogical Societies, and is a life member of St. Louis Genealogical Society.
The Friends of the Virginia State Archives is a nonprofit organization created to encourage archival and genealogical research at and support for the Library of Virginia. For more information, please e-mail SlattenLecture2014@gmail.com or call Anne Taylor Brown, 804-741-0136.

DATABASE SPOTLIGHT
People of the Founding Era: A Prosopographical Approach
The People of the Founding Era database provides an interesting twist on biographical research. A prosopographical approach focuses on connections between individuals. These connections can be through family, friendship, commerce, or some other association—or simply by date or place. Since 2007, the University of Virginia Press's digital publications division, Rotunda, has made more than 200 volumes of Founding Fathers content available online. People of the Founding Era aggregates biographical information taken from the annotations of these volumes and other documentary editions of the American Founding Era Collection to create a sort of biographical glossary.
At present, the database includes information for more than 25,000 individuals born between 1713 and 1815. Users can search by keyword, name, or one of the four browsing categories: Slavery, Places, Gender, or Occupations. Selecting any of these categories will provide statistical graphs related to the topic. For example, the Occupations page states that there are more than 1,400 occupations represented in this edition of the database, displaying a pie chart that shows the top 16 jobs. This is followed by the database entries sorted by the number of occupations held by each individual. At the top of the list is Thomas Paine (1737–1809) with a whopping 21 occupations, including time spent as a "corset maker."
In addition to the biographical information taken from the volumes, structured data (e.g., birth and death dates, religious affiliation, occupation, etc.) has been added to the entries, allowing for greater refinement of search results. For example, a user can view all merchants in the database (1,631), then select "Boston" to see only the entries for merchants in that city (122), and then select "born in the 1740s" to see the 22 individuals who also match this criteria. To further aid with family connections, some family members not mentioned in the American Founding Era Collection texts were added when reliable information regarding their lives was available.
People of the Founding Era is a valuable biographical resource for scholars, teachers, students, genealogists, and anyone interested in learning more about individuals who lived during this time. The next update will include more than 19,000 additional people, with content taken from five American Founding Era Collection editions that have not yet been used as sources for the database. For more details and an in-depth overview, please see People of the Founding Era.
Your Library of Virginia library card is your key to exploring this very interesting and useful resource. Stop by the Library to get a card (or register online) and then visit the Library's Using the Collections page to begin your research!
–submitted by Lisa Wehrmann, Public Services and Outreach

Virginia Literary Festival Celebrates Virginia's Literary Scene
Taking place October 14–19 and anchored by the popular James Rivers Writers Conference and the elegant Library of Virginia Literary Awards Celebration, the 2014 Virginia Literary Festival celebrates Virginia's rich literary resources with a variety of events aimed at diverse literary audiences of all ages. Events include a writing workshop for teens, a movie screening, an evening exploring the relationship between poetry and the visual arts, and a luncheon with the esteemed writer Barbara Kingsolver. Visit www.literaryva.com for a full listing of programs and to purchase tickets online. Some free events do require registration—please check the website for additional information.

Brown Institute Focused on Teaching Tough Topics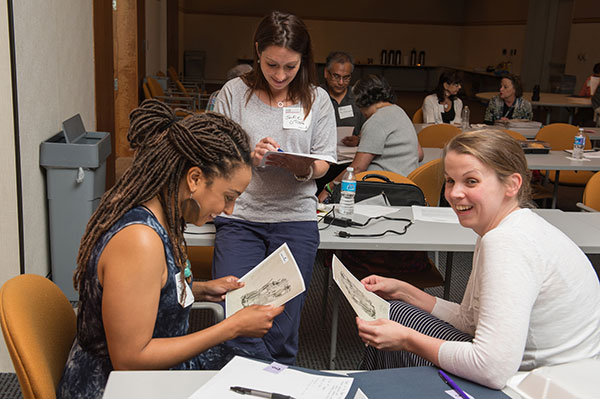 Each summer, the Library of Virginia's Education and Programs department holds the Brown Institute, a teacher development workshop made possible by the Anne and Ryland Brown Teacher Endowment Fund. The workshop's theme and format change each year in order to take advantage of Library resources and exhibition content, to relate to the latest Virginia Standards of Learning, and to appeal to a broad range of teachers.
This year's theme, "Teaching Tough Topics in Virginia History," focused on addressing controversial issues in the classroom. Participating teachers learned how original documents can be used to show multiple sides of controversial issues, and how to moderate and facilitate thoughtful and productive classroom discussions. Presenters from outside organizations were Cricket White and Sylvester "Tee" Turner of Hope in the Cities: Initiatives of Change; Dr. Karenne Wood, director of the Virginia Foundation for the Humanities Indian Program; and Rose McAphee, an interpretive training specialist from the Colonial Williamsburg Foundation. From the Library of Virginia, Mark Howell and Adrienne Robertson presented sessions on how to use political cartoons as primary sources and how to access educational resources on the Library of Virginia's website.
In an effort to reach new audiences with the Teacher Institute, the Library also altered the format from a multiple-day workshop in Richmond only to a single-day event offered in Richmond (June 27 at the Library of Virginia) and Abingdon (July 7 at the Southwest Virginia Higher Education Center).
–submitted by Adrienne Robertson, Outreach and Public Services

General Assembly to Reconvene in September, Limiting Library Parking
The Virginia General Assembly will reconvene late in September to debate Medicaid expansion.  The General Assembly is currently in a special session called by Governor Terry McAuliffe to adopt a budget and fill judicial vacancies. The legislative session agenda will be modified to include Medicaid expansion to the list of items to be acted upon in the special session.
During the legislative session, patron parking at the Library of Virginia will be very limited while the space is used to accommodate parking for the members of the legislature and key staff supporting the General Assembly.