Spoils of War, Symbols of Reunion to Showcase Items "Liberated" in Richmond during the Last Days of the Civil War
In April 1865, after four years at the heart of the Civil War, Richmond—the capital of the Confederacy—finally fell. The Confederate government evacuated and Union army units—including United States Colored Troops—entered the city and arrived at the Capitol. To commemorate the 150th anniversary of the end of the Civil War, the Library of Virginia will offer a temporary exhibition, Spoils of War, Symbols of Reunion, April 1–18, featuring a selection of rare archival materials that Union soldiers plundered from the State Capitol's archives during the chaotic days following the fall of Richmond to federal forces. These "liberated" artifacts that continue to trickle back to the commonwealth include such iconic documents as the Ordinance of Secession and the last volume of the Journals of the House of Burgesses. Collecting "spoils of war" is a time-honored tradition of victorious armies, but the collecting of books, state papers, and other manuscripts by Union soldiers was not always simple souvenir hunting. The soldier who removed Virginia's Ordinance of Secession from the Capitol certainly understood its symbolic meaning as a rending of the federal Union—a union that Yankee soldiers had fought four bloody years to reunite. These artifacts connect strongly to the records and artifacts of the slave trade found in the Library's continuing exhibition, To Be Sold: Virginia and the American Slave Trade—pieces taken by soldiers and civilian relief workers that symbolized for many Northerners the causes of the war.

Among the items in exhibition will be:
George B. Cheever. The Journal of the Pilgrims at Plymouth. New York, 1848. Written on the flyleaf: "Found in Va State Library/ Borrowed Richmond Apl 7 1865 / Returned May 1911." The borrower was Clavin G. Hutchinson, of Dorcheter, Mass.
Francis Quarles. Enchiridion. London, 1856. Another "borrowed" book that was returned. A letter from the donor is pasted on the inside front board.
Material from Warwick County. Letter dated January 10, 1952, from Claude L. Fichthorn to the Recorder of Deeds, Warwick County: "These papers came to light in my mothers (sic) effects. Her first husband was a civil war veteran and I presume they were acquired during  the duration of that event. I presume they are of no value, except perhaps, of clearing a bit of the record. I feel, however, that they belong in Warwick County Virginia, and am pleased to enclose them."
Isaac Hammond Collection, 1839–1875. Isaac Hammond was a New York soldier stationed in Richmond who collected miscellaneous papers. The collection was given to the Huguenot Historical Society, New Paltz, New York, and later transferred to the Library of Virginia. It includes items such as letters from shopkeepers in Richmond to the provost marshal asking permission to reopen their shops.
Checkerboard from Charles City County.
Prince William County Deed Book, Liber A, 1731–1732.
Sallie Ellen Elsom Crowder Williams letter book, 1856–1901. Although it was not liberated or repatriated, this item has an interesting story. Williams and her mother, Elizabeth Meriweather Robertson Elsom, both of Nelson County, alternated writing letters to each other in the book. In a letter dated March 24, 1865, Williams noted that the book was almost taken by a Union soldier.
On Saturday, April 4, the Ordinance of Secession, one the rarer items in the Library's collections, will be on display for that day only as part of the citywide activities associated with Richmond's Journey. The Ordinance of Secession was penned on parchment by William Flegenheimer in May 1861. It has been in the Library's records of the 1861 Convention since 1929, when it was returned to the state archives after having been taken from the Virginia capitol in April 1865 by a Union soldier.

From April 1 through 4, 2015, numerous Richmond museums and cultural attractions will explore the end of the Civil War and the end of slavery in Richmond through a powerful and inclusive four-day series of programs. To learn more, visit http://richmondsjourney.org/.
<< back to e-newsletter

Poetic Principals to Feature Dexter Booth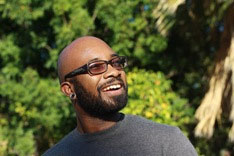 On April 13, Dexter L. Booth, author of Scratching the Ghost, will be the featured poet for Poetic Principals at the Library of Virginia. Poetic Principals is cosponsored by the Library and New Virginia Review. The program begins at 6:00 PM and is free and open to the public.
Scratching the Ghost explores childhood memories, lost loves, an absent father, ghosts of hometowns, and the legacies of family and religion. This debut collection of poemswon the 2012 Cave Canem Poetry Prize (selected by Major Jackson) and was a finalist for the 2014 New Mexico–Arizona Book Award in Poetry, as well as a finalist for the 2014 Leimert Park Book Fair's Jessie Redmon Fauset Award. Booth's poems appear in Blackbird, Southeast Review, Ostrich Review, Grist, Willow Springs, Virginia Quarterly, and other publications. He has been nominated for multiple Pushcart Prizes and was a finalist for the 2014 Joy Harjo Poetry Contest. He received his undergraduate degree from Virginia Commonwealth University, an MFA from Arizona State University, and is currently a PhD candidate and Provost Fellow at the University of Southern California.
<< back to e-newsletter

Changing Cartography in the Civil War Era Is Focus of Voorhees Lecture on April 18
Maps have fascinated us, guided us, and promoted business, exploration, and science—and now they are available on our smartphones. But for many, the most appealing examples are older maps with decorative flourishes and historic importance. The Fry-Jefferson Map Society at the Library of Virginia, whose mission is to develop, enhance, and promote the cartographic collections of the Library of Virginia, is pleased to announce the 12th annual Alan M. & Nathalie Voorhees Lecture on the History of Cartography on Saturday, April 18, 2015. The theme of this year's free lecture is "The Transformation of Cartography in the Civil War Era." A special exhibition of historic maps begins at 11:00 AM and the lectures start at 1:00 PM. Dr. Susan Schulten from the University of Denver and Cassandra Farrell, map specialist at the Library of Virginia, will discuss the effects of the sectional crisis on map production and uses. Experts from Old World Auctions will offer map evaluations. For more information, please visit www.lva.virginia.gov/maps or call (804) 692-3900.
Membership in the Fry-Jefferson Map Society is $50. The group relies on the generosity of local businesses to help support its mission and programming. For information on the benefits of sponsoring a Map Society event, please call Amy Bridge at 804-692-3590.
The lecture series is offered in memory of Alan M. Voorhees, a distinguished engineer, transportation consultant, and map collector. Voorhees donated 72 historic maps to the Library and was a primary supporter of the Library's atlas, Virginia in Maps: Four Centuries of Settlement, Growth, and Development. The Alan M. Voorhees Map Collection at the Library of Virginia extends from the 1493 Nuremberg Chronicle through the U.S. Civil War period, with the bulk of the collection consisting of pre-20th-century maps. Included are maps made by Schedel, Ptolemy, deBry, Mercator, and Smith, among many others. The Nathalie P. Voorhees Map Reading Room at the Library is named in honor of Voorhees's wife.
<< back to e-newsletter

Celebrate National Library Week, April 12–18
Celebrate National Library Week 2015 (April 12–18, 2015) with the theme "Unlimited possibilities @ your library®." Award-winning Virginia author David Baldacci is honorary chair of 2015 National Library Week. He has written 29 best-selling novels for adults, with more than 110 million copies sold. He is a three-time winner of the Library of Virginia's People's Choice Award in the fiction category.
Celebrations during National Library Week include: National Library Workers Day, Tuesday, April 14, a day for library staff, users, administrators, and Friends groups to recognize the valuable contributions made by all library workers; National Bookmobile Day, Wednesday, April 15, to recognize the contributions of our nation's bookmobiles and the dedicated professionals who make quality bookmobile outreach possible in their communities; and Celebrate Teen Literature Day, Thursday, April 16, aimed at raising awareness among the general public that young adult literature is a vibrant, growing genre with much to offer today's teens.
First sponsored in 1958, National Library Week is a national observance sponsored by the American Library Association and libraries across the country each April. It is a time to celebrate the contributions of our nation's libraries and librarians and to promote library use and support. All types of libraries—school, public, academic, and special—participate.
Visit your local library during National Library Week and show your support for this valuable community resource.
–submitted by the ALA Public Information Office
<< back to e-newsletter

2015 Snapshot: A Day in the Life of Virginia's Libraries
Libraries all over Virginia will hold a "Snapshot Day" in April to collect information and photographs that illustrate the impact that Virginia libraries make in their communities on a typical day.
Snapshot Day is a Virginia Library Association and Library of Virginia project. The goal of Snapshot Day is to collect customer comments and photos to show how essential library services are. Virginia's libraries are busier than ever these days, with people coming in to check out books, use computers, look for jobs, download e-books, enhance their education, connect with their communities, and attend the many classes and events our libraries offer. All across the state, libraries are the cornerstones of their communities, places where people come together to visit, learn, and share ideas.
On April 23, we will capture a slice of life here at the Library of Virginia. Customers will have a chance to comment on what their library means to them, and pictures from libraries all over the state will be available on the SnapshotVA Flickr stream at goo.gl/VZCfJ6. Please visit the SnapshotVA website, snapshotvirginia.org, to find out more about this exciting project. Better yet, visit us at 800 East Broad Street in historic downtown Richmond on Thursday, April 23, and be a part of Snapshot Day.
<< back to e-newsletter

Submissions Wanted for Art in Literature Award!
The Library of Virginia and the Virginia Museum of Fine Arts are seeking nominations for the annual Art in Literature: The Mary Lynn Kotz Award, which they cosponsor. This award recognizes an outstanding book written about a work (or works) of art while also showing the highest literary quality as a creative or scholarly work.
Works eligible for submission for the 2015 award must have been published for the first time in English in the United States in 2014. Eligible works include fiction, journalism, poetry, history, biography, art history, social history of art, catalogs of qualified museum exhibitions, and young adult books that feature some aspect of the visual arts.
Nominations will be accepted through April 30, 2015. The nomination form can be found on the Library of Virginia website at www.lva.virginia.gov/public/litawards/kotz-nominate.pdf.
Please submit the nomination form with two copies of each nominated book to:
Art in Literature Award
The Library of Virginia
800 East Broad Street
Richmond, VA 23219-8000
The awards are juried with the winner receiving a cash prize and an engraved crystal book. The winner is the featured speaker at the VMFA on Friday, October 16, 2015, and also honored at the Library of Virginia's Annual Literary Awards Celebration on Saturday, October 17, 2015.
The award is named for journalist Mary Lynn Kotz, author of the award-winning biography Rauschenberg: Art and Life.
<< back to e-newsletter

VLA Paraprofessional Conference Set for May
On May 17 and 18 the 23rd Virginia Library Association's Professional Associates Forum Conference will take place in Richmond at the Hilton Koger South Conference Center. The VLAPAF conference enhances professional development by providing workshops, presentations, discussion groups, panels, and networking opportunities. This year's conference theme, "Who Moved My Library?," acknowledges the many changes libraries have made and the different ways that customers use and view libraries. The one-day conference will explore new ways to make everything work even more effectively and efficiently in our libraries.
The registration fee is $150 ($100 for VLA members) on or before May 8 and $175 ($125 for VLA members) on May 9 or after.
Interested paraprofessionals can enter to win one of 12 $50 no-questions-asked stipends when they register (courtesy of the VLA Fundraising and Endowment Committee) at www.vla.org/2015-vlapaf-conference-registration.
Keynote speakers include Dave Ehlert performing as Mark Twain at the Sunday, May 17, evening reception; Jason Van Gardner, doctoral researcher in the area of organizational leadership; and Josephus III, poet, radio host, teacher, and lecturer. Conference sessions cover a variety of topics including adapting to changing demographics, the IMLS grant-funded project "Portal to the Black Experience," 1,000 Books Before Kindergarten, modern cyber threats, teen makerspaces, genealogy, and changes in technical services.
–submitted by Lisa Varga, VLA Executive Director
<< back to e-newsletter

Watch the April 19 Episode of "Who Do You Think You Are?"
Please tune to TLC at 10 PM on Sunday night, April 19, for "Who Do You Think You Are," the TV program that features famous people getting educated and dramatic about their genealogy. This episode will feature actor Bill Paxton and a Virginia connection as well as scenes of people and places that Library of Virginia followers will be sure to recognize.
The spring season of "Who Do You Think You Are" features celebrities Tony Goldywn, America Ferrera, Josh Groban, Melissa Etheridge, Bill Paxton, Angie Harmon, Sean Hayes, and Julie Chen. The show's executive producers are Lisa Kudrow and Dan Bucatinsky.
<< back to e-newsletter