Cast Your Vote for the 12th Annual People's Choice Awards
The Library of Virginia is pleased to sponsor the 12th Annual People's Choice Awards. Finalists in fiction and nonfiction that have been published in the past year were selected by Virginia librarians and independent booksellers. Awards are given for the best fiction and nonfiction books by Virginia authors; in the case of nonfiction, books on a Virginia subject are eligible.
The winners will be chosen by votes from the public from among five finalists in each category. Readers may vote online at the Library of Virginia's website (www.lva.virginia.gov/vote). Voting runs from May 1 through June 30, 2015.
This year's People's Choice Award fiction finalists are:
•           The Good, the Bad, and the Emus by Donna Andrews
•           Gray Mountain by John Grisham
•           The Hunger Artist by Jeffrey N. Johnson
•           How to Tell Toledo from the Night Sky by Lydia Netzer
•           Small Blessings by Martha Woodroof
This year's People's Choice Award nonfiction finalists are:
•           Beyond the First Draft: The Art of Fiction by John Casey
•           Give War and Peace a Chance: Tolstoyan Wisdom for Troubled Times by Andrew D. Kaufman
•           Factory Man by Beth Macy
•           Embattled Rebel: Jefferson Davis as Commander in Chief by James M. McPherson
•           Overwhelmed: Work, Love, and Play When No One Has the Time by Brigid Schulte
Winners will be announced on October 17, 2015, at the 18th Annual Library of Virginia Literary Awards Celebration presented by Dominion. Each winner will receive an engraved crystal book and a monetary prize of $2,500.
<< back to e-newsletter

Governor Names Carol L. Hampton to State Library Board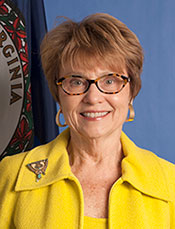 Governor Terry McAuliffe has named Carol L. Hampton, of Richmond, to the Library Board. Hampton was on the faculty of Virginia Commonwealth University in areas of instructional development, faculty development, program innovation, and application of technology to health sciences education for 34 years. She retired as associate dean for faculty and instructional development, VCU School of Medicine, in 2009.
Library Board members are appointed by the governor and serve five-year terms. They are eligible for reappointment.
<< back to e-newsletter

The 2015 Anne and Ryland Brown Teacher Research Fellowship Is Open to Virginia 4th–12th-Grade History and Social Science Educators
The Library of Virginia is pleased to announce the 2015 Anne and Ryland Brown Teacher Research Fellowship. The goal of the program is to enhance knowledge and training in history and social science instruction in the commonwealth of Virginia by providing educators with an opportunity for in-depth study and the development of teaching materials in collaboration with members of the Library of Virginia's professional staff. Over the course of the summer, Brown Fellows work with Library of Virginia staff members to pursue research on an approved topic and produce educational materials based on the results of their findings. Brown Fellows are also required to make presentations relating to their research and finished projects at educational conferences.
This year the Library of Virginia is looking for Fellows who have an interest in researching the history of Reconstruction and the Emancipation era. Piqued your interest? Then view the 2015 Brown Fellowship information to learn more about the project and how to apply. The deadline for applications is Friday, May 15.
The 2015 Fellowships will focus on research and projects in support of Remaking Virginia: Transformation through Emancipation, the Library of Virginia's upcoming exhibition.
—submitted by Catherine Wyatt, Public Services and Outreach
<< back to e-newsletter

Two Virginia Cities Named Pacesetters by the Campaign for Grade-Level Reading
Richmond and Roanoke are among 30 communities across the nation that have been named 2014 "Pacesetters" by the Campaign for Grade-Level Reading. The Richmond Grade-Level Reading Campaign is recognized for making measurable progress on student attendance outcomes. The city has seen a solid reduction in chronic absenteeism, with attendance improving in the elementary grades from 89.5 percent in 2012–2013 to 94.1 percent in 2013–2014. The Richmond Public Library is one of 20 collaborating organizations that helped make possible Richmond's selection for Pacesetter honors. Star City Reads, the Roanoke Grade-Level Reading Campaign, was honored for its strong and extensive relationships among coalition partners providing programs and services for children and their families. Star City Reads reaches approximately 8,300 low-income children in a school district of more than 13,000 students. Roanoke Public Libraries supports Star City Reads through a parent engagement program targeting low-income families to promote early literacy and readiness for school in addition to offering a comprehensive summer reading program in partnership with the Roanoke City Public Schools.
Each of the 30 honorees produced results in improving student outcomes in at least one of three focus areas: increasing school readiness, reducing chronic absenteeism, and improving summer learning among low-income children. The Pacesetter honorees were selected from among 76 communities in the Grade-Level Reading Communities Network that in 2014 participated in a series of activities designed to strengthen their work. Across the country, communities completed rigorous self-assessments of their progress, mobilized local constituencies through events such as Summer Learning Day and Attendance Awareness Month, and updated their Community Solutions Action Plans.
The Campaign for Grade-Level Reading's goal is to increase the number of children from low-income families reading proficiently at the end of third grade by at least 100 percent in a dozen states or more by the year 2020. Among the national coalition partners are the Institute of Museum and Library Services; the National School Boards Association; the National Governors Association Center for Best Practices; the National League of Cities' Institute for Youth, Education, and Families; and the YMCA of the USA.
<< back to e-newsletter

30 for 30 Sale at the Virginia Shop: Congratulations to 2015 Graduates!
For the month of May, the Virginia Shop will feature 30 percent off collegiate items purchased online (www.thevirginiashop.org). Items include collegiate flags, wine glasses, and napkins.
The Virginia Shop will feature 30 percent savings for 30 days on a different collection of merchandise each month. Follow us on social media (Facebook, Twitter, and Pinterest) for each month's great sale.
<< back to e-newsletter

Jefferson Cup Committee Announces 2015 Winners and Honor Books
Red Madness: How a Medical Mystery Changed What We Eat by Gail Jarrow is the winner of the 2015 Jefferson Cup Award for Older Readers. Hello, I'm Johnny Cash by G. Neri took the 2015 Jefferson Cup Award for Younger Readers. Red Madness traces the story of pellagra, a life-threatening disease, in the United States from isolating the disease to an eventual cure. The book includes archival photographs and first person account of people afflicted with the disease and the doctors, researchers, and public health officials searching for the cause and cure. Hello, I'm Johnny Cash, the committee's unanimous choice as the winner for younger readers, is an exceptionally well-written and beautifully illustrated (by A. G. Ford) book on one of country music's most beloved and gifted musicians. It is an age appropriate free-verse biography of Cash that stretches from the poverty of his upbringing to his eventual success.
Halley by Faye Gibbons, Pure Grit: How American World War II Nurses Survived Battle and Prison Camp in the Pacific by Mark Cronk Farrell, and Upside Down in the Middle of Nowhere by Julie T. Lamana are the 2015 honor books for older readers.
For younger readers, Ben Franklin's Big Splash: The Mostly True Story of His First Invention by Barb Rosenstock, George Washington's Rules to Live By: Good Manners Guide from the Father of Our Country by K.M. Kostyal, President Taft Stuck in the Bath by Mac Barnett, and Thomas Jefferson: Life, Liberty and the Pursuit of Everything by Maira Kalman are the 2015 Jefferson Cup honor books.
Presented since 1983, the Jefferson Cup honors distinguished biography, historical fiction, or American history books for young people. The Jefferson Cup Committee's goals are to promote reading about America's past; to encourage the quality writing of United States history, biography, and historical fiction for young people; and to recognize authors in these disciplines. The Jefferson Cup Committee selects the winning title. The committee has nine members: a chairperson (selected by the previous year's committee), one person from each of the Virginia Library Association's six regions, the chair of the previous year's committee, and the chairperson or outgoing chairperson of the Youth Services Forum. All committee members must be members of VLA.
–submitted by Susan Taylor Catlett, 2015 Jefferson Cup Committee Chair
<< back to e-newsletter

Lynchburg Museum Is One of Ten to Receive Nation's Highest Museum and Library Honor
Amazement Square, a hands-on Lynchburg museum that creates unique learning experiences with lasting impact on the lives of children and their families, is one of ten recipients of the 2015 National Medal for Museum and Library Service from the Institute of Museum and Library Services. The National Medal is the nation's highest honor given to museums and libraries for service to the community. IMLS is the primary source of federal support for the nation's 123,000 libraries and 35,000 museums. For 21 years, the award has celebrated institutions that present extraordinary and innovative approaches to public service to make a difference for individuals, families, and communities. The award will be presented at an event in Washington, D.C., on May 18.
These ten honorees exemplify the nation's great libraries and museums; demonstrate outstanding impact and quality of programs, services, and partnerships; and exceed the expected levels of community outreach. They were selected from the 30 finalist institutions nominated for the honor.
The 2015 winners of the National Medal for Museum and Library Service are:
Amazement Square (Lynchburg, VA)
Cecil County Public Library (Elkton, MD)
Craig Public Library (Craig, AK)
Embudo Valley Library and Community Center (Dixon, NM)
Los Angeles Public Library (Los Angeles, CA)
Louisiana Children's Museum (New Orleans, LA)
Museum of Northern Arizona (Flagstaff, AZ)
New York Hall of Science (Queens, NY)
The Schomburg Center for Research in Black Culture (New York, NY)
The Tech Museum of Innovation (San Jose, CA)
"These National Medal recipients have demonstrated a genuine understanding of their communities and are committed to addressing community needs," said Maura Marx, acting director of the Institute of Museum and Library Services. "IMLS believes museums and libraries are vital community anchors that enhance civic engagement, cultural and educational opportunities, and economic vitality. The remarkable community contributions these institutions have made are proof positive of this."
–submitted by Adrienne Lee, IMLS Press Contact
<< back to e-newsletter