Jan Karon to Receive 2015 Literary Lifetime Achievement Award
This year the Library of Virginia will honor Jan Karon with the 2015 Literary Lifetime Achievement Award, presented at the Library's annual gala celebration on October 17, 2015. Past recipients of this prestigious award include Charles Wright, Lee Smith, William Styron, Earl Hamner, Rita Dove, Louis Rubin Jr., Tom Wolfe, and Edgar Allan Poe.
Jan Karon was born in Lenoir, North Carolina, in 1937. She wrote her first novel when she was 10 years old, the same year she won a short-story contest organized by the local high school. At age 50, she left a career in advertising to be a writer. Her first series of books began as a weekly installment in her local newspaper.
She is the author of the best-selling series of ten Mitford novels featuring Father Timothy Kavanagh, an Episcopal priest, and the fictional village of Mitford, the most recent of which, Somewhere Safe with Somebody Good, has spent two months on the New York Times best-seller list. She is also the author of 13 other books, including two Father Tim novels, a cookbook, and several books for children. She lives near Charlottesville, Virginia.
At Home in Mitford has been reprinted more than 80 times and nominated three times for an ABBY (American Booksellers Book of the Year Award), which honors titles that bookstore owners most enjoy recommending to customers. A New Song won the Christy and Gold Medallion awards for outstanding contemporary fiction in 2000. A Common Life, In This Mountain, and Shepherd's Abiding have also won Gold Medallion awards. In the Company of Others was the winner of the Library of Virginia's 2011 People's Choice Award for Fiction.

The World Championships Are Coming to Richmond, September 19–27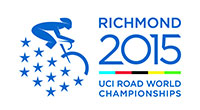 The 2015 Road World Championships, cycling's pinnacle event, is coming to Richmond in September. The nine-day event will feature about 1,000 cyclists from more than 70 countries. The event is projected to attract a total attendance of more than 250,000 spectators from the Richmond region and across the globe over the nine days of racing, and draw a television audience of more than 300 million. The economic impact for the commonwealth of Virginia is anticipated to be nearly $158 million.
The four different race courses each encircle the area around Capitol Square from Broad Street to Main Street and from 2nd Street to Governor Street. The Library of Virginia will be front and center for the races and spectators will have a great view of the action from our steps. Detailed maps and information about the race courses can be found at http://richmond2015.com.
The races begin after morning rush hour and end before the evening rush hour. Roads will be closed an hour before each race begins and reopen within an hour after each finishes. With some roads closed, traffic may be rerouted onto others, so your route to and from the Library may change. Please be aware that there will be traffic delays and detours. At this time we anticipate that the Library's underground parking deck will be open to Library staff and patrons. As details emerge, we will share them with you through our social media and traditional media.

Library Receives a Grant from the DAR to Microfilm Auditor's Accounts from Revolutionary War Period
The Library of Virginia is pleased to announce the award of a generous matching grant from the National Society Daughters of the American Revolution (DAR) that will allow us to microfilm the receipts and disbursement journals of Virginia's auditor of public accounts, 1778–1797. These 21 volumes include daily entries of revenues and expenditures, many of which document payments for Revolutionary War service and public service contributions. Entries include payments for military service in the militia and Continental Line and for other military services rendered, relief payments to disabled soldiers and widows, interest paid on military certificates, and reimbursement for impressed property, as well as payments to individuals for civil service and to members of the General Assembly.
Just a few examples from the first volume include warrants to be paid to Ann Fowler, a Powhatan widow of a poor soldier, December 14, 1778; to George McAfee for mutton furnished to the Botetourt Militia, December 15, 1778; to Thomas Jefferson for provisions furnished to the Albemarle Militia, December 15, 1778; to John Boyd for pay as a spy, December 19, 1778; and to James Nichols for lodging three prisoners belonging to the British warship Swift, January 14, 1779.
These volumes contain a wealth of information of relating to patriots of the American Revolution that is of great interest to family and historical researchers and patriotic societies. After years of use, however, the original volumes are fragile, the ink is beginning to fade, and, until now, the records could only be used on-site at the Library. Microfilming will help to preserve the volumes, as the film will be served in lieu of the originals, and will provide access to a much wider audience of researchers via interlibrary loan. A copy of the film will also be available at the DAR Library. Microfilming is set to begin in July and the film should be available in October.
–submitted by Paige Neal, Government Records Services

Become a Member and Enjoy Special Benefits
Library Friends,
As we approach the end of our fiscal year, we ask you to consider a year-end gift in support of the Library of Virginia. Funding from individuals like you, people who truly appreciate the importance of our collection, is of vital importance to the continuation of our acquisition and restoration efforts.
As our way of saying thank you, if you make a donation of at least $50 by June 15, you will receive an invitation to the exclusive Preview Reception in July for the upcoming Library of Virginia exhibition Remaking Virginia: Transformation through Emancipation.
This invitation is a thank-you to everyone who has made a gift this year to the Foundation. If you have not had a chance to do so, please donate now to ensure that you are included in this special Preview Reception.
Your donation will also give you all the benefits that come with membership, including an annual print subscription to Broadside magazine, 10 percent off all purchases at the Virginia Shops, and future invites to exciting members-only events and programs. Most important, your gift will help the Library continue to promote, preserve, and exhibit the Commonwealth's vast treasures.
You can make your gift by printing and mailing the form located on the Library's website at this link, www.lva.virginia.gov/involved/donate.pdf, or by calling Dana Brown at (804) 692-3900.
Thank you for considering a donation!
­—submitted by Amy Bridge, Executive Director, Library of Virginia Foundation
While Santa is relaxing on the beach, the Virginia Shop is getting ready for Christmas shopping. This month, chocolate sauces and Christmas ornaments are 30% off when ordered online.
Starting Monday, June 8, the Virginia Shop at the Library of Virginia will offer select items at up to 60% off. Stock up on the best birthday, hostess, anniversary, wedding, and baby gifts around. Buy some books for the beach or snag a cool literary t-shirt. Mark your calendar and be prepared to grab some great bargains!

Mark Your Calendars for the National Book Festival and the Summer Writing Contest
The 15th annual Library of Congress National Book Festival will take place Saturday, September 5, 2015, at the Washington Convention Center. To mark this anniversary, as well as the 200th anniversary of the Library's acquisition of Thomas Jefferson's personal library, the festival's theme is Jefferson's quote "I Cannot Live Without Books." Authors already confirmed for the upcoming event include David McCullough and Walter Isaacson.
At its beginning in 1800, the Library of Congress was housed in the U.S. Capitol. During the War of 1812, the British burned the Capitol in August 1814, destroying the Library's collection of approximately 3,000 books. Thomas Jefferson, in retirement at his Monticello estate, sold his personal library of 6,487 volumes to the Library of Congress for $23,950.
The Library of Congress is once again sponsoring its summer essay contest, in conjunction with public libraries in the Mid-Atlantic region, to encourage rising 5th- and 6th-grade students to reflect on books that have had an impact on their lives.
The "A Book That Shaped Me" Summer Writing Contest is administered as part of summer reading programs at participating public libraries in Washington, D.C., Maryland, Virginia, Delaware, Pennsylvania, and West Virginia. Prizes will be awarded and top winners will be invited to present their essays during a special presentation at the National Book Festival.
Students entering 5th and 6th grades in the fall of 2015 are eligible. Essays, focused on a single book, should be one page in length and must be submitted with an entry form, in person, at participating public library locations. The deadline for entries is Friday, July 10, 2015.
"A Book That Shaped Me" will award prizes to five finalists and one winner per state, and to three overall grand-prize winners. The 30 finalists will be selected by a panel of scorers composed of members of the American Association of School Librarians, a division of the American Library Association. The three grand-prize winners will be selected by a panel of judges assembled by the Library of Congress, including educators, children's authors, and Library of Congress staff members.
Essay contest submission forms are available at www.loc.gov/bookfest/kids-teachers/pdf/aBookThatShapedMe2015.pdf and at participating public library locations. Participating Virginia public libraries are: Arlington Public Library, Mary Riley Stiles Library (Falls Church), Newport News Public Library, Prince William Public Library, Richmond Public Library, Roanoke Public Library, Wythe-Grayson Public Library (Fries, Independence, and Whitetop branches).