Get Your Tickets Now for the 2015 Literary Awards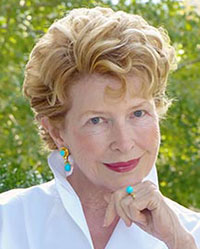 Join us on October 17 for the 18th annual Library of Virginia Literary Awards, featuring Lifetime Achievement Award honoree Jan Karon. The event, which is hosted by best-selling Virginia author Adriana Trigiani, includes a cocktail reception with the literary award finalists, a seated dinner, ceremony, and open bar. Tickets for the Literary Awards are $175, while tickets for the Literary Luncheon begin at $55. The Literary Luncheon, presented in partnership with James River Writers, features medal presentations for all Virginia Literary Award finalists and a keynote presentation by Jan Karon. Books by the finalists will be available for purchase and the authors will be available for signings after the luncheon. Please call Dana Brown at 804-692-3900 for more ticket information.
<< back to e-newsletter

Library Gearing Up for Bike Races
The Library of Virginia is gearing up for the UCI Road World Championships, which take place September 19–27. The main race route passes in front of the Library of Virginia, which offers the Library a unique opportunity to be engaged in this community wide event. For the past several months, a small group of Library staff members have brainstormed about ideas for external and internal displays featuring images from the Library's collections as well as images submitted from the public. Accompanying the large image of a man riding a bicycle on our front window will be a banner inviting people to "Discover the Library of Virginia." The three smaller windows next to 8th Street will advertise the Virginia Shop and the Discovery Café and invite people to follow us on social media using @LibraryofVA. In an effort to engage the spectators we anticipate will be gathered out front, we will set up a photo opportunity—a face-cut-out photo board with a historic bike image from our collection, along with instructions to tag photos with #lvabikehistory. In the lobby, a large monitor will feature a digital display of all the images captured with the #lvabikehistory tag, interspersed with images from the Library's collections. Photograph submissions can be made using the hashtag or by e-mailing us at lvabikehistory@gmail.com.
–submitted by Dana Puga, Collections Access and Management Services
<< back to e-newsletter

21 Organizations to Collaborate on First-ever Virginia Shakespeare Initiative
A planning committee composed of representatives from the American Shakespeare Center, Virginia Commission for the Arts, Virginia Foundation for the Humanities, and Washington and Lee University has officially launched a partnership with more than 20 Virginia organizations (including the Library of Virginia) to coordinate the Virginia Shakespeare Initiative—a statewide commemoration of the upcoming 400th anniversary of Shakespeare's death, April 23, 2016.
On June 18, 2015, the planning committee and partner organization representatives met at the Library of Virginia to share plans for Shakespeare-related programming during the initiative, which will run from August 2015 through December 2016. The lively discussion yielded ideas for collaborative projects and innovative opportunities to engage Virginians in a celebration of the genius and impact of Shakespeare, such as:
A writing competition for works inspired by Shakespeare
A series of classes about the Elizabethan era with topics on costuming, beer making, dancing, and cooking
Performance competitions aimed at middle and high school students
The encouragement of gardening projects inspired by references to flora in Shakespeare
A day devoted to Elizabethan culture in Colonial Williamsburg
Public readings across the commonwealth on April 23, Shakespeare's death date
At this time, VSI is collecting information about Shakespeare-related programming events occurring in Virginia during the initiative period. These events will be broadly promoted to thoroughly engage Virginia in celebration of this anniversary. The planning committee encourages the submission of planned events and requests for subscription to the VSI newsletter at VirginiaHumanities.org/Shakespeare.
The forthcoming VSI website will include a calendar for all events related to Shakespeare and a blog on the connections to and interpretations of Shakespeare across Virginia. The launch date for VAShakespeare.org is planned for early August. In addition, all are encouraged to join the initiative on Facebook and to spark conversations about Shakespeare with the tag #VAShakespeare.
The Library of Virginia is one of the 21 cultural and education organizations, foundations, groups, and associations participating in the Virginia Shakespeare Initiative.
–submitted by Katie Lebert, Virginia Shakespeare Initiative
<< back to e-newsletter

Join the Semper Virginia Society
The Library of Virginia Foundation invites you to become a Semper Virginia Society member. By becoming a member (membership starts at $50) you will continue to receive a print copy of Broadside magazinein the mail along with other benefits, discounts, and invitations to exclusive members-only programs.
Your gift goes directly to support the Library's collections and programs—it will be used to purchase valuable books for the collection, acquire rare Virginia maps and manuscripts, conserve the Library's treasures, and produce engaging educational programs. Support from our members is a vital part of what keeps the Library of Virginia strong. Please consider the benefits and become a member or renew your membership today! For more information, call 804-692-3900 or visit our website at www.lva.virginia.gov/involved/semper.asp.
<< back to e-newsletter

Joshua Poteat to Receive 2015 Carole Weinstein Prize in Poetry
Congratulations to Joshua Poteat, the recipient of the 2015 Carole Weinstein Prize in Poetry.  Poteat is the author of The Regret Histories, which won the National Poetry Series 2014 prize; The Scenery of Farewell and Hello Again, chapbook, 2014; For the Animal, chapbook, 2013; Illustrating the Machine that Makes the World: From J.G. Heck's 1851 Pictorial Archive of Nature and Science; Ornithologies, whichreceivedhonorable mention at the 2010 Library of Virginia Literary Awards and won the Anhinga Press 2004 Poetry Prize; and Meditations, which won the 2004 Poetry Society of America's National Chapbook Award. Poteat was the 2011–2012 Donaldson Writer in Residence at the College of William and Mary. He lives in Richmond and is a copy editor at the Martin Agency.
The Carole Weinstein Prize in Poetry is awarded each year to a poet with strong connections to Virginia. The $10,000 annual prize recognizes significant recent contribution to the art of poetry and is awarded on the basis of a range of achievement in the field of poetry. There is no formal application process or competition. Selection and notification of the annual prize is made by a four-member Board of Curators. For further information visit www.weinsteinpoetryprize.org.
<< back to e-newsletter

First Lady Recognizes Libraries as Partners in Fight against Childhood Hunger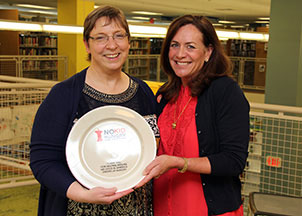 On July 8 Virginia's First Lady, Dorothy McAuliffe, and representatives from the No Kid Hungry campaign joined children at the City of Roanoke's Main Library to celebrate the local Feed and Read program and the Library of Virginia and Virginia Department of Health's statewide support for the Summer Food Service Program. McAuliffe is a champion for the elimination of childhood hunger in Virginia. No Kid Hungry is a campaign of the national anti-hunger organization Share Our Strength.
National summer meals programs, like the U.S. Department of Agriculture's Summer Food Service Program, were created 40 years ago to help students get nourishment when school is out of session. Under the current program, federally reimbursed meals are available to children at sites around the country, including schools, faith-based programs, and community centers. This program is a lifeline for kids in need.
Numerous studies have shown that all children experience learning loss in the summer months if they do not participate in educational activities during that time. Data also indicates that children who are hungry cannot be hungry to learn.
Twenty-six public libraries in Virginia are partnering with their communities to provide free meals or snacks to children and teens this summer. Librarian of Virginia Sandra G. Treadway believes that public libraries are a natural partner with the USDA Summer Food Service Program. "Libraries are centrally located and staffed with individuals who care about their community," she said. "Library employees, especially children's librarians, are knowledgeable about the importance of nutrition in brain development. The public library also enhances the summer food program by feeding the mind. Libraries offer free educational and enrichment activities as well as encouraging children to read during the summer."
A recent study commissioned by the Library of Virginia with the Virginia Department of Education confirmed that children and teens who participated in the summer reading program offered by Virginia's public libraries performed better academically and experienced greater gains in their academic performance than did their nonparticipating peers.
In 2016 the Library of Virginia plans to build on the success of this year's program by doubling the number of participating libraries that provide a meal at the library or provide educational programs at existing summer food sites. Meals are free to those 18 and under who come to one of the sites. In addition to libraries, summer meals sites are at schools, churches, community centers, and other places that are safe for kids and teens. Families can locate these sites by texting "FOOD" to 877-877 or by calling 1-866-3HUNGRY for information.
–submitted by Enid Costley, Library Development Services
<< back to e-newsletter

1817 Richmond Map Nominated to Be One of Virginia's Top 10 Endangered Artifacts
An 1817 manuscript map of Richmond by city surveyor Richard Young has been nominated for a position as one of Virginia's Top 10 Endangered Artifacts for 2015. This important early manuscript map of Richmond shows streets, land ownership, canal locks, the downtown area, and Capitol Square. The map measures 63 x 49 inches. Part of the Richmond Office of the Engineer Collection, Records 1809–1975.
If chosen as a leading endangered artifact, the map will be cleaned, repaired, re-backed with linen cloth (to prevent more separation and loss), and housed in a custom folder and Mylar overlay so that it can be stored safely, but still viewed easily by patrons when requested. Following conservation, it will be cataloged as an individual map and placed in the Map Collection. Facsimile color inkjet copies of the map will be placed in the Office of Engineer files and also in the Map Reading Room on the second floor for patron use.
Virginia's Top 10 Endangered Artifacts program was designed to create awareness of the importance of preserving artifacts in the care of museums, libraries, and archives throughout the state. The list of "Top 10" honorees will be selected by an independent review panel of collections and conservation experts from the Library of Virginia, Preservation Virginia, Virginia Conservation Association, and Virginia Department of Historic Resources, as well as an independent conservator. The People's Choice Award will go to the artifact that receives the most votes during the public voting component of the campaign, which gets underway in August. For more information or to contribute to the completion of this restoration project, please call (804) 692-0166.
<< back to e-newsletter

Friends of the Virginia State Archives to Hold Annual Slatten Lecture on September 12
The Friends of the Virginia State Archives will present the annual Richard Slatten Lecture as part of its annual meeting on Saturday, September 12, 2015, at the Library of Virginia. Registration starts at 8:30 AM. Victor S. "Vic" Dunn, CG, will deliver four lectures, described below.
Dunn has been a board-certified genealogist since 1999. He is the coordinator and instructor of the Virginia Research Track at the Institute of Genealogy and Historical Research at Samford University in Birmingham, Ala., and specializes in Virginia and eastern West Virginia records with an emphasis on brick-wall solutions.
The day begins with "Women, Children, Aliens, and Servants: The Law in Early Virginia." Throughout the colonial period and well into the 19th century, Virginia's laws affected these individuals and created unique records. Learn how to interpret the laws and locate related records.
"The Law of the Land: Inheritance in Early Virginia" discusses laws of inheritance and how they affected testate and intestate inheritance from the founding of Jamestown through 1800. The concepts of primogeniture and entailment will be explained.
"Solving Problems with Tax Records" discusses the types of tax records surviving from the colonial period through the 19th century. Learn how to access and interpret often-neglected genealogical gems to extend your ancestral lines.
"Beating the Odds: Using Indirect Evidence in Problem Solving" demonstrates that when direct evidence is not forthcoming or is questionable, indirect evidence may solve troublesome problems. A variety of Virginia research examples will be discussed.
The cost of program, which includes lunch, is $50 ($35 for members of the Friends). To receive registration information by e-mail, send a request to SlattenLecture2015@gmail.com or call (804) 741-0136. The registration deadline is September 4, 2015.
–submitted by Conley Edwards, FVSA
<< back to e-newsletter