Albemarle County
Formation Date:
1744
Formed From:
Goochland County. Parts of Louisa County were added in 1761 and 1838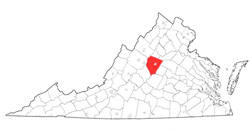 Albemarle County was named for William Anne Keppel, second earl of Albemarle and governor of the Virginia colony from 1737 to 1754. It was formed from Goochland County in 1744, and part of Louisa County and certain islands in the Fluvanna River, now called the James, were added in 1761 and 1838. It area is 740 square miles, and the county seat is Charlottesville. The population is 79,236 according to the 2000 census.
Note: All order books, except the first, and many loose papers between 1748 and 1781 were destroyed by the British in 1781.
Original Records at The Library of Virginia: Yes