Appomattox County
Formation Date:
1845
Formed From:
Buckingham, Prince Edward, Charlotte, and Campbell Counties. Additional part of Campbell County added in 1858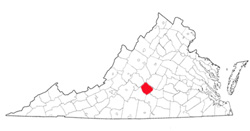 Appomattox County was named for the Appomattox River, which rises in the county. The name was borne earlier by an Indian tribe living near the mouth of the river. The county was formed from parts of Buckingham, Prince Edward, Charlotte and Campbell Counties in 1845, and another part of Campbell was added in 1858. Its area is 345 square miles, and the county seat is Appomattox. The population is 13,705 according to the 2000 census.
Note: Appomattox is one of the Commonwealth's Burned Records Counties. Its county court records were destroyed by fire in 1892.
Original Records at The Library of Virginia: No