Buchanan County
Formation Date:
1858
Formed From:
Russell and Tazewell Counties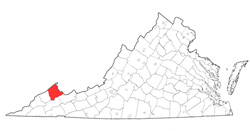 Buchanan County was named for the United States president James Buchanan and was formed from Tazewell and Russell Counties in 1858. Its area is 508 square miles, and the county seat is Grundy. The population is 26,978 according to the 2000 census.
Note: Records destroyed by fire in 1885, and severely damaged by a flood in 1977.
Original Records at The Library of Virginia: Yes