Dinwiddie County
Formation Date:
1752
Formed From:
Prince George County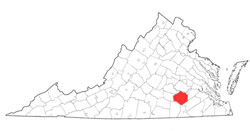 Dinwiddie County was named for Robert Dinwiddie, lieutenant governor of Virginia from 1751 to 1758. The county was formed from Prince George County in 1752. Its area is 501.28 square miles, and the county seat is Dinwiddie. According to the 2000 census, its population is 24,533.
Note: Dinwiddie is one of the Commonwealth's Burned Records Counties. County court records prior to 1833 were destroyed in 1865. One plat book, one order book, and one judgment book survive.
Original Records at The Library of Virginia: Yes