Fairfax County
Formation Date:
1742
Formed From:
Prince William County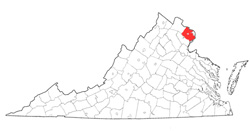 Fairfax County was named for Thomas Fairfax, sixth baron Fairfax of Cameron, proprietor of the Northern Neck. It was formed from Prince William County in 1742. Its area is 410 square miles, and the county seat is Fairfax. According to the 2000 census, its population is 969,749.
Note: Original wills and deeds as well as many other loose papers were destroyed during the Civil War. Many of the Deed books between 1763 and 1819 are missing, and numerous pre–Civil War minute books are missing.
Original Records at The Library of Virginia: Yes