Henrico County
Formation Date:
1634 (original shire)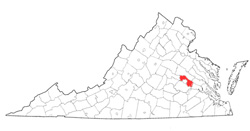 Henrico County was named for Henry, Prince of Wales, the oldest son of James I. It was one of the eight original shires established in 1634. Its area is 244.06 square miles, and the county seat is in the western part of the county near Richmond. According to the 2000 census, the population is 262,300.
Note: Henrico is one of the Commonwealth's Burned Records Counties. All county court records prior to 1655 and almost all prior to 1677 are missing; additionally, many isolated records were destroyed during the Revolutionary War, and almost all Circuit Court records were destroyed by fire in Richmond on 3 April 1865.
Original Records at The Library of Virginia: Yes