King and Queen County
Formation Date:
1691
Formed From:
New Kent County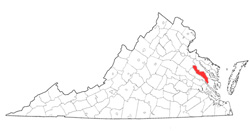 King and Queen County was named for William III and Mary II, who were called to the English throne in 1688. It was formed from New Kent County in 1691. Its area is 327 square miles, and the county seat is King and Queen Court House. According to the 2000 census, the population is 6,630.
Note: Records were destroyed by fires in 1828, 1833 and 1864.
Original Records at The Library of Virginia: Yes