King William County
Formation Date:
1701
Formed From:
King and Queen County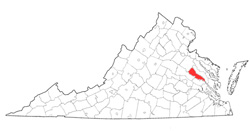 King William County was named for William III and was formed from King and Queen County in 1701. Its area is 285.7 square miles, and the county seat is King William. According to the 2000 census, the population is 13,146.
Note: All county court records prior to 1885 (except for seventeen will books) were destroyed in a fire in that year.
Original Records at The Library of Virginia: Yes