Nansemond County
Formation Date:
1637
Formed From:
New Norfolk County. Previous name: Upper Norfolk County until renamed Nansemond County in 1646, city of Nansemond 1972-1974 Now extinct, incorporated into the city of Suffolk in 1974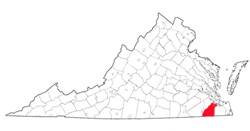 Nansemond County (extinct) was named for the Nansemond Indians, who lived in the area in the early seventeenth century. The word nansemond means fishing point or angle. When first established in 1637, the county was known as Upper Norfolk, but the name Nansemond was adopted in 1646. The county seat was Suffolk. The county became the independent city of Nansemond in July 1972, and on 1 January 1974 Nansemond merged with the city of Suffolk. The entire area is now known as Suffolk. See Suffolk.
Note: Records were destroyed by fires in 1734, 1779, and 1866.
Original Records at The Library of Virginia: Yes