Northampton County
Formation Date:
1634 (original shire)
Previous Names:
Accomac County from 1634 to 1643.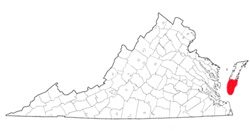 Northampton County probably was named for the English county, of which Obedience Robins, a prominent early resident of the Eastern Shore, was a native. The county, which originally included all of the peninsula south of Maryland and which was one of the eight shires established in 1694, was first called Accomac. The name was changed by legislative action in 1643. The area is 357 square miles, and the county seat is Eastville. The population is 13,093 according to the 2000 census.
Original Records at The Library of Virginia: Yes