Prince George County
Formation Date:
1702
Formed From:
Charles City County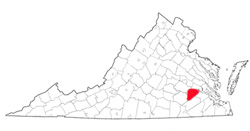 Prince George County was named for Prince George of Denmark, husband of Queen Anne of England. It was formed from Charles City County in 1702. Its area is 298 square miles, and the county seat is Prince George. The population is 33,047 according to the 2000 census.
Note: Prince George is one of the Commonwealth's Burned Records Counties. Most county court records were burned during the Civil War. A few record books survived and, proving that there is always hope, the volume in which deeds and wills were recorded between 1710 and 1713 was found within the last decade.
Original Records at The Library of Virginia: Yes