Prince George County
Formation Date:
1702
Formed From:
Charles City County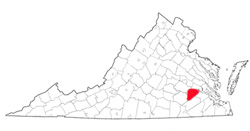 Prince George County was named for Prince George of Denmark, husband of Queen Anne of England. It was formed from Charles City County in 1702. Its area is 298 square miles, and the county seat is Prince George. The population is 33,047 according to the 2000 census.
Note: Most court records were destroyed in 1782 by British troops and again in 1864 by Union troops.
Original Records at The Library of Virginia: Yes