Richmond County
Formation Date:
1692
Formed From:
Rappahannock County (old) Previous Name: Rappahannock County (old)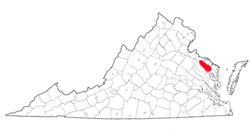 Richmond County was named either for Richmond Borough in Surrey, England, or for the late-seventeenth-century duke of Richmond. It was formed from old Rappahannock County in 1692. Its area is 203 square miles, and the county seat is Warsaw. The population is 8,809 according to the 2000 census. Some record books were damaged and mutilated due to unknown causes; additionally, the will books prior to 1699 were missing as early as 1793, and order books for the period 1794-1816 are also missing.
Note: Some volumes were burned and mutilated through unknown causes. The will books prior to 1699 are missing, the order books for 1794–1816 are missing, and numerous loose records prior to 1781 are missing as well.
Original Records at The Library of Virginia: Yes