Washington County
Formation Date:
1776
Formed From:
Fincastle County. Part of Montgomery County was added in 1777.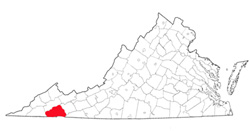 Washington County is among the first geographical regions in the United States to have been named for George Washington. It was formed from Fincastle County in 1776, and a part of Montgomery County was added in 1777. Its area is 563 square miles, and the county seat is Abingdon. The population is 51,103 according to the 2000 census. A minute book for the period 1787-1819 was lost as well as many loose papers in a fire in the clerk's office on 15 December 1864.
Note: Many loose records and volumes were stolen or destroyed during a Union raid in 1864, including minute books for the periods 1787-1819 and 1821-1837.
Original Records at The Library of Virginia: Yes