York County
Formation Date:
1634 (original shire)
Previous Names:
Charles River County from 1634 to 1643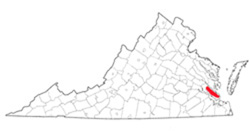 York County was originally named Charles River County, for Charles I, and was one of the eight shires formed in 1634. The present name was given in 1643, probably in honor of James, duke of York, the second son of Charles I. Its area is 106 square miles, and the county seat is Yorktown. The population is 56,297 according to the 2000 census.
Note: Most pre–Revolutionary War–era loose records are missing.
Original Records at The Library of Virginia: Yes