The Royals at the College of William and Mary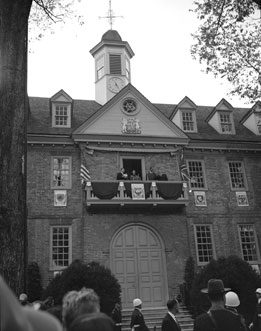 This recording, part of the Library's large collection from Richmond radio station WRVA, documents the royal couple's visit to the College of William and Mary in Williamsburg. The recording opens with commentary by reporter Jack Clements. The queen and prince appear on the balcony of the campus's Christopher Wren Building and are welcomed by James M. Robertson, rector of the Board of Visitors. He comments on the historic relationship between the British Crown and education in Virginia, beginning with the chartering of the college in 1693, and notes that this is the first visit to the college by a reigning monarch of Great Britain. The queen presents the college with a copy of the Statute of the Order of the Garter given to Prince William, Duke of Gloucester and nephew of King William, three years after William and Mary's founding. Prince Philip is greeted by Alvin Duke Chandler, president of the college, and the two exchange gifts between William and Mary and the University of Edinburgh, the alma mater of the college's first president, the Reverend James Blair.

Listen to the WRVA Recording of the Royal Visit to the College of William and Mary.
File size: 9.1MB. Format: mp3. Duration: approx. 13 minutes.
Related Resources: A Guide to the WRVA Radio Collection, 1925–2000 Collection, Accession 38210 (available through the Virginia Heritage Database)
These recordings are for research use only. Duplication of any recording in whole or in part is prohibited.